Summary
What does the future of unified communications have to do with providing a superior customer experience? We sat down with Austin Herrington, vice president of product management, for all the answers.
Companies of all shapes and sizes have heavily invested in tools and technologies that help them to understand their customers more deeply and to gain the advantages of providing a superior customer experience (CX). Of those tools, you'll find Unified Communications as a Service (UCaaS) and Contact Center as a Service (CCaaS) to promote more efficient collaboration on the back end and to make it easier to access information needed to deliver a transformative CX.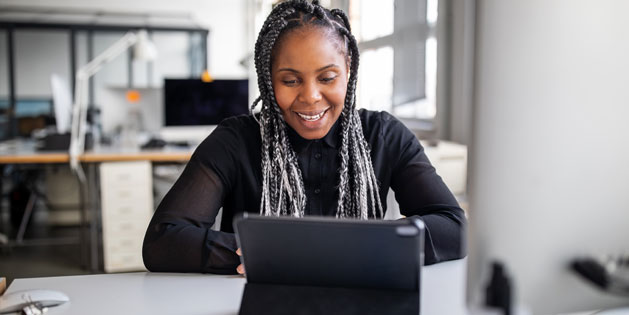 According to the IDC, UC Collaboration (including video conferencing software and cloud services) increased 48% year over year to reach almost $6.2 billion in revenue in 4Q20, and throughout all of 2020, UC Collaboration revenue increased 45% to $22.1 billion.1 With adoption of these tools on the rise, we connected with an expert of the matter, Austin Herrington, vice president of product management for voice at Windstream Enterprise, to learn how and why UCaaS is deeply connected to delivering a meaningful CX.
Windstream Enterprise (WE): Before we really get into it, can you explain at a high level what UCaaS is?
Austin Herrington (AH): Sure. UCaaS is a unified communications solution that integrates all key enterprise communication types—this includes audio, video conferencing, messaging and collaborative web functionality. By integrating these separate tools, organizations can begin to reap the many benefits of UCaaS, such as organizational workflow, operational efficiency and employee productivity. Because UCaaS is delivered as a cloud-based service, there is no need for on-premises hardware or in-house IT expertise.
WE: There's been a lot of buzz around UCaaS, especially over the last year. Can you share what is responsible for the increase in UCaaS adoption?
AH: There's a few things going on simultaneously that drive UCaaS adoption. We can attribute this growth to ongoing technological developments made by organizations and steady growth of the economy that lead to rising expenditures on IT infrastructure. Trends like globalization and hybrid business models have become very compelling to enterprises—this is specifically true after the world had to respond to the outbreak of COVID-19. As a result, organizations have invested in the consolidation of multiple communication features that enable functional collaboration in anywhere/everywhere environments. Video conferencing is a great example of this.
So, when you put all these varying factors together, you can start to see that the future of modern communication infrastructures are leaning toward cloud-based unified communications.
WE: Why is UCaaS so integral to providing a superior CX?
AH: CX is a complicated thing nowadays. Customers use numerous avenues to learn about companies, connect with sales, experiment with products and even provide feedback. Considering all these touchpoints, business leaders have a whole lot to keep track of when they're building out the perfect CX strategy.
As businesses undergo digital transformation, more companies are digitizing their underlying systems and processes in the process. One of these systems (and one that is of increasing importance) is communications. UCaaS allows businesses to integrate disparate communications systems—voice, video, text, email and more—into a centralized system that can be accessed 24/7, from any location. Enabling more seamless communications leads to an overall improved CX. This makes UCaaS a key piece of the CX puzzle.
WE: That's the why…but how? How can UCaaS ensure a better CX?
AH: Let me bucket my answer into a few categories.
To start, UCaaS ensures a better CX with better uptime. Everyone expects fast and easy access when engaging with a brand. If there is an unplanned network outage, the CX becomes negatively impacted. UCaaS avoids this by establishing seamless failover and disaster recovery. Windstream Enterprise's solution, OfficeSuite UC®, ensures 100% uptime and error-free voice and video when paired with SD-WAN in active/active dual broadband configuration. This combination increases resiliency with redundant, diverse connections at each site for seamless failover and business continuity at all business locations.
Another answer to this is scalability. UCaaS makes it possible to scale as business needs change, which enables a more cost-effective and flexible approach while ensuring an organization has all the resources needed to accommodate its customers.
Finally, UCaaS guarantees enhanced collaboration. UCaaS unites teams with seamless communications, tools and workflows, so that no matter what (or where) a device is being used, employees can stay productive, all on a single platform. I mentioned before that UCaaS integrates disparate communications systems, and this is often how better collaboration, and ultimately an improved CX, is achieved.
WE: You briefly mentioned Windstream Enterprise's OfficeSuite UC as a key to enhancing CX. What other unique solutions and services does Windstream Enterprise offer in the CX space?
AH: We have quite a few. As I started to touch upon, OfficeSuite UC offers a rich customer experience, thanks to a complete suite of voice and collaboration features that can be tailored to the unique needs of any organization. It works seamlessly with our award-winning WE Connect portal to deliver a high-quality experience for softphone mobile and desktop users alike. What's more, it integrates with major third-party applications so businesses can keep using what they know and love.
Additionally, our OfficeSuite HD Meeting® solution offers a unique experience for business meetings with a robust set of tools for meeting host administrators and educators. Our customer experience is enhanced through AI-powered personalization and chatbots assisting with onboarding, service issues and learning.
On the customer care side, businesses can take advantage of the fully integrated OfficeSuite UC® Contact Center Services (CCS) platform to help queue calls and chats, view live and historical agent activity, and record calls to enhance customer experiences while managing employee performance.
WE: You mentioned remote work being a key driver for UCaaS adoption last year. With many organizations implementing hybrid work infrastructures moving forward, endpoint security remains a big issue. How can organizations tackle this challenge?
AH: Security is a legitimate concern when moving key business communications to the cloud—organizations are right to be apprehensive about privacy, compliance and data protection. It's imperative that they keep security a priority and thoroughly evaluate the protections offered by UCaaS providers.
Windstream Enterprise does a handful of things to help alleviate those concerns. For one, the company supports the Secure Access Service Edge (SASE) security framework to ensure both users and devices have secure cloud access to applications, data and services anywhere and at any time. Pairing SASE with SD-WAN is an ideal method of delivering security in the cloud.
Additionally, our Managed Network Security (MNS) and Secure Remote Access (SRA) services provide secure connectivity via IP or WiFi for employees working from home, or from a location other than the corporate network. Our WE Connect portal makes it easy for IT administrators to manage all services to add, change and delete end-users.
WE: Wrapping up, are there any points you want to add? Perhaps around key CX strategies organizations should consider as we depart from the COVID-era of work?
AH: The world we live in is vastly different than it was pre-COVID. While remote work and learning trends were already picking up momentum in 2019, the pandemic accelerated this trend by several years. UCaaS and other cloud-based solutions help to create the inherent flexibility needed to accommodate the ever-changing workplace. My tips would be to keep an eye on the growing focus around video, and the collaboration that sits in the heart of it. Keep scalability top of mind because demand can shift in the blink of an eye in today's world.
Above all else, have an open mind and invest in cloud-based solutions that can help shape the technological landscapes of today and tomorrow so that your organization can adapt to whatever comes next.
References
"Worldwide Unified Communications & Collaboration (UC&C) Market Soars in 2020, According to IDC." IDC. March 29, 2021.
Key Takeaway
UCaaS is a key ingredient to providing the best customer experience possible. Understand how UCaaS and CX are intertwined to stay ahead in an ever-changing business environment.