Editor's Note: The healthcare industry is digitally streamlining workflows with the ultimate goals of better patient care and reduced staff burnout. Studies indicate that 93% of patients are behind the digital push, which includes wearable tech to collect data, patient portals, video conference appointments, AI and automation, digital management software, tracking tags and cloud-based data systems. Challenges exist with adopting new technology and the need for top-notch security to safeguard patient data. Despite the challenges, digital technology is poised to revolutionize healthcare with streamlined workflows, less-stressed providers, and, most importantly, improved patient outcomes.
The digital solutions healthcare professionals use to improve patient care require reliable and safe internet connectivity and strong team communication platforms.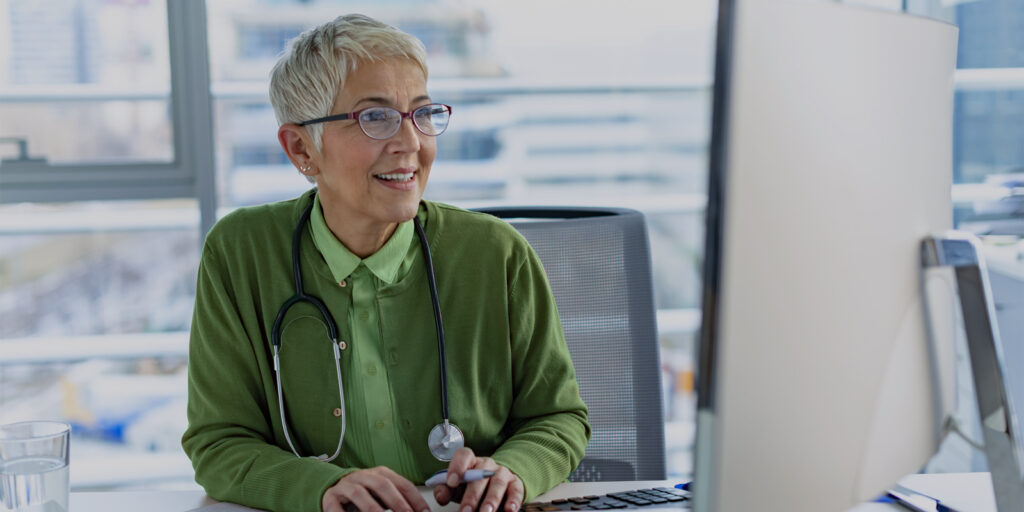 Summary:
The pandemic accelerated the importance of technology in the healthcare sector, and while it is still notoriously behind other industries when it comes to digital systems, embracing the digital revolution is fast becoming a necessity.
The healthcare industry is facing a huge transformation, thanks to the gradual adoption of digital services. While it is still notoriously behind other industries when it comes to utilizing digital systems, the pandemic propelled the importance of technology in the healthcare sector to the forefront.
Embracing the digital revolution in healthcare is fast becoming a necessity. Patients are unlikely to willingly return to longer wait times, or complete unnecessary amounts of paperwork, when they've experienced digital services that can make the process much faster. As a result, many hospitals and clinics are currently in the active process of digitally streamlining their workflows.
The ultimate benefit of digitization is that the quality of patient care is vastly improved. And the majority of patients appear ready to embrace digital change. A recent survey found that 93% of patients want to use digital tools to interact with their care providers and many would be willing to use new technology to reduce in-person visits.
Digitally streamlining workflows should be on the top of every medical organization's agenda for the coming year. Let's take a look at how you can help your patients by doing so.
Use wearable technology for improved data collection
Thanks to the emergence of the Internet of Things (IoT), we're seeing a huge evolution in the type of technology available to health practitioners and patients. In fact, the IoT market is expected to balloon in the coming years, with latest predictions pointing to a market growth from $72.5 billion in 2020 to $188.2 billion by 2025.
Wearable devices such as smart watches and ECG monitors can help to capture vital information from patients, securely store data, and provide medical staff with relevant information at all times. By implementing devices that can capture patient data, and removing the need for manual data entry, health practices can allow their staff to focus on more important things like patient care. This leads to both reduced staff burnout and improved patient outcomes.
What's more, wearable technology means that medical practices can use these devices to monitor patients and collect data remotely. This means patients can be sending their caregivers important information from home rather than spending on a costly office visit or in-patient stay.
Artificial intelligence can help providers aggregate patient data and facilitate calculated decisions. This is a huge benefit in an industry where an estimated 80% of data is unstructured, meaning it's unconsolidated or in physical note form. AI platforms spot trends that may have otherwise gone unnoticed and streamline decision making based on past learning about similar patients and symptoms. Such predictive analytics improve the speed of patient diagnosis and streamline the ability to create a patient treatment course which, in turn, raises the bar for quality of care in your facility.
Introduce a digital management software
Another area ripe for improvement is inventory and supply-chain management. Hospitals and medical centers have been notorious for suffering costly losses as a result of outdated inventory tracking systems. One study revealed that U.S. hospitals overspent by a whopping $25.4 billion simply on supplies, signaling a dire need for inventory reform.
Part of the problem is that supply management tends to be spread across numerous systems and may still involve considerable paperwork. Automated technology can dramatically improve the way health-care practices manage inventory—and thus dramatically reduce costs and waste. Introducing automation software is a very effective way to achieve this. These kinds of systems use predictive analysis to help the hospital foresee necessary purchases, providing a more efficient approach to inventory management.
Companies can also take this digitization a step further by adopting software with API integrations. API technology allows the various data silos in your organization to connect with each other and transmit that information to other health-care organizations. This means that practices can work better with other clinics and share resources that might otherwise have gone to waste.
Improved patient experience through patient portals
Providers can rapidly improve patient experiences by implementing a few simple digital strategies. For example, self-check-in kiosks in waiting rooms can help reduce the time a patient waits in a busy seating area or the need to perform unnecessary steps. What's more, even before a patient arrives at the office, digital medical technologies, such as patient portals and telehealth can improve patients' experiences by allowing them instant, remote access.
In terms of the backend, improved interoperability between electronic health records (EHR) can vastly streamline a patient's experience. While old medical databases typically struggled to interact with other systems, new developments in cloud technology can give patients access to personal data from the comfort of their own homes.
We're already starting to see the benefits of digitizing patient experiences come to fruition. Some practices are already using technology like RFID tags or QR codes to track equipment, patients, and staff. These locational devices help reduce errors, save time and provide a more streamlined workflow throughout the treatment process.
Better safety compliance through cloud-based services
An all-encompassing cloud-based data system can help healthcare organizations make the transition to digitally streamlined workflows. These systems can also support a medical practice's safety compliance requirements. In the last few years, there's been a significant emergence of HIPAA-compliant technology that can provide better encryption and end-to-end security when it comes to the transfer of personal health information. Cloud-based services remove the need for a centralized on-site storage system and can provide more focused data access, permissions, and heightened security.
Cloud-based systems also give health-care organizations a leg up during the compliance auditing process. To prepare for accreditation surveys, health-care practitioners need to ensure that their data is secure and survey readiness is up-to-date. The more prepared a medical facility is before an inspection or survey, the less time staff members will spend correcting the deficiencies that surveyors identify. Ensuring compliance leads to safe patient care.
Final thoughts
Digital systems that can help streamline health practice workflows are growing at an impressive rate. Replacing old systems with up-to-date alternatives requires training, as well as trust from your staff. What's more, there are certain cyber safety concerns that you'll need to address as you implement and maintain your vigilance following reports of data breaches.
The digitization of health care offers many opportunities but also challenges. But the promise of streamlining workflows, maximizing interoperability, and—most important—improving patient outcomes far outweigh the cost and inconvenience of bringing health care into the 21st century. The shift is long overdue, and organizations that fall behind risk higher costs, lower patient satisfaction, and higher staff member burnout and put the facility at risk for a patient safety event.
This article was written by Andrew Sweeney from MedCity News and was legally licensed through the Industry Dive Content Marketplace. Please direct all licensing questions to legal@industrydive.com.
Your team can rely on Windstream Enterprise for cloud-based Unified Communications as a Service (UCaaS), SD-WAN and Secure Access Service Edge (SASE) solutions to provide the connected and secure foundation necessary for bringing healthcare into the 21st century.
Key Takeaway
Digital systems that can help streamline health practice workflows are growing quickly. Replacing old systems with up-to-date alternatives requires training, trust and a constant focus on cybersecurity.