Editor's Note: Digital transformation isn't just a "nice-to-have" for healthcare, and it's even moved beyond "essential." Instead, it's now a way for healthcare organizations to actually save money over the long term, streamlining processes and removing the burdens that come with legacy systems.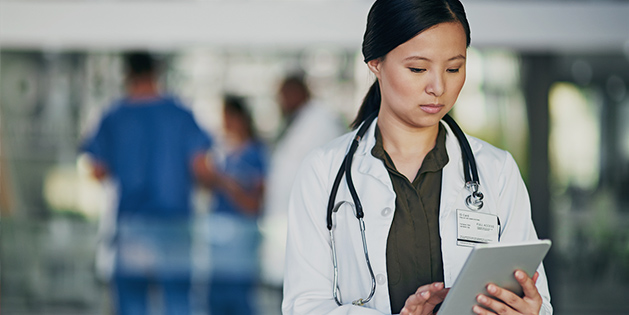 Summary: Healthcare organizations with a culture of preparedness weathered the pandemic onset better than those without. Cloud-based digital technologies allowed them to respond more quickly, and current IT trends can help all organizations become more agile.
The COVID-19 pandemic emphasized the importance of being prepared for the worst-case scenario. In the healthcare industry, organizations with deeply ingrained cultures of preparedness weathered the crisis better than those that did not have a plan in place. Technology helped these organizations adapt, respond and move more quickly in the face of the unknown. 
More than two years later, the healthcare industry is still experiencing extraordinary change. 
Agility requires digital transformation 
It's now clear that agile organizations that invested in cloud-based, digital technologies were able to pivot when remote care suddenly became the norm. They were able to deliver personalized and seamless experiences from first touch to after-patient care across facilities, providers and vendors. Investing in innovation and technology can help healthcare organizations deliver high-level services and patient care. 
Here are five IT trends that can help healthcare organizations turn challenges into opportunities as they strive to become more agile and better prepared for the next crisis. 
Rising expectations require frictionless experiences 
Every industry is shifting to a customer-first model where personalized, relevant experiences matter. However, healthcare continues to lag at a time when patients are better-informed and more demanding of their providers than ever before. It's clear that most people want healthcare to meet them where they are—via telemedicine; convenient, online portals for managing all aspects of their health, and home delivery of medications. And when it becomes necessary to visit a provider in person, they expect one-stop shopping. 
Creating frictionless experiences requires a new business model powered by the cloud, automation, artificial intelligence (AI), machine learning (ML) and edge technologies. Healthcare IT teams need to upgrade antiquated, on-premises systems with cloud-based applications that enable an interconnected ecosystem where data flows in real time wherever it's needed. 
Digital transformation is no longer a cost center  
The pandemic exposed gaping cracks in IT infrastructure. However, it also gave IT teams burdened with technical debt the authority to evaluate new technologies out of necessity. IT showed that migrating to the cloud is not an expense. Rather, it creates cost savings by removing the operational burden of managing legacy infrastructure while improving organizational agility. 
Consider the American Cancer Society. The nonprofit's legacy systems had become too expensive to maintain and weren't keeping pace with the needs of patients, staff and volunteers. An extensive cloud migration initiative connected 50 systems across multi-cloud environments. The organization now processes around 250,000 daily transactions, provides event managers with information to stage fundraisers, and derives context from 36 million "golden records" of individuals—all with less operational overhead. 
IT is a vital partner for making care decisions 
Throughout the pandemic, IT has proven that it can play a pivotal role in developing an overall care strategy, not simply carry out the deployment of technology decisions. This shift can only occur when best-of-breed applications are connected to a unified digital ecosystem. IT helps businesses make full use of data to create more innovative, informed decisions and can enable faster implementation of strategic decisions, new care pathways, and cost containment measures. 
The IT team at the North Carolina Department of Health and Human Services demonstrated its strategic value when it connected data from internal and external sources to make vital COVID-19 information available to more than 10 million residents during the pandemic. By integrating disparate data sources, the IT team developed a HIPAA-compliant, cloud-based platform that relayed critical information to the public throughout each stage of the pandemic. 
Data integrations create market advantages 
Today, we're witnessing an explosion in data from connected devices like home-monitoring sensors and wearables. But as data volume increases, so do the data management headaches. That's especially the case in a distributed digital landscape that includes data outside of an organization's architectural domain. Both internal and external information (such as patient-supplied data) needs to be easily accessible to be useful. That only happens by connecting all of those sources. 
Ammex was able to turn the sudden, global need for personal protective equipment (PPE) in the spring of 2020 into an opportunity to distribute the company's disposable gloves more equitably. By integrating data flows from its ecommerce platform and distribution channels, Ammex ensured its products were available across multiple points of sale within moments of being unloaded from shipping containers. 
Value-based healthcare models continue to grow 
There is a massive movement taking place from transactional-based medicine to value-based care where providers are paid based on patient health outcomes—not the cost of services. It represents a pivot toward a proactive, evidence-based approach of rewarding providers for reducing the incidence of chronic disease and helping patients enjoy healthier lives. 
IT plays a critical role in this trend because value-based care requires healthcare organizations to adopt a more agile approach to treating patients. By harnessing the benefits of modern, cloud-based technology, healthcare providers can connect services and edge technologies in a more holistic way, gaining access to the information, apps and devices they need to deliver positive patient outcomes. 
Turning challenges into opportunities 
The global pandemic has been an immense challenge, but it has also spurred innovation. The resulting acceleration of digital transformation has enabled powerful business agility throughout healthcare organizations and radically changed IT's role in helping deliver positive patient outcomes. 
Technology investments will need to continue as patient expectations evolve. Knowing the trends and how to get ahead of them with cloud-based technology will ensure that healthcare organizations can handle whatever comes next. 
Digital transformation is key to keeping your organization agile enough to thrive in today's rapidly changing environment. See how Windstream Enterprise can help you get where you need to be.
This article was written by Guest Author from Healthcare IT Today and was legally licensed through the Industry Dive Content Marketplace. Please direct all licensing questions to legal@industrydive.com.