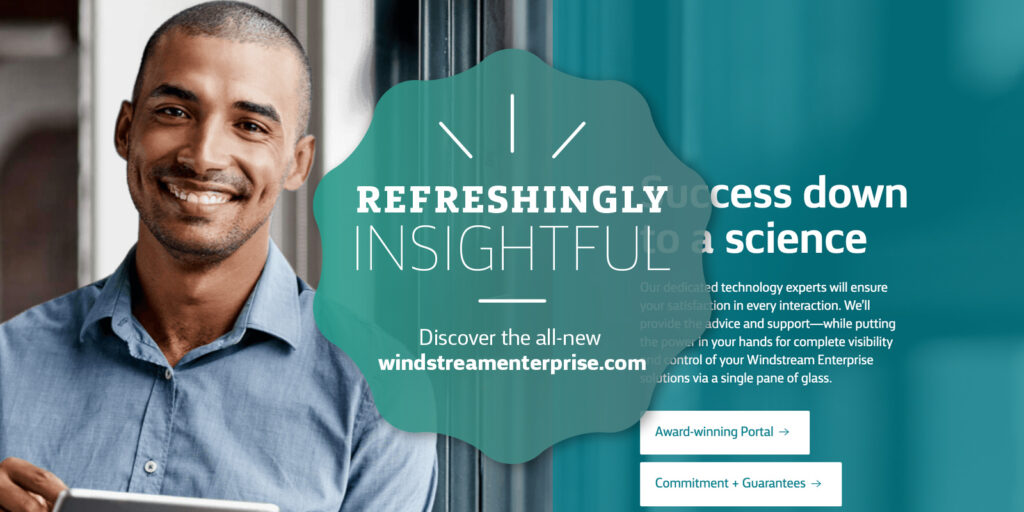 Summary:
New look, same commitment to excellence. The new windstreamenterprise.com signifies our dedication to innovation and to you, our customer.
Windstream Enterprise has a new look! If you haven't seen yet, the all-new windstreamenterprise.com just went live, and it's stirring a lot of excitement amongst my team, our partners and our customers.
What inspired this top-to-bottom re-engineering of our website? As with any brand, a website needs to fully portray an organization, and we wanted to ensure ours represented who and what Windstream Enterprise aspires to be to our clients, prospects and employees—which is open, easy to work with, candid, capable, helpful…and, not to mention, a little bit fun.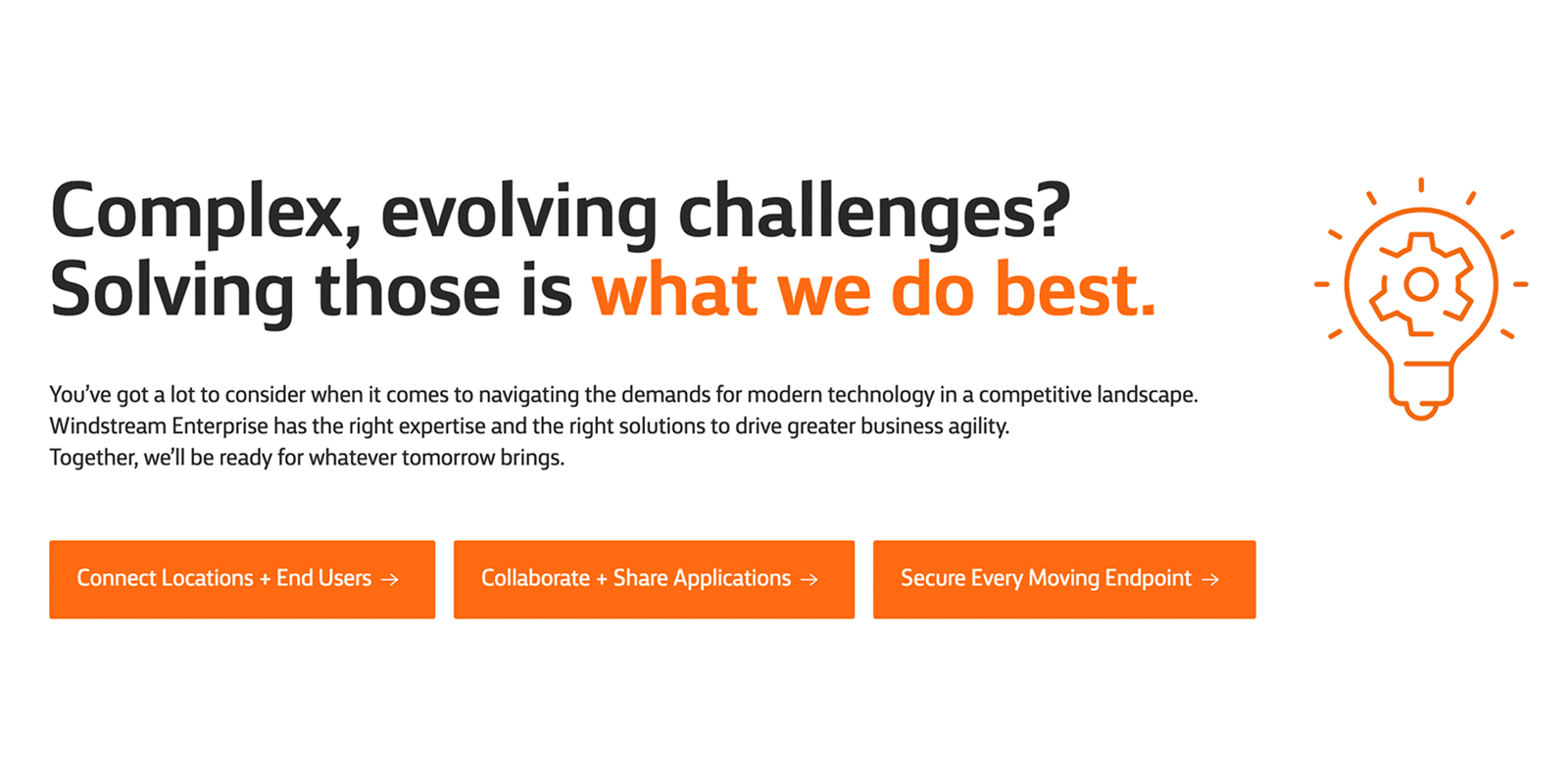 As much as keeping up with appearances matters to us, the real reason for this investment into our website is much greater than that. As the years come and go, and digital evolution across each and every industry beckons, we've always strived to stay ahead of the pace of change in order to meet the needs of our customers and partners.
Sourcing and selecting technologies has become even more complex in these last few years and it was time to mature our website to reflect the current and everchanging customer journey. In doing so, our new site's architecture has been completely overhauled to address the demands of intricate buying teams and their specific, vertical industry needs.
Staying ahead of the pace of change
The work we've done to our new website comes on the heels of massive shifts across our industry and those of our customers. Many businesses find themselves struggling with the disruptions caused by these changes. Misaligned processes and technologies are failing to help clients transition from old ways to new approaches. Customer experience has become a new opportunity for competitive differentiation as yesterday's buying processes evolve into something new. As a result, digital transformation has become a top priority for many enterprises.
Recent Gartner research explored this further, looking at the four critical components that midsize enterprise CIOs must address to accelerate their organization's digital business initiatives.1 According to Gartner, many of these companies have strong intention of accelerating their digital business initiatives, but lack a complete vision of the key elements of success—and it goes a step further to provide recommendations on how to accelerate IT business initiatives by addressing these four components.
Our collective job at Windstream Enterprise is to help our clients visualize a path forward, one with solutions that meet their specific needs and that are paired with the deep technical expertise that underlies our design, deployment and service teams.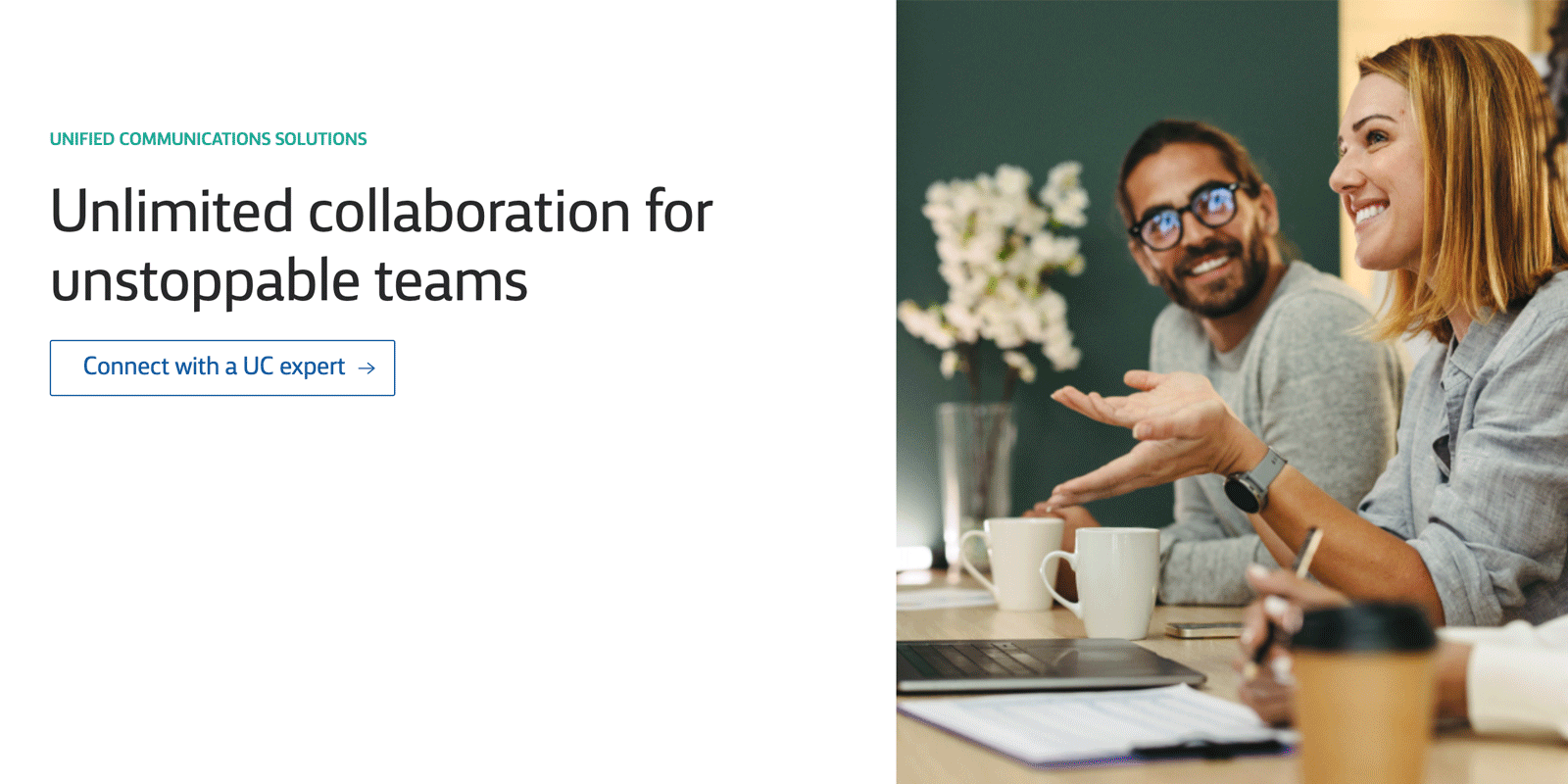 What motivates me most
When I joined Windstream Enterprise not too long ago, I found this team particularly appealing because the focus is squarely on the customer's needs versus some new flavor of tech we'd like to sell them. Yes, solutions like Secure Access Service Edge (SASE) demonstrate the promising future for networking security—but we know that SASE isn't a one size fits all solution. While for some customers it's exactly the right step to take beyond today's SD-WAN, for others there are Secure Service Edge (SSE) solutions and security service bundles that provide a better fit.
We have an amazing portfolio and service organization—not to mention our industry-leading guarantees. By making these long-term investments in our brand we are helping our sellers and our partners leverage both so that our customers create real business value.
The windstreamenterprise.com you now see is a true reflection the core of our company, not only a robust set of products and services but a collection of several thousand very passionate, smart, caring people. The site speaks to the most important dimension of our business today. Technologies might evolve to become more homogenous, but Windstream Enterprise will always work to personalize our solutions specifically for your business, and the services you receive from us will always be unique to the industry. I guarantee that this distinctiveness has real value to you.
Key takeaway
Check out the new windstreamenterprise.com. We see it as a technical tool to engage with our partners and employees, and we hope you'll see it as a statement of who we are and who we aspire to be.
---
Sources
Caleya, Roger. Gartner, 2022, The 4 Critical Components to Accelerate Your Digital Transformation, https://www.gartner.com/en/doc/764500-the-4-critical-components-to-accelerate-your-digital-transformation. Accessed 20 Aug. 2022.