Summary: Education has never been more dependent on technology. Here are the trends to prepare for, along with the technology solutions required to activate them.
The accelerated digital transformation of classrooms and campuses means that all school districts and higher education institutions now offer varying options for virtual learning.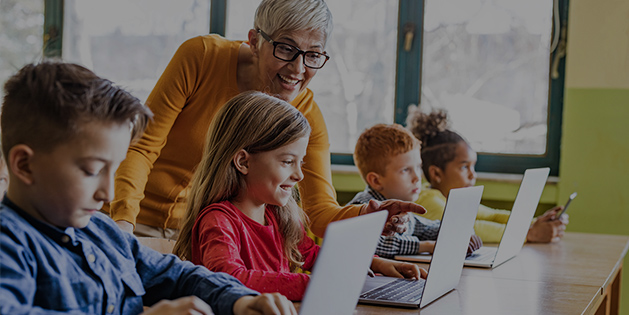 For education IT leaders to prepare their infrastructure for the future needs of students, teachers and administrators, here are four technology trends that schools need to prepare for now.

1. Protecting schools from cyberattacks
While school districts and higher education institutions have student enrollment numbers that are larger than many enterprises, education institutions often have a fraction of the cybersecurity budget, technology or capabilities of equivalent-sized businesses.
Coupled with the fact that most of their users are students—relatively new users who may be more susceptible to downloading malware, sharing passwords or allowing attackers into the network through a phishing scam—it's easy to see why cyberattacks on education institutions are up 75% from 2020. With schools reliant on technology to both operate and educate, a cyberattack can bring learning to a halt, as well as expose personally identifiable information (PII).
Ransomware attacks can cost thousands to remediate, even if a school doesn't pay the ransom to release their files.
2. Delivering individualized learning
No longer does one lesson plan have to fit all. Educators can leverage artificial intelligence (AI) and machine learning (ML) to crunch student data at a massive scale in order to deliver individualized adaptive learning experiences.
By comparing each student's progress against that of thousands or even millions of others, AI can deliver the next best question or lesson required to help the student overcome any gaps in their knowledge or accelerate their education.
For example, should the AI detect that a young learner is struggling with their 9s during multiplication tests, it can automatically provide more 9s in worksheets so the student gets more practice. At the other end of the spectrum, a student who breezes through their microbiology homework can be served with more challenging content to keep them engaged.
By delivering personalized learning, educators can overcome the limitations of standardized lessons and exams to give students the exact content they need to learn most effectively.
3. Enabling education from anywhere
While most students are back in the classroom, the hybrid learning environment is here to stay. In addition to accessing education platforms and content on tablets and PCs, mobile-native students now expect to be able to learn from their phones.
For educators, it will be critical moving forward to ensure that the education experience they deliver is designed for the smallest screen possible. This means that static PDFs are out; dynamic content that scales to the screen is in. Long sections of text will be less effective than video. And a secure, high-bandwidth connection is no longer a luxury, but essential to the learning experience.
4. Creating an immersive classroom experience
Virtual reality (VR) and augmented reality (AR) have the potential to revolutionize the way educational content is delivered. While these two immersive technologies are often grouped together, it's important to understand the key difference: VR replaces the real-world view with a simulation through headsets, while augmented reality overlays simulated content on top of a real-world view via the phone or tablet screen.
Because of these fundamental differences, each immersive technology has a different role to play:
VR is useful for everything from bringing a history lesson to life to allowing students to explore exotic flora and fauna to providing vocational training on virtual representations of industrial equipment.
AR can display 3D models and content that students can engage with by pinching, tapping and zooming in on the screen, in addition to walking around the virtual display.
While not as immersive as VR, AR can be delivered using the tablets or phones students already have, making it a cost-effective alternative to expensive VR headsets.
Preparing for the future of education
These trends have one thing in common: They require a reliable, secure and highly available network. For education institutions, their ability to take advantage of tomorrow's education trends will depend on their ability to collect, store, harness, transmit and protect data.
Moving forward, these are the four core technologies required to meet the needs of today's education technology trends:
Learn how Windstream Enterprise can enable a secure, adaptive learning environment.
Key takeaway: Your institution's ability to deliver a next-gen educational experience requires a powerful, future-proofed network and security framework. Focus on your infrastructure to ensure you can deliver the network capacity, resilience, and security required to make high-tech learning a reality.
About the Author

Visit Website More Content by Windstream Enterprise