We believe in giving back
At Windstream Enterprise, we want to make a positive difference in the world, especially in the communities we serve. Employing veterans and their spouses, encouraging a diverse, equitable and inclusive workplace, and supporting causes that matter to our employees are just a few ways we show our commitment to corporate responsibility.
Trusted by more than 45,000 enterprise clients at more than 180,000 of their critical locations—and counting




We are honored to employ veterans and their spouses
Windstream Enterprise is proud to recruit, hire and train veterans and military spouses. Our Windstream Veterans (WINVETS) employee resource group supports outreach, recruitment, and retention efforts in the military and veteran communities. As part of the Windstream organization, we're pleased to share these industry awards:
2022 Military Friendly Employer Gold Certification
2022 Military Friendly Spouse Employer Gold Certification.
2022 Military Friendly Supplier Diversity Program
2022 Military Friendly Company




Our success lies in our diversity, equitability and inclusiveness
As a Windstream company, Windstream Enterprise celebrates the authenticity and uniqueness of our people and their ideas by offering employee resource groups that support inclusion. We are equally committed to including women, small businesses, minority businesses and veteran-owned businesses in our supply base. Some of our key stakeholders include:
Women of Windstream (WOW) connects and empowers women by creating an inclusive environment for forming supportive relationships and realizing career-enhancing experiences.
WIN Pride seeks to increase LGBTQ+ cultural awareness to foster an environment of inclusion for all our employees, and provide a venue for networking, socialization, professional development and discussion of LGBTQ+ issues and concerns.
Windstream Black Professionals Network (WBPN) provides a supportive environment for all African American/Black employees for personal and professional development while also enhancing cultural awareness and inclusion.
We're help organizations that matter to our employees and our communities



It's important to us to give back to the communities we serve. That's why the entire Windstream team and corporate leadership dedicate so much time and energy to volunteering and philanthropy. Here are just a few of the causes we support:
Hunger relief
In partnership with our Culture Crews and The Pack Shack, we have committed to packing 200,000+ meals to donate to local hunger-relief organizations.
STEM programs
Initiatives such as our Windstream Girls CODE Program, offered through the University of Arkansas at Little Rock, help prepare the next generation of innovators in pursuing computer science, information science or web design.
Environmental stewardship
As a result of our environmental initiatives, we have received the second-lowest risk rating among U.S.-based telecommunications providers based on Sustainalytics environmental, social and governance (ESG) factors.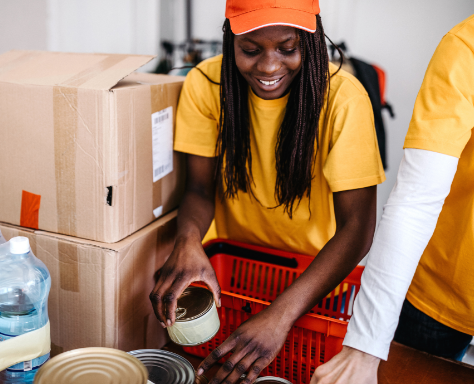 We strive to make a positive difference in the community
At Windstream Enterprise, we're always looking for new ways to do better. That's why we extend a helping hand where we can, both inside and outside our company.
"At Windstream, we celebrate the authenticity and uniqueness of our people and their ideas. The diverse voices of our employees fuel our innovation and the inclusive, equitable culture we are building fosters belonging and empowers each one of us to create amazing customer experiences."
Tony Thomas, President & CEO, Windstream