SD-WAN Benefits: 6 Reasons Why It's a Business Must-Have
See how SD-WAN benefits enterprises by maximizing uptime and optimizing costs with secure, reliable network performance in distributed environments.
11 minute read time
Connectivity is the backbone of any modern organization. To meet the current needs and future ambitions of the business, IT leaders must focus on delivering the applications and experiences that pass over the network flexibly, continuously and securely—and are turning to software-defined wide area network (SD-WAN) solutions to make it happen. This article will explain how SD-WAN benefits today's digital enterprise organizations.
Problems SD-WAN solves
Many enterprises are struggling to deliver the personalized, secure, anywhere, anytime experiences customers and employees expect. Legacy WANs weren't designed to support the higher bandwidth and uptime required—and have reached their tipping point. The result? More network outages, poor application performance, frustrated end users, rising IT costs and a slew of network management challenges.
Why use SD-WAN? 6 business benefits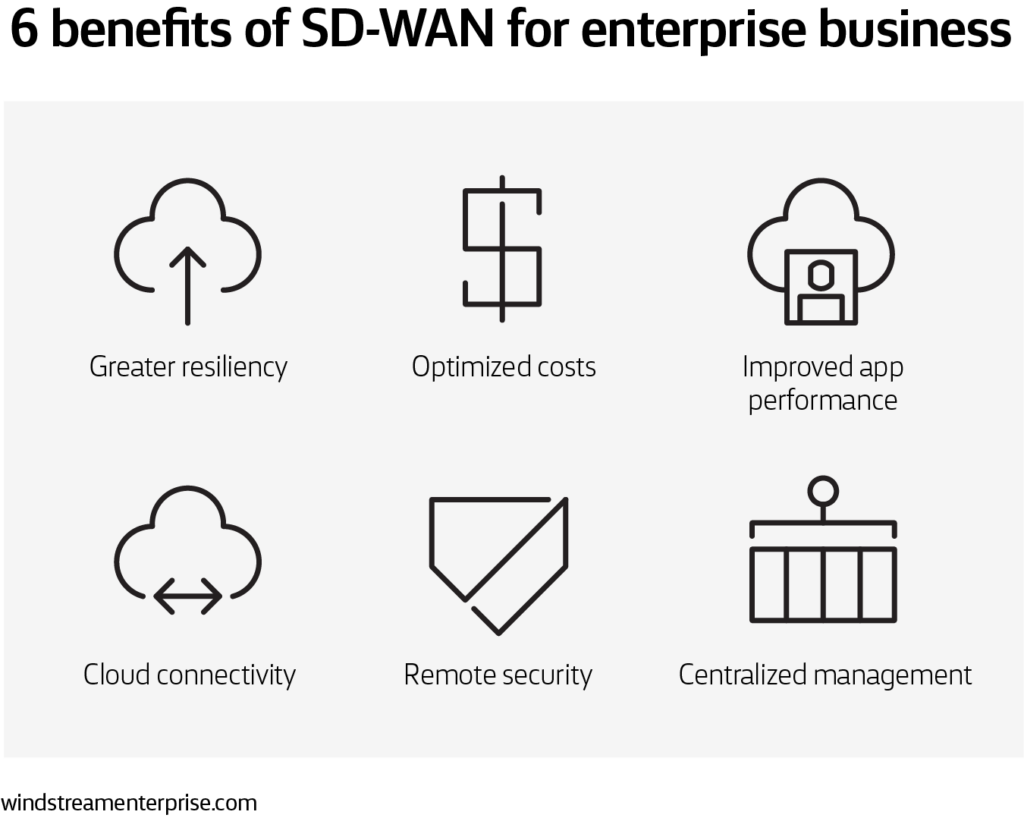 SD-WAN benefits enterprise organizations in numerous ways, including by maximizing uptime, enhancing application performance, securing remote employees and simplifying network management. These factors and more shine a light on why 92% of respondents in a recent Futuriom survey indicated that they are evaluating SD-WAN services and software as part of their IT strategy.1
If your organization faces any of these business challenges, SD-WAN can help you solve them:
1. Maximizing network uptime
Maintaining network uptime to enable employee productivity and customer satisfaction is paramount to enterprise business success. Just a single hour of downtime can cost most organizations an average of more than $300,000 in lost revenue, productivity and remediation costs.2 Particularly for industries that trade on trust and security, a network outage could spell reputational disaster, not just have financial consequences.
How SD-WAN maximizes network uptime
When combined with diverse access in an active/active configuration, SD-WAN delivers unstoppable uptime. An active/active design enables a higher degree of network resiliency, 100% uptime and the ability to deliver on SLAs and performance metrics.
A single hour of downtime can cost most organizations an average of more than $300,000.2
2. Optimizing IT costs
IT leaders face increasing pressure to reduce IT costs without sacrificing network and application performance. Digital transformation initiatives are accelerating at an unprecedented pace, and the network must be calibrated to fully support new, often cloud-based applications, empower distributed workplace collaboration and enable exceptional customer experiences. To support digital transformation goals and evolving business demands, global IT budgets are expected to increase at the fastest rate seen in the past decade, with an average growth rate of 3.6% overall in 2022 alone.3
IT budgets for 2022 are expected to grow by an average rate of 3.6% overall.3
How SD-WAN helps optimize IT costs
You can leverage cost-effective access
IT leaders can use SD-WAN to optimize IT costs by leveraging readily available and cost-effective connectivity options, like broadband Internet, to satisfy unique location requirements.
You'll optimize bandwidth use
Through dynamic traffic routing based on company-set policies, SD-WAN selects the best-performing network paths that maximize network capacity and reliability while minimizing costs through bandwidth optimization.
You can augment or replace expensive legacy architecture
SD-WAN can replace costly plain old telephone service (POTS) lines and multi-label protocol switching (MPLS) architectures. Organizations also benefit by forgoing expensive routing hardware and instead provisioning connectivity and services from a single location, such as a headquarters or the cloud.
3. Enhancing application performance
Traffic today can traverse public, private, hybrid and multi-cloud environments. Legacy networks typically route traffic from a branch location to a dedicated data center through a centralized security stack to the Internet and then back the same way to the branch location. This creates increasing network congestion and hinders application performance and productivity, ultimately affecting the end-user experience.
How SD-WAN enhances network and application performance
SD-WAN, by contrast, supports bandwidth-hungry apps and higher performance needs by prioritizing mission-critical applications. SD-WAN's overlay network separates networking hardware from the control pane by relying on a centralized controller to set policies. It can then act on these set policies with the real-time performance of network connections to determine the optimal path for each application's performance needs. Traffic flows directly to other locations or cloud destinations without being routed via a data center security stack.
4. Enabling cloud access
Over the past few years alone, multi-cloud and hybrid cloud adoption has increased significantly to support radical changes in business operations and logistics, with multi-cloud adoption alone experiencing a 54% increase between 2019 and 20204. This adoption rate is expected to continue increasing in the years ahead to meet end-users' expectations for cloud-based apps and resources that are available anytime, anywhere.
How SD-WAN enables cloud access
SD-WAN provides highly secure, private, dedicated access to leading third-party cloud service providers' cloud ecosystems and helps organizations leverage cost-effective access types at each location to get there. The flexible network edge supports a variety of users, devices, apps and networks by offering the best-available access.
37% of respondents indicated they currently use a hybrid cloud. 35% indicate that they plan to use a hybrid cloud in the next 2 years.4
5. Securing remote employees
Whether by choice or out of necessity, organizations in all industries have had to evolve how they do business today, including operating remotely, offering touchless experiences or shifting business models altogether. As a result, "network edges" have become more dispersed or disappeared, and the importance of heightened security remains top of mind.
Users are logging on from home or public networks and often with a mix of personal and company-owned devices. So the VPN connections into data centers of previous days are no longer equipped to support a remote and often geographically distributed workforce. In a post-pandemic world, it's anticipated that 20% of the workforce in the US will continue teleworking.5 In industries with a high percentage of knowledge workers, that figure is expected to sit closer to 50% opting to work remotely.
At the same time—and not by coincidence—cyberattacks have become a more dangerous and imminent threat. In fact, 86% of organizations expect to be impacted by a cyberattack6 within the year.
20% of the workforce in the US will continue teleworking. For industries with knowledge workers, that could sit closer to 50%.5
How SD-WAN secures remote employees
SD-WAN helps organizations protect critical data and applications by encrypting all network traffic. So no matter the access type, the connection is secured. But in today's highly distributed, anytime, anywhere environment, standard SD-WAN security offerings might not be enough.
Many organizations choose to employ additional layers of protection like Zero Trust Network Access (ZTNA), unified threat management (UTM) functions and next-generation firewalls to complement native SD-WAN security functions. Some technology providers, including Windstream Enterprise, offer managed network security solutions to maximize SD-WAN security.
SD-WAN lays the foundation for SASE
The intersection of networking and security is quickly becoming more complex than ever, and forward-looking organizations are turning to emerging technology frameworks to deliver protected networking and security services and support the unceasing movement toward digital transformation and workforce mobility.
SD-WAN lays a solid foundation for a robust Secure Access Service Edge (SASE) solution that provides unified, secure connectivity anytime, anywhere. It's a strategy many enterprises are actively pursuing, with Gartner estimating that over 40% of organizations will have explicit strategies and timelines for SASE adoption by 2024.7
40% of organizations will have explicit strategies and timelines for SASE adoption by 2024.7
6. Simplifying network management
Legacy networks have become complicated and inefficient to manage as organizations build multi-cloud or separate cloud environments and rely on various providers supporting a mix of cloud-based and on-prem apps and solutions. In fact, most enterprises today (64%) are still using anywhere from 4 to 10 tools to monitor and troubleshoot their networks.8
How SD-WAN simplifies network management
As a software-defined overlay network, SD-WAN works on top of other network types to provide centralized network management and visibility from a single pane of glass. Whether you manage the network yourself or partner with a managed service provider, SD-WAN simplifies operation and management by combining functions at the edge, ensuring performance and availability for cloud-based workloads.
IT personnel can monitor performance and set network, security and application policies across all locations to meet changing needs and goals. And if additional low-cost broadband connections need to be added to the network quickly, SD-WAN enables the ability to make this change without reconfiguring edge devices.
4 to 10—the average number of tools being used by enterprises to monitor and troubleshoot networks.8
Capitalize on the advantages of SD-WAN to modernize your network
Evolving IT business and security needs are expediting the speed with which organizations adopt SD-WAN, and as a result the connectivity and managed services market is estimated to reach $150 billion in 2024,9 with the SD-WAN market alone expected to reach $43 billion by 2030.10
The SD-WAN benefits that organizations can realize, including increased uptime, superior application performance, ubiquitous access to cloud applications and resources, and centralized management make SD-WAN a smart and sustainable choice for many enterprise businesses.
Regardless of how you choose to deploy and manage SD-WAN, developing a thorough network migration plan will help assess your network inventory, plan your solution rollout and roadmap future needs amidst emerging technology and trends. Choosing to work with a managed service provider with a proven track record of successful SD-WAN deployments can relieve some of the strain on internal resources while optimizing your ROI and reducing risk to truly deliver that anytime, anywhere promise.
Ready for an SD-WAN solution but wrestling with whether to work with a managed provider or go it alone? Check out this article for some pros and cons of each to help you make an informed decision.
---
Sources
Raynovich, Scott R. "2020 SD-WAN Growth Report." Futuricom. June 2020. Accessed on January 21, 2022.
DiDio, Laura. "The Cost of Enterprise Downtime." TechChannel. September 2021. Accessed January 21, 2022.
2022 CIO Agenda. Gartner. Accessed January 21, 2022.
2020 Frost & Sullivan Global Cloud User Survey. Frost & Sullivan. Accessed January 21, 2022.
Sanchez, Mauricio et al. SASE-Ready WAN Edge for the Work from Anywhere Era. March 2021.
Lui, Nancy. "Trend Micro: 86% of Orgs Expect a Serious Cyberattack." August 2021. Accessed January 21, 2022.
Moore, Susan. "Top Actions From Gartner Hype Cycle for Cloud Security, 2020." September, 2020. Accessed January 21, 2022.
Network Management Megatrends 2020. EMA. April 2020.
Valdivia, Gaspar et al. "Forecast: Enterprise Networking Connectivity Growth Trends, Worldwide, 2019-2024, 2020 Update". Gartner. February 2021.
SD-WAN Market Research Report. P&I Intelligence. August 2020.