SD-WAN vs MPLS: What's the Difference and Which Is Better?
Compare the difference between multi-protocol label switching (MPLS) and software-defined wide area networking (SD-WAN), and how it affects your business.
At a time when enterprise IT relies on the cloud more and more to support the business, the pressure on company networks is increasing. Downtime is no longer an option.
While multi-protocol label switching (MPLS) has been the standard for distributed enterprises for a generation, the push to the cloud and demands for more bandwidth have exposed its weaknesses. That's led many IT leaders to examine SD-WAN vs. MPLS and consider whether they should migrate their legacy networks to software-defined WANs.
Why IT leaders choose SD-WAN over MPLS
MPLS has been the distributed enterprise networking standard for years. But the massive migration to cloud applications coupled with the shift to remote work has exposed the limitations of traditional hub-and-spoke networks. The circuitous route that data takes over an MPLS network—backhauling to a data center for processing and redistribution—is prone to poor application performance and downtime.
The SD-WAN advantage
Conversely, software-defined WAN (SD-WAN) routes traffic dynamically across distributed branches and remote locations using software intelligence. What's more, it maximizes uptime by utilizing multiple access connections at each site, resulting in instant failover in the event of an interruption on a given connection. That's led many IT leaders to consider whether they should migrate their MPLS networks to SD-WAN.
60% of enterprises surveyed say they will have implemented the technology by 2024.1
The key differences between SD-WAN and MPLS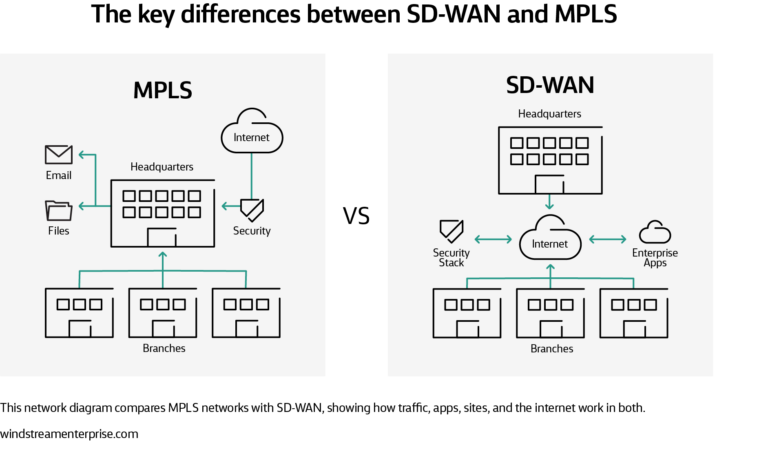 MPLS converges voice and data traffic over dedicated connections that are isolated from the public Internet, while offering basic control over applications.
Because the traffic is operated and managed by a single carrier over a dedicated connection within the MPLS network, traffic is kept private and the carrier can enforce quality of service (QoS) and class of service (CoS) policies on individual traffic flows.
SD-WAN is an application-aware service that intelligently routes traffic in real time based on established business policies, along with network quality and availability.
It's used to connect multiple locations in a network to each other, to a data center, to applications and data in the cloud or to software-as-a-service (SaaS) platforms. By leveraging multiple access types at each location, an SD-WAN network routes application traffic over the best-performing network elements in real time while ensuring automated failover for resiliency.
MPLS pros and cons
PRO: It's reliable, which is essential to maintaining the quality of real-time protocols like voice over IP (VoIP)

PRO: It's predictable. Network paths are predetermined, so packets travel only along the paths to which they're directed
CON: It's expensive. As companies use a wide variety of media, including video, the per-megabit cost can be prohibitive. Adding redundant failover connectivity increases costs even more.

CON: It doesn't offer built-in data protection, which can leave the network vulnerable if incorrectly implemented

CON: It doesn't include application visibility or co-management control
SD-WAN benefits
SD-WAN's automation, centralization and flexibility deliver key benefits to midsize and large businesses, including:
Agility: SD-WAN allows enterprises to pivot rapidly and change operational models, such as shifting workloads to the cloud to enable remote work.
Scalability: SD-WAN empowers IT to add more capacity where it is needed—and reduce capacity where it's not—which is important for supporting a hybrid or remote workforce.
Security: As organizations shift from private MPLS networks to Ethernet Internet, broadband, and cellular broadband, security becomes more important because fluid hybrid work environments introduce more entry points into networks. With cloud-based firewalls and rule sets, organizations can ensure that all users are subject to the same security policies.
Centralized control: SD-WAN is managed centrally from a single portal, offering better visibility and control. It gives IT a clear view of what's occurring on the network and whether it's working as expected, and gives IT the ability to make changes as needed.
Better app performance: SD-WAN monitors and selects the best-performing network paths for better app performance.
Cloud-ready: SD-WAN determines optimal routing paths, providing more robust cloud access while using existing MPLS architecture—making it an ideal on-ramp to the cloud.
Does SD-WAN replace MPLS?
While most new SD-WAN networks will be designed without MPLS underlays, many existing MPLS networks will become hybrid MPLS/SD-WAN networks as SD-WAN capabilities are added. In the short-to-medium term, then, MPLS will likely be part of an SD-WAN for years to come.
As fixed office locations give way to remote users, and enterprises move key applications and servers to the cloud, IT departments will seek to ensure better bandwidth utilization and uptime. Organizations that still use single-threaded MPLS networks are at a disadvantage, since MPLS is bandwidth constrained and unreliable to support networking beyond the network edge.
Can SD-WAN and MPLS work together?
Since SD-WAN separates the software-based control plane from the hardware-based data plane, it can ride over an existing MPLS network.
For IT leaders looking to move to SD-WAN from MPLS, starting with a hybrid approach is a good way to enhance the performance of their existing WANs as they begin their migration.
SD-WAN-controlled hybrid infrastructures are more efficient than a primary network with passive redundancy because both connections can carry traffic simultaneously. A hybrid network WAN will provide the application visibility and intelligent dynamic routing to maximize application performance, while allowing IT to decommission MPLS over time.
As a first step, IT can use SD-WAN technology to replace legacy enterprise private branch exchanges (PBXs) and plain old telephone service (POTS) lines with VoIP. SD-WAN's prioritization offers the performance needed for high-quality voice.
Using this hybrid approach, IT can maintain an existing MPLS network to run real-time applications such as voice and video with built-in class of service, as well as use broadband or Ethernet Internet to support lower priority applications.
Additionally, enabling dual, diverse Internet connections is far less expensive on SD-WAN than paying double the access fees for a dual connection via MPLS.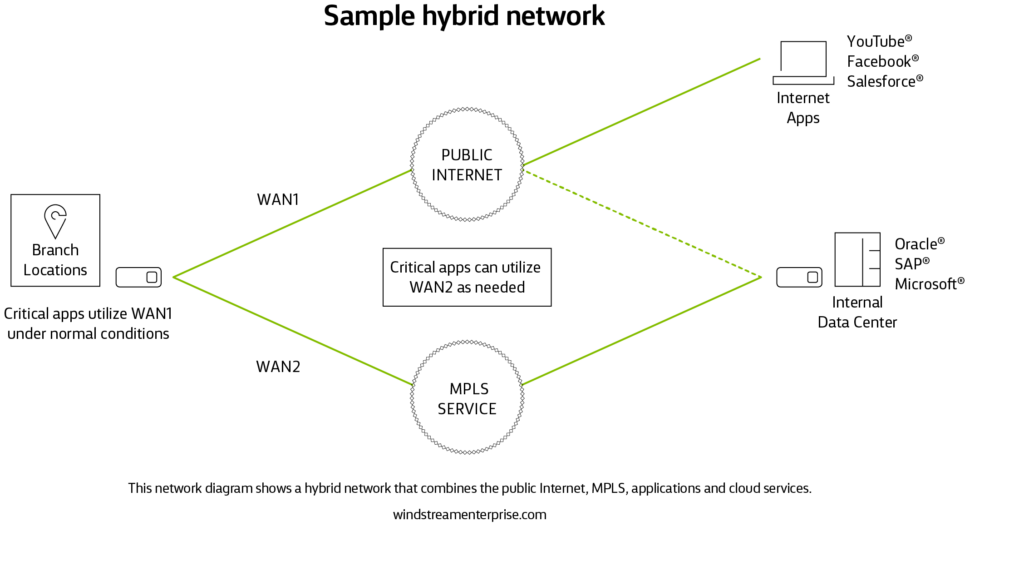 SD-WAN and costs
92% of survey respondents said they are evaluating SD-WAN services and software.2
The ongoing cost benefits of SD-WAN result primarily from savings on access connections and the convergence of voice services. SD-WAN lowers costs by providing users with secure, local access to their corporate services while securing direct access to cloud and Internet resources. It also allows enterprise IT to combine application performance, access and security into a single solution, resulting in further efficiencies.
Access savings
For many enterprises, MPLS circuits are prohibitively expensive. SD-WAN offers lower-cost access replacements to MPLS connections. Adding new bandwidth via cost-effective Internet broadband to augment or replace MPLS is straightforward. And businesses can achieve considerable savings on voice costs by eliminating legacy on-premises PBX, primary rate interface (PRI) and POTS lines.
Operational savings
By adopting SD-WAN, companies can avoid lost revenues and productivity by minimizing network outages. What's more, they can ensure the QoS of connections to cloud services and applications—as well as high availability connections to WAN sites. And SD-WAN's centralized management capabilities reduce the need (and costs) for on-site provisioning and maintenance.
How to choose the right SD-WAN vendor
While organizations with strong internal IT capabilities may attempt to implement and manage SD-WAN solutions in-house, this represents a radical shift from the MPLS-based networks it replaces. Many IT leaders find that third-party providers are powerful allies.
7 Questions to ask a managed SD-WAN provider
Evaluating third-party service partners is critical and networking decision makers must ask tough questions, such as:
What types of access diversity do you have? Can they be set up in active-active configuration?
What level of reliability can you offer?
What are the varying degrees of hybrid WAN and SD-WAN management in place? If you don't want a fully managed service, what are some of the other services?
What types of tools do you provide to measure and manage your services? What kind of visibility and control do these tools offer? What reports do they offer?
Can you provide security at each level? What are methods for securing the data and location?
What service-level agreements (SLAs) do you offer?
What kind of support is offered? Is there a person or team available to help assess needs, plan, set business policies, implement and optimize performance?
For more information on implementing SD-WAN, check out Considerations in Deciding DIY vs. Managed SD-WAN and SD-WAN Best Practices for a Successful Implementation
Wrapping up: Moving from MPLS to SD-WAN
As organizations across all industries have evolved new ways of doing business their network edges have become more dispersed—and in some cases evaporated completely. Applications and servers are moving to cloud, multi-cloud and SaaS providers, often traversing public broadband.
Now there is no longer a "safe corporate network" and "Wild West Internet"—there is only "the network." It is this fundamental shift that fuels the discussion around SD-WAN vs. MPLS.
SD-WAN allows IT departments to ensure flexible, secure and cost-effective bandwidth in the cloud. It also enables the continual performance tuning and uptime IT needs to effectively onboard new applications and processes as they become available. It's no surprise, then, that the shift from MPLS to SD-WAN has skyrocketed.
Windstream Enterprise has partnered with two of the leading SD-WAN technology providers, VMware and Fortinet, to offer an award-winning SD-WAN solution that's right for your business. SD-WAN Concierge™ features an intuitive single-pane-of-glass management portal and is backed by our industry-leading service guarantees.
If you want to read about some successful implementations, check out these SD-WAN case studies in key industries including healthcare, financial services and retail.
---
Citations
Raynovich, R. Scott. "2020 SD-WAN Growth Report: Market Poised to Accelerate." Futuriom. June 23, 2020.