6 cloud-based unified communications benefits for enterprise business
Discover how Unified Communications as a Service (UCaaS) drives productivity and engagement among remote and hybrid employees.
8-minute read time
Unified communications (UC) has been in the cloud for a while now, but as large-scale migrations continue to move to remote and hybrid work UCaaS adoption has accelerated—to the point where the latest business apps and services are now cloud-only.
UCaaS has been in widespread use for over a decade and businesses from around the world have found enormous benefits from this solution set. Through our work with tens of thousands of organizations, we've noted the biggest benefits customers see: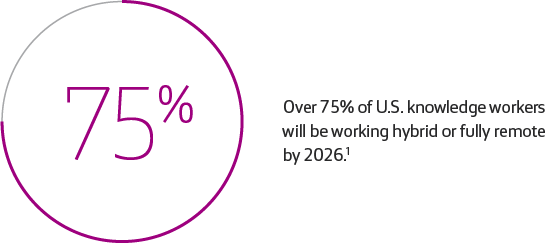 What is Unified Communications as a Service?
UCaaS is a cloud-delivered UC model that brings multiple enterprise communications channels into a single application. Employees can access these services from anywhere, on any device. The infrastructure is typically owned, operated, maintained and delivered by a managed services provider.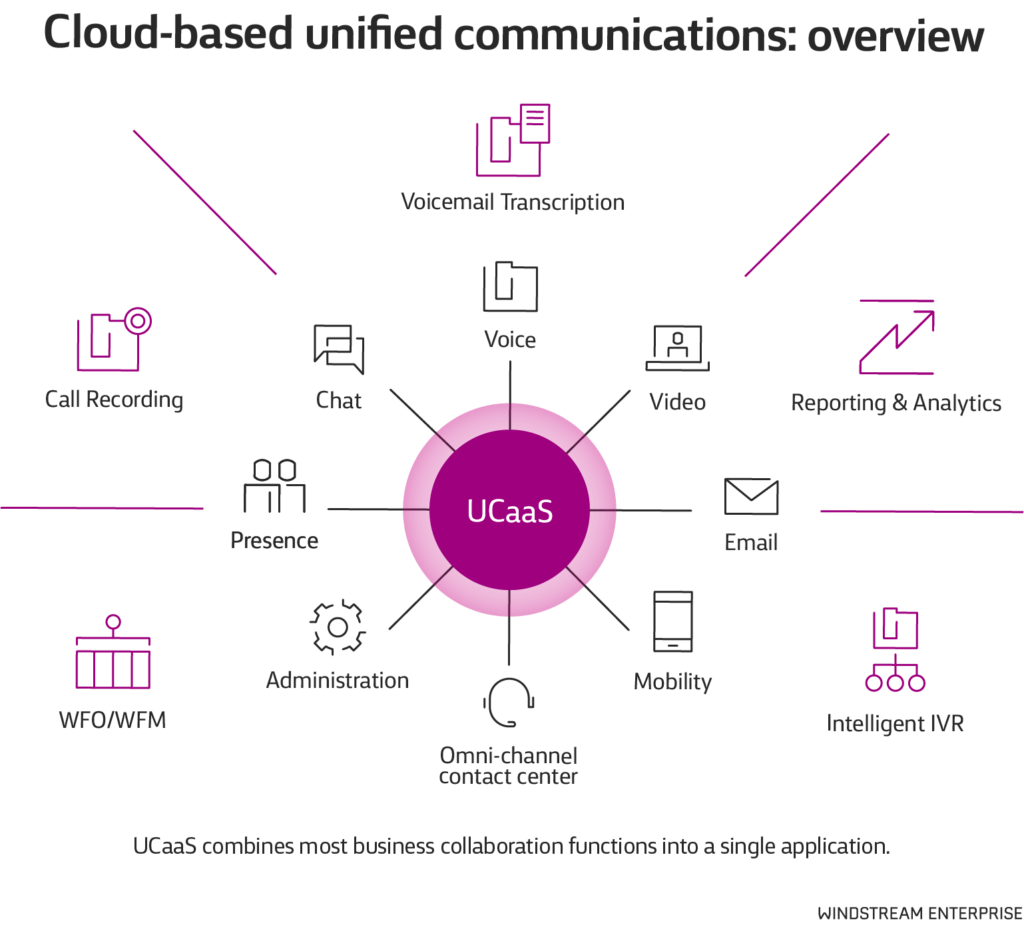 UCaaS supports six main communications functions:
Enterprise telephony
Delivers voice communications as VoIP, with a full range of voice features such as voicemail, voicemail transcription, auto attendant, call group options, desktop and softphone versions, and more.
Meetings
Offers high-definition video, audio and web conferencing that can accommodate potentially thousands of employees from any phone, computer or mobile device.
Unified messaging
Integrates various forms of electronic communications, including email, instant messaging, fax, voicemail and more, all accessible from a single interface.
Presence (personal and team)
Indicates the status and availability of an individual or team within an organization to communicate.
Mobility
Supports the ability to respond to messages, participate in audio and video conferences, and share files and information from a mobile device.
Reporting
Enables administrators to gather real-time insights on communications activities such as call history, duration, usage and more.
The 6 key UCaaS benefits
All businesses can benefit from cloud-based unified communications, regardless of their industry. Here are six main reasons why.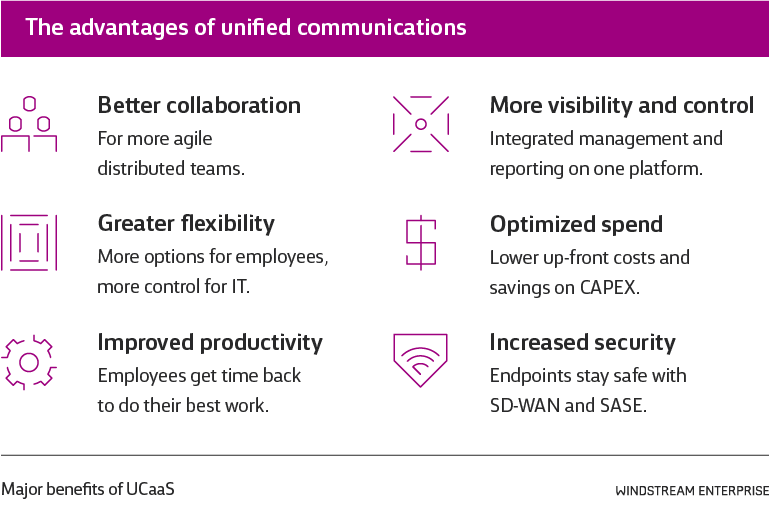 Better collaboration
Removing communication barriers allows for work to get done better, faster, while building a sense of teamwork and delivering more engaging customer experiences.
With cloud-based unified communications, employees can use all their communication tools, whether they're at work or at home. Teams can collaborate anywhere, at any time, with secure videoconferencing and file sharing.
Further, UCaaS lets employees switch from one communication channel to another seamlessly on any device—including desk phones, laptops and mobile phones—without sacrificing time or functionality.
Greater flexibility
For enterprises
Unlike premises-based UC, UCaaS is more customizable, depending on the specific demands of the business.
Senior leadership and IT can decide which communication services the organization needs, and which common apps they can use across departments—like G-Suite, Microsoft Office 365, Slack and others.
As the organization's needs change, applications can be added, scaled up (or down), updated or upgraded quickly by the service provider, without the need for manual provisioning.
UCaaS also comes with a centralized management portal, making it easier for IT to analyze and adjust workflows to improve performance.
For employees
Employees want options for how and when they communicate.3 UCaaS enables workers to switch from SMS, to audio and video conferencing, to screen and document sharing seamlessly.
With the combined business functions available in UCaaS, they can maintain productive, engaged relationships regardless of where they work.
UCaaS also makes it easier for employees to engage with customers using their preferred method, enabling a better customer experience.
Improved productivity
With UCaaS, employees can spend less time shifting between applications and more time doing their best work.
UCaaS provides a major boost in productivity. In fact, 75% of UCaaS users report heightened productivity levels, especially when UCaaS is paired with SD-WAN for maximum availability.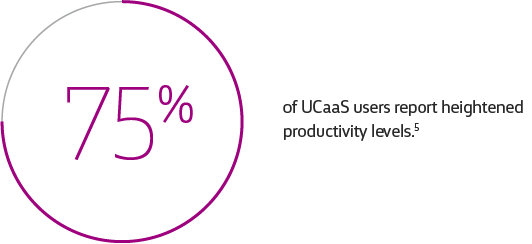 More visibility and control for IT
In a premises-based UC solution, the lack of integration among communication tools can easily lead to management complexity, increased maintenance workloads and poor visibility into system performance.
UCaaS comes with a centralized portal that integrates all management and reporting functions.
IT gets 360-degree visibility into all system activity, allowing them to identify usage trends and respond proactively to network issues—as well as perform ongoing maintenance, upgrades and provisioning from a single interface.
The portal's monitoring and reporting functions allow IT to plan and pivot for future software needs, as well as provision new users and services as they become available.
Optimized spend
UCaaS enables advanced functionality without relying on expensive infrastructure, leading to lower up-front costs and savings on capital expenditures (CAPEX).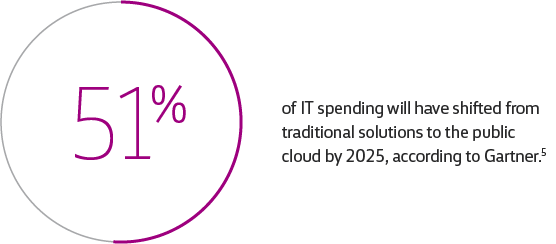 As UC becomes more necessary to operate and grow a business, corporate IT teams face tremendous pressure to deploy and manage a wider set of communication technologies—requiring costly hardware and software updates.
The direct cost of IT staff focused on managing in prem UC/collaboration/telephony solutions instead of focusing on strategic initiatives to create value for the company is significant.
Not to mention the talent pool of IT pros is increasingly under strain, making the hiring and retention of these employees a priority. If getting and retaining these valuable workers is such a challenge, why spend that resource on managing solutions that can be more easily managed by your MSP?
As a result, enterprises find it more cost-effective to migrate to UCaaS from a qualified managed services provider.
The provider handles all software and service updates, enabling the organization to save on CAPEX, along with the specialized expertise and best practices needed to install and manage it successfully.
The as-a-service model gives IT the ability to scale users and services up or down depending on what the company requires, helping them avoid unnecessary spending on unused software licenses.
As an added bonus, reducing on-premises hardware also reduces energy costs—making cloud-based communications not only cheaper, but also more environmentally sound.
Increased security
In hub-and-spoke networks, security architecture is based on closed network models that serve stationary endpoints from data centers. With the rise of remote work, security must now extend beyond the data center to protect endpoints everywhere.
Security risks increase dramatically when remote workers log on from home or public WiFi hotspots.
UCaaS presents an opportunity to tighten up on network security and ensure that employees can access cloud-based apps without posing significant risks to the enterprise.
Rather than depending on manual security updates tied to specific hardware devices, the organization can rely on their UCaaS managed services provider to help mitigate risk and ensure business continuity with security compliance, industry expertise and dedicated security resources.
See UCaaS in action
Windstream Enterprise has helped thousands of enterprise clients across the U.S. drive business transformation.
Check out these cloud-based UC case studies that demonstrate how businesses in a variety of industries have successfully adopted UCaaS solutions. Their stories speak volumes about how the benefits of cloud-based UC solutions can transform your operations for modern times.
To discover what your company can do with UCaaS from Windstream Enterprise, visit the unified communications solutions page.
Citations
Atwal, Griffen, Padhi & Banerjee: "Forecast Analysis: Knowledge Employees, Hybrid, Fully Remote and On-Site Work Styles, Worldwide." Gartner. Jan. 6, 2023.