Summary
To succeed in our digital age, businesses need to empower a remote and mobile workforce, improve collaboration and increase engagement.
To compete and succeed in our now digital age, businesses are needing to leverage integrated tools that can empower a remote and mobile workforce, improve collaboration and increase engagement with customers. With IDC predicting that 72% of the U.S. workforce will be mobile by next year, there is no time like the present for businesses to evaluate more flexible communication options. Providers are embracing this demand by offering cloud-based unified communications as a service (UCaaS) solutions that can deliver the advanced functionality today's businesses require.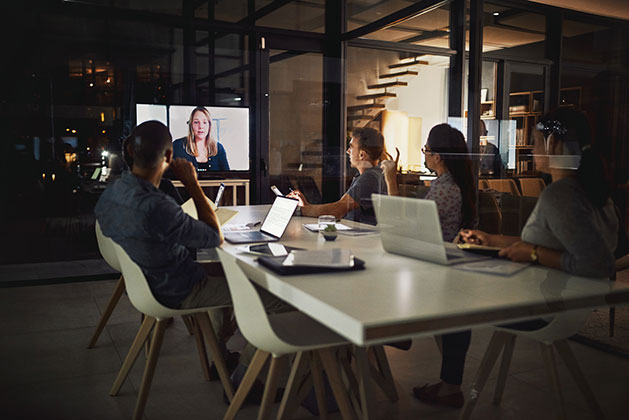 Here are 5 key reasons businesses are moving to cloud-based UCaaS solutions.
Security. Security is a top priority for all businesses today, especially when it pertains to customer communications. Many existing on-premises systems are approaching end-of-life—whether the equipment no longer works properly, the cost to repair is prohibitive or the existing support is being terminated. Without the necessary updates and bug fixes, these systems are left vulnerable to cyberattacks. Cloud-based UCaaS solutions feature end-to-end security capabilities with Advanced Encryption Standards like 256 Bit (AES-256), Transport Layer Security (TLS) between communication managers and gateways, improved certificate management and an end-to-end encryption indicator for Session Initiated Protocol (SIP) devices. Updates are released automatically which ensures the systems remain current and protected.
Scalability. As a cloud-based platform with no on-premises equipment, UCaaS can scale up or down on demand to meet changing needs. Since these systems are hosted in the cloud, adding or removing locations, users and equipment can be managed online remotely without the need or expense for technical support. This is especially desirable for businesses with seasonal fluctuations and those planning for long-term growth.
Efficient collaboration. UCaaS enables users to connect and collaborate more effectively and efficiently since key functions such as calling, messaging and meeting are accessible on any device, from anywhere. Third-party integrations take this a step further by combining UCaaS features with other business-critical applications by leveraging open standards that enable the integration of legacy functionality, industry?leading collaboration services and key solutions from third-party developers.
Reliability. With cloud-based UCaaS solutions, no on-premises equipment means no point of failure due to equipment damage or disasters. Since employees can access critical features from wherever they are, customers can be serviced even if physical businesses are unable to open. Geographic redundancy options can further satisfy more stringent business continuity requirements.
Savings. UCaaS solutions offer attractive per-seat licensing fees that spread out operating expenses over time as opposed to the hard and soft capital expenses required of traditional communications systems such as licensing, real estate, storage, racks, power, cooling and on-site technical support.
Despite the many benefits, the thought of starting entirely from scratch with a new system can be daunting. Talk to your existing provider about a migration plan, as it's possible that you may be able to leverage your existing solutions and investments as you migrate to a cloud-based UCaaS solution that can better meet your evolving needs.
Key Takeaway
Talk to your existing provider about a migration plan, as it's possible to leverage your existing solutions to migrate to a cloud-based UCaaS solution.