Summary
Traditional enterprise networks are difficult to maintain, limit visibility and reduce management control. Software-defined networking enables better monitoring and configuration controls, but introduces its own data-related challenges. Here are five ways IT can evolve the digital IT experience, and how WE Connect from Windstream Enterprise can optimize network management and application provisioning.
Of all the people who have had poor digital experiences in their day-to-day working lives, IT managers have had some of the worst. Traditional enterprise networks come with data centers that host onerous CRM applications, connected by networks that are hard to monitor and maintain without personnel on the ground at every location. Alerts indicating outages and bandwidth issues typically come after the fact, often via phone calls from frustrated end users, leaving IT managers flying blind.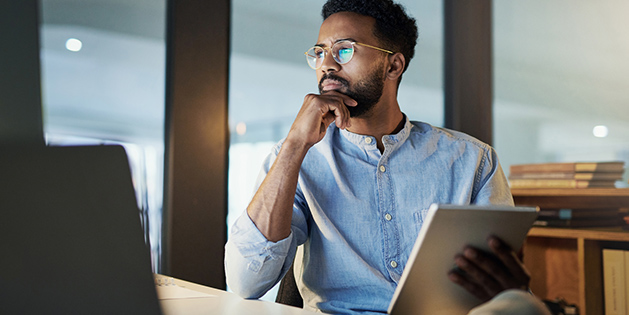 IT departments now have lots of data, but lack usable insight
With the increase in cloud adoption, more enterprise applications are now accessed from a common browser without the need for complex and expensive infrastructure on-site. On the network level, software-defined networking enables IT to monitor and manage network activity through an orchestrator. These advances should mean great times for IT teams—except now they're dealing with a deluge of application, network and service provider intel streaming from multiple channels. IT departments now have lots of data, but lack usable insight.
Take control of the network management experience
With the merging of big data, machine learning, process automation and artificial intelligence (AI) into software-defined networking, it's possible to make network management and application provisioning easier and more efficient for IT managers. Here's how:
Build your insights engine: Start with a data lake that incorporates information from a variety of sources—including the enterprise voice network, LAN services, core network, ticketing, quoting, security and SaaS providers—and stream it into an insights engine that turns that data into a complete, understandable view of network performance from the highest level to a site-by-site breakdown. This will provide IT managers with enhanced visibility and control to understand what's occurring in their network and help them make decisions faster.
Alert managers of network events: Use your pool of data to alert IT managers about any network events they need to act upon. For instance, if the system detects a spike in network utilization from an application that doesn't have any rules applied to it (a common issue with social apps and YouTube), it can recommend that a business policy be applied to that application.
Automate policy decisions: Alert the network team when a new application on the network is identified, allowing the IT manager to set up a business policy for it. Now add machine learning to automate that policy decision for future applications, with a notification that the action was taken.
Predict and mitigate network incidents: Use past indicators to identify future results so IT can get ahead of network incidents. Using SD-WAN as an example, if leading factors are indicating a future degradation of service, a secondary active-active connection can be pre-activated to avoid a network interruption.
Manage the network anywhere, on any device: Offer this functionality through a web browser or mobile application that combines network monitoring and configuration controls, and automated network insights into a single pane of glass—an all-seeing, all-knowing interface that runs the entire network, applications and administrative functions.
WE Connect: Your network in your hands
WE Connect, our award-winning management portal, offers IT leaders and managers total visibility and control over network solutions via a customizable dashboard. WE Connect is a major step in our commitment to create a modern, secure and user-centric digital experience that puts our enterprise customers in full control of their Windstream Enterprise solutions. We have made investments to leverage and incorporate big data into the WE Connect platform to offer actionable, automated and predictive insights to our customers. Learn more about WE Connect here.
Key Takeaway
Network management and application provisioning via WE Connect offers centralized management and total control to optimize the day-to-day experience of IT teams.