Summary
As Windstream Enterprise globally expands its Unified Communications as a Service (UCaaS) offering, we've put together a list of critical questions to ask providers to help you move your unified communications and collaboration to the cloud.
Today, "work-from-anywhere" is everywhere. To better meet the demands of the evolving workplace, Windstream Enterprise now offers its UCaaS solution, OfficeSuite UC®, throughout 16 countries across North America, Europe and Asia Pacific. This expansion allows our U.S. enterprise customers with locations across the world to enhance their workforce's productivity and unlock seamless, secure communications and collaboration experiences.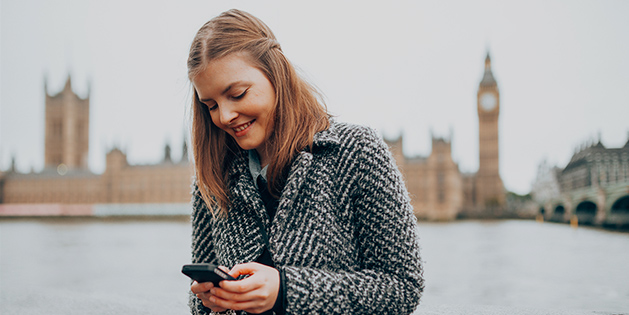 OfficeSuite UC provides more than 100 enterprise-grade features to help resolve the modern-day complexities that come with running a hybrid, global workforce—and it can easily scale to 20,000 users. The platform enables enterprises to optimize unified communications (UC) for employees and customers across all channels and devices, and from anywhere.
Crossing the pond
As any business expands beyond its country of origin's borders and becomes globally competitive, new challenges will arise. For one, communication channels need to become less siloed, more universal and more cloud-based. If you're thinking about migrating your communications and collaboration tools to the cloud to support your international goals, there's good news: Windstream Enterprise is here to help.
With many UCaaS providers in the market for businesses to sort through, it can be challenging to know when you've found the right partner to support your international growth. So, where to start? I've shared 4 important questions you should consider asking providers as you explore the right UC solution for your organization.
1. What makes you an international provider?
The heart of any viable UCaaS solution should include high-quality video and audio conferencing meeting solutions, collaboration tools (such as virtual desktop and screen sharing), integrations with customer relationship management (CRM) tools and intuitive mobility to ensure seamless experiences across all devices.
Yet when thinking "international," organizations need a solution that offers features that can transcend borders. With OfficeSuite UC, U.S.-based clients with locations within Europe and Asia receive:
Flexible access from any Internet-connected desktop or mobile device, whether or not that device is managed by the enterprise
Global time zone support to foster a work-from-anywhere environment
Free intra-company calling that bundles OfficeSuite UC calls within a company's monthly per seat fee
International numbers to give workers local telephone presence at the international location
Local number portability to allow users to retain their existing phone numbers for use with this solution
Service-level agreements to ensure high service availability across applicable sites worldwide
In addition to these global capabilities, Windstream Enterprise customers have access to a single pane of glass portal that comes complete with intuitive desktop and mobile applications for real-time visibility, administrative control and end-user communication tools. Combining all of these features will help businesses easily achieve international reach with a local presence.
2. Where in the world is your solution available?
The global unified communications and collaboration market is expected to increase from $47.2 billion in 2021 to $85.8 billion by 2026. This growth signals the intense demand for real-time and remote collaboration tools and the yearning for workplace connectivity all around the world. Windstream Enterprise recognized this demand and is now offering OfficeSuite UC throughout 16 international countries worldwide, including:
| | | |
| --- | --- | --- |
| Australia | Hong Kong | Spain |
| Austria | Ireland | Switzerland |
| Belgium | Italy | United Kingdom |
| Canada | Japan | United States |
| France | Netherlands | |
| Germany | New Zealand | |
3. Is the UCaaS platform secure?
In 2021, the world saw an alarming 105% surge in ransomware cyberattacks. With the rise of cybercrimes and vulnerabilities, security has become a major factor for determining who organizations will want to partner with.
Unlike other UC providers, Windstream Enterprise owns the code and utilizes proprietary technology to help you meet SOC2, HIPAA and GDPR compliance requirements. The solution encrypts meetings and messages, and secures data and information in the cloud. Furthermore, OfficeSuite UC offers integrated collaboration with other strategic solutions from Windstream Enterprise, including Secure Access Service Edge (SASE) to secure organizations with highly distributed and global environments.
4. How can I trust you as a solutions provider?
Trust has always been a tricky thing because it can only be given, not earned. There's no going back once trust is broken. That's why Windstream Enterprise is committed to delivering solutions that meet your ever-evolving business needs and deliver an unrivaled experience in the industry. But talk is cheap. How do we back this up?
Named in the 2021 Gartner® Magic QuadrantTM for UCaaS, customers can rely on OfficeSuite UC as a market-leading solution that can help establish a local presence in international markets with secure access to voice, chat, virtual meetings and content sharing.
Furthermore, our WE will Commitment includes 5 industry-first guarantees that make it easier to accelerate success with a resilient, pure-cloud infrastructure and industry-leading focus on innovation. Couple this promise with our superior team of technology experts and rest assured you'll be in good hands with not just a solutions provider, but also a reliable and knowledgeable partner for all of your global UC needs.
Key Takeaway
Windstream Enterprise's award-winning OfficeSuite UC powers workforce communications and global connectivity with leading technology, industry-first service guarantees and superior tech expertise.