Summary
Most WANs were never designed to support the demands of today's businesses. SD-WAN optimizes end-to-end application experience and yields many benefits.
The wide area network (WAN) is the key determinant of application performance, user experience and other key IT success measures. According to Forbes, 83% of workloads will run in the cloud by the end of 20201. Yet, most current WANs were never designed to support the volume and types of traffic destined for the cloud—much less to meet the demands for application performance and the daily operations of today's businesses.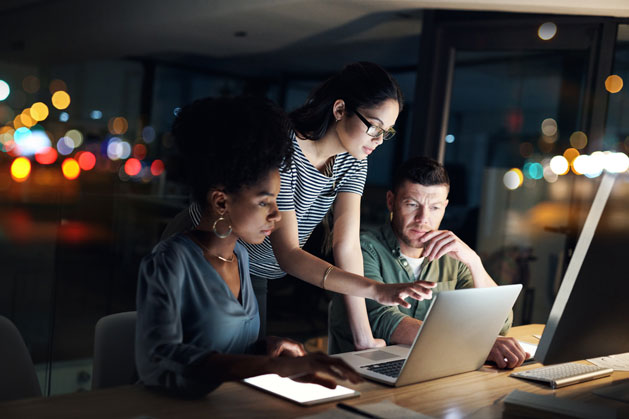 What began more than 10 years ago with server virtualization, has manifested into the move to a next-generation WAN environment—the migration of compute and storage resources to a software-defined status.
The concept of using software to describe resources has become the standard approach and the future of IT for all three aspects of the infrastructure (compute, storage and networking). The first step to deploying a cloud-ready WAN is moving away from legacy WAN processes and technologies to services that can support the challenges of a cloud-driven IT environment. Utilizing a software-defined wide area network (SD-WAN) can solve many problems that legacy WANs present. Much as hyperscale cloud service providers (CSPs) are already reaping the benefits of virtualization when it comes to compute and storage resources, expanding this approach to the WAN further optimizes end-to-end application experience for business users and yields many benefits, such as:
Eliminating/reducing network fragmentation. SD-WAN enables network assets to be managed as a single logical entity, rather than a collection of disjointed physical ones. The resulting consistencies improve application performance, security compliance and customer experience.
Enhancing security. Meeting compliance for PCI DSS, HIPAA and other regulations is easier with comprehensive security policy implementation and real?time monitoring.
Ensuring application performance. As dynamic workloads migrate to the cloud, connections can be automatically optimized to continuously meet performance requirements.
Improving reliability. Real-time traffic moves with active/active failover capabilities to ensure that end-users never perceive an outage.
Increasing flexibility. A macro view of an SD-WAN (with drill?down "micro" capabilities) enables IT teams to proactively identify and resolve potential issues—in real time, and perhaps, before issues are even detected or reported by end-users.
Providing real-time management and visibility. Real-time measurement, information and status updates across an SD-WAN enable admins to function with much greater efficiency.
Enhancing connectivity to critical CSPs. Maintaining secure, high?performance connections to leading CSPs is becoming a more significant component for most organizations' IT ecosystems.
Reducing management and operational complexity. Managing logical entities enables administrative operators to optimize networks at a higher, strategic level, rather than tactically optimizing circuits one?by?one.
1https://www.forbes.com/sites/louiscolumbus/2018/01/07/83-of-enterprise-workloads-will-be-in-the-cloud-by-2020/#30159dd6261a
Key Takeaway
Moving away from legacy WAN processes and technologies to services like SD-WAN can support the challenges of a cloud-driven IT environment.