Communication and flexibility are a must for today's businesses. If you can relate to any of the scenarios below, you know that when you don't have the tools and capabilities needed to operate efficiently, your customer experience suffers. Connecting to customers effectively and delivering a consistently positive experience is crucial for your success.
Communication barriers
Scenario A: Your sales personnel are working with a prospective customer, but your communication tools leave a lot to be desired. Travel is restricted due to budget constraints, but you know face-to-face interaction is far more effective than just a phone call. You need video conferencing so you can still provide that personal touch that helps your sales staff close the deal.
Scenario B:  The lead sales representative on an account has some questions for the sales engineer. The rep initiates a chat session with the sales engineer, then the topic becomes a little more complex and requires a phone call.  Now the sales rep and the sales engineer have to switch platforms to connect over the phone, wasting the few precious minutes they both have until their next meetings begin.
Scenario C: We all strive to spend more time with customers which doesn't happen while you are sitting behind a desk. You need to be out in the field interacting with your customers. However, while doing that, you still need to remain connected. Having the ability to receive office phone calls, quickly start or join conferences, shoot an IM to a colleague, or view a co-worker's presence status to know when they are free to take a quick call – all from your mobile phone – would empower you to do both parts of your job well.
Eliminating communication barriers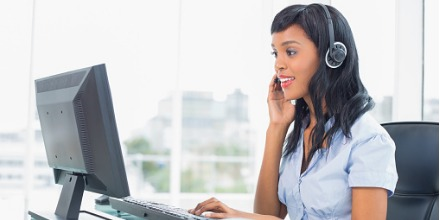 Status quo isn't an option. That's why you're reading this. The change agent is Unified Communications as a Service (UCaaS) and it's much more than a phone system.  UCaaS offers businesses the ability to eliminate barriers that hinder productivity, whether you are engaging with someone inside or outside of your organization – a sales representative that is meeting with a prospective customer, or a product manager that is conducting a meeting with product developers, or even more so, a contact center agent that is resolving a customer issue, the list of possibilities goes on. We all know working with customers requires the ability to be efficient and effective, but the key is to empower your employees with the tools they need to meet these demands.
UCaaS business advantages
On a macro level, UCaaS delivers business advantages by enabling simple, seamless communications, eliminating media and device format requirements, and delivering a unified experience that reduces the latency between communication services.
UCaaS takes the voice of a phone system and marries it with a variety of key functions, such as presence, chat, SMS text, video, audio and web conferencing, mobile apps, and other productivity-enhancing features – all from a single interface.  That single interface saves time, speeds decision making and lets employees keep moving business processes along in earnest. With UCaaS, there is no longer the need to subscribe to individual services with separate interfaces from multiple providers. The unification of users and systems provides the tailwinds to increase agility.
To further punctuate the value of UCaaS, the cost of onsite meetings and business travel continues to increase. Investing in better communications tools will create long-term savings by decreasing travel and meeting costs, as well as increasing both staff productivity and customer engagement.  Let's breakdown a couple of examples of how UCaaS contributes to your sales representatives' agility and productivity.
Scenario A solved:  Video-centric collaboration combines video meetings with desktop sharing and voice. This allows sales personnel to provide live demonstrations in a cost-effective manner, while obtaining real-time feedback.  The collaboration portion of UCaaS is a great way to help sales qualify prospective customers on your solution and keep the proposal process moving without the hefty expense of travel.
Scenario B solved:  Now instead of initiating a phone call and having to switch platforms, the rep uses the same interface to escalate the chat to a phone call which is done with a couple of clicks (no need for remembering/dialing phone numbers). Once that conversation has started, if the content from the phone call needs to be added to a presentation the sales rep is developing, that call can easily be elevated to a desktop sharing session where changes can be made in real time. This integrated UCaaS capability saves everyone time, increases agility and results in improved productivity.
Scenario C solved: Instead of accepting the status of limited mobile capabilities, reps who are mobile have the ability to remain connected at all times.  Whether through twinning multiple devices (mobile softphone and desk phone) and having them ring at the same time, or having them ring in sequential mode (softphone first, desk phone second, voicemail third), reps can control how they receive calls. They can also easily collaborate with colleagues and participate in conferences all from an app on their mobile device.
The payoff
A crucial part of moving to UCaaS is the ability to let go of the past. By exchanging fragmented, aging and inefficient methods of communications for an integrated experience, you will find that right combination of cost and function that will yield advantages for your business. Providing the UCaaS features that your employees need sets the stage for lower, more predictable costs and allows employees to be more agile and innovative as they strive to work with your customers.