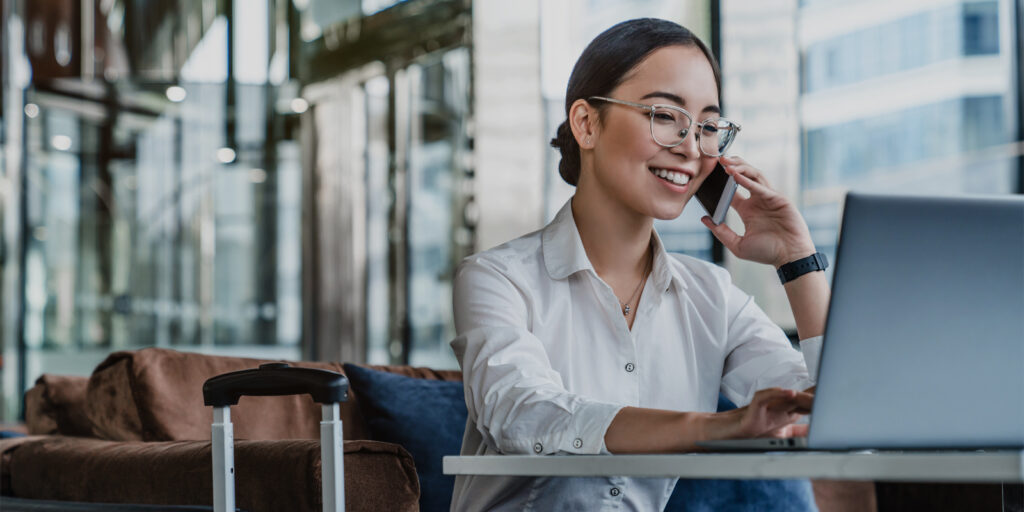 UCaaS is an integral part of the evolving digital world. Like its older IP cousin, VoIP, Unified Communications as a Service moved quickly from arcane acronym used by network engineers to become a term that forward thinking business decision makers are familiar with. Something that the latter group may not know are the benefits of moving to UCaaS; not simply from a cost perspective, but the impact on creating a great experience for your customers. Not to mention engaging another essential audience, your own employees. If any of this is new to you, here's a quick overview of the role of UCaaS in the digital workplace.
UCaaS 101: the basics on taking UC to the cloud
The forerunner of UCaaS is unified communications (UC), which typically offers some combination of voice (VoIP), chat, IM, presence, collaboration or document/screen sharing and video/conferencing integrated into the traditional office phone system. How much of that you get, which varies by provider, will determine your ability to implement a platform for communications and collaboration. Compared to predecessor PBX systems and basic VoIP, unified communications introduced a new era of efficiency and productivity to business communications.
But it was with the next phase of UC—cloud-based Unified Communications, or UCaaS—that businesses began to see the potential for something with greater impact, supporting a higher level of collaboration, and turning the old office phone system into a powerful tool for audience engagement. And it couldn't have happened at a more essential time.
What's driving the trend toward UCaaS?
UCaaS takes everything traditional UC offers and dials it up a notch, providing a seamless, interoperable, productivity enhancing solution for communications and collaboration. Since it's both device and location agnostic, users can work wherever they choose (i.e., office, remote or mobile) with consistent access to a suite of voice and collaboration tools. So, no matter where they are, your people can be part of—or take control of—the conversation.
Numerous factors are driving interest in the UCaaS powered digital workplace, leading a growing number of organizations to leave their legacy on-premises solutions behind:
Evolution of the workplace: Employees need the same tools on their PCs, phones, tablets to enable fast, secure and reliable collaboration, at work, home or on the road.
A tech savvy workforce: Tech-savvy Millennials and Gen Z are a large, growing and essential segment of the workforce. They expect agile, flexible, user friendly technology, just like what they use on a regular basis to connect and entertain.
Rapidly changing technology: Mobility and a host of associated technologies are transforming the enterprise. Cloud computing, and the overall XaaS movement, has changed everything and communications is following that path.
The move to OPEX vs. CAPEX: UCaaS doesn't require users to support complex on-premises equipment. The provider handles the heavy-lifting, helping IT managers stick to their budgets while remaining flexible so they can ramp-up or dial-down as needed.
The benefits of UCaaS are engaging
The strategic benefits of UCaaS are simple, starting with engagement:
Engaged customers: UCaaS makes your team more accessible, agile and able to respond to customer need. This empowers an enhanced customer experience (CX), no matter where anyone might be at any given time. Customers who feel that kind of connection are more likely to feel valued; loyalty and profitability follow from there.
Engaged employees: Mobility and collaboration leads to increased job satisfaction and creativity across the organization. There's also a big impact of freeing your IT staff to focus more on innovation versus maintenance.
Productivity and competitiveness: From brainstorming to pooling skills for a project, UCaaS fosters seamless collaboration and a competitive edge. Video conferencing can take place anytime without the need for IT to install, manage or support anything.
Organizational innovation and agility: Collaboration and sharing knowledge lead to better decision making, and helps bring ideas, products and services to market faster.
Cost efficiency: Pay-as-you-go subscription models offer predictable, reasonable fees vs. the higher costs of purchasing and maintaining separate phone and collaboration systems.
What to look for in a UCaaS provider
While everyone claims their services are easy to manage/use, a number of things set some apart from the rest. Here's a few good questions to ask to help figure it out:
Do they offer a comprehensive set of tools? At minimum, features should include IM, screen sharing, video conferencing and complex call handling. Beyond that, chat, presence, conferencing, collaboration, and support for a range of mobile devices.
Do they support superior communications quality, reliability and security? Real-time communications demand performance and reliability for an optimal user experience (UX) along with comprehensive security.
Is the solution fully integrated? Providers must be able to integrate UC functionality across apps along with telephone, IM, screen sharing and more.
Key Takeaway
UCaaS is the next step for taking your business to the next level of communicating, whenever and wherever.