Editor's Note: In recent months, major tech firms have announced sweeping layoffs and smaller players have struggled to secure VC funding. Against that backdrop, it can be easy to assume that health tech firms will struggle in 2023.
While that may be true, a more important trend may be how health tech evolves in the months to come. Buyers will likely focus on solutions that offer high value, such as telehealth applications for chronic disease management, while investors will likely focus on companies with a clear path to profitability. This may also be the first year when published data demonstrates how AI and ML can improve health outcomes and health processes. And, of course, cybersecurity and privacy will be paramount, in part as a response to a doubling of ransomware attacks on hospitals in a five-year period.
To navigate these trends, healthcare organizations need technology partners with strong industry credentials.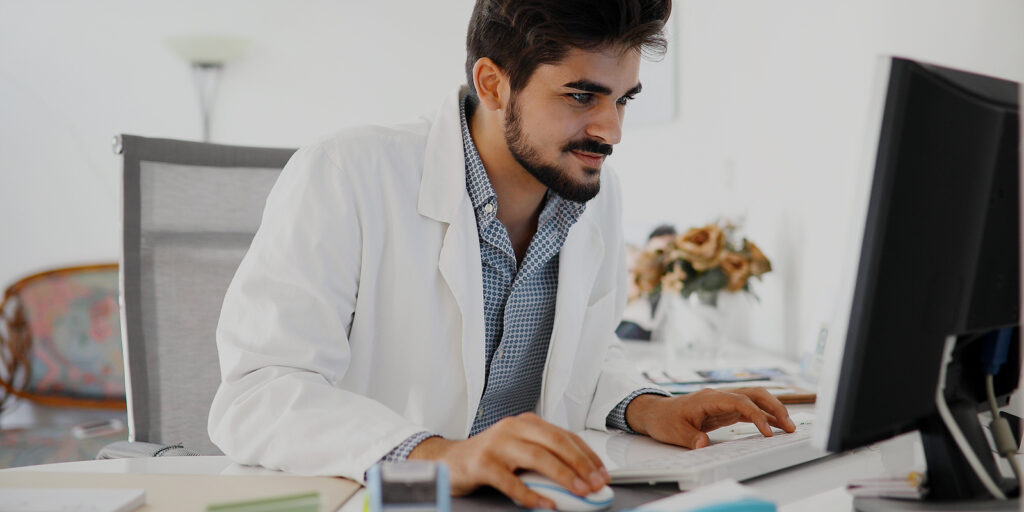 Summary:
The adoption of healthcare technology increased rapidly with the pandemic's onset, but indicators suggest that enthusiasm for digital health funding and virtual care may be waning. We explore what industry stakeholders predict for the coming year.
The COVID-19 pandemic kickstarted a rapid increase in adoption of healthcare technology, reshaping the bedrock of American medical operations and delivery. But as 2022 drew to a close, several factors suggested that technology adoption was slowing down, including a cooled landscape for digital health funding and a drop in virtual care utilization.
In addition, a flurry of cyberattacks and concerns over the privacy of sensitive medical data highlighted the hazards of new technology adoption.
Despite this, experts remain upbeat about the potential of technology to improve U.S. healthcare in 2023.
According to predictions from industry stakeholders, this year could represent an inflection point for real-world utilization of artificial intelligence, and standards could raise for health data privacy and cybersecurity. In addition, though investors are more cautious, funding will continue to be available for startups this year, and the telehealth industry will be held to higher clinical standards as it's used more frequently in care delivery.
Digital health goes back to basics
After a volatile few years of record digital health funding followed by a painful market correction, health tech is going back to basics this year as investors prioritize safety over risk, experts predicted.
Digital health funding may still experience a slight drop compared to past years, but funding levels should stabilize in 2023, according to Credit Suisse analyst Jonathan Yong. Companies that have a pathway to profitability or are already operating in the black should attract the most interest as venture capitalists—with valuations down compared to the highs of the past two years—become more discerning.
"While growth is still important, there has to be a much stronger balance between growth and path to profitability," Yong said. "VCs are going to be much more selective in their investment choices."
That trend should benefit public companies with track records of stability, mature business models, steady growth trajectories and fair valuations, according to SVB Securities analyst Stephanie Davis. Such companies include data analytics company Health Catalyst, patient intake software provider Phreesia and revenue cycle management company R1 RCM, along with EHR companies like Veradigm, née Allscripts, and Nextgen, Davis said.
Mental and behavioral health should continue to be key areas for funding, Yong said. Despite the multitude of behavioral health companies in the space, employers and payers "are still looking for help here," he added.
Experts said they think healthcare companies will adopt tools more slowly than they did last year, as payers and providers are forced to be more selective in whom they work with given financial pressures and an abundance of point solution companies in the market.
Payers likely will allocate resources toward physician enablement and care coordination capabilities. Meanwhile, providers will invest in tools to reduce administrative burden on clinical staff and improve revenue cycle management, Yong said.
Digital health companies have the greatest near-term opportunity from the provider wallet, as hospitals and physician networks continue to adopt digital health technologies to streamline operations in a difficult macro environment, including data and analytics strategies and patient engagement products, Davis said.
Despite opportunities, this year still is expected to be tricky for digital health startups. Experts said persistent layoffs and consolidation is likely as it becomes harder for point solution companies to operate independently. In addition, companies that decide to raise funding in 2023 will likely have to make do with a down round and may have a harder time getting funding as the year goes on and a higher rate environment pressures valuation.
"I've been hearing a lot of quiet down rounds lately," Davis said. "And I do think the companies that are doing the down rounds are being very prudent to do so."
Telehealth shifts to 'more high-value' care
Research suggests that telehealth use has been falling since it peaked in spring 2020. However, some telehealth experts predict that digitally delivered healthcare will continue to grow, with volume shifting from urgent care visits that popularized the modality to virtual care for chronic needs.
The drop in consumer utilization of telehealth has "been offset in a very, very significant way by a huge rise in the way clinicians are using telehealth"—like consulting specialists in other systems, delivering care for patients undergoing chemotherapy, or checking on patients after surgery, said Roy Schoenberg, CEO of Boston-based telehealth company Amwell.
Amwell has seen clinicians using telehealth for this "more high-value" chronic and longitudinal care increase every week, generating volume that Amwell expects to continue rising in 2023, Schoenberg said.
Telehealth is increasingly being used for "what most healthcare is about, which is chronic patient care, longitudinal patient care, rather than the whimsical occasional flu, which is a very, very small part of healthcare," Schoenberg said. "When I look at 2023, I actually see a bull market for telehealth driven by the reimagination of how patients need to be cared for by clinicians."
Virtual care will increasingly be held to the same clinical standards as in-person care, and this year will bring more emphasis on quality and safety, according to Teladoc Health CEO Jason Gorevic. Telehealth standards were a source of controversy last year, with some companies accused of operating as pill mills, resulting in regulatory scrutiny.
In addition, economic pressures and shifting consumer expectations will contribute to a decline in the number of digital health point solutions in the market, experts said, with Gorevic noting that he wouldn't be surprised if half are acquired or shut down completely by this time next year.
An inflection point for AI
The healthcare sector has long been eying the potential for artificial intelligence in healthcare, but adoption of such tools in the real world has been slow. The number of randomized controlled trials, and the actual use of AI in medical facilities, remains small, but more evidence could start to emerge this year to help ease adoption, Google Chief Clinical Officer Michael Howell predicted.
"What I think we'll see with this in 2023 is we'll start to see some high-quality evidence come out about the impact of AI and ML on actual health outcomes and on healthcare processes," Howell said. "The question I always get is, 'Will AI ever replace doctors and nurses?' No. But will it start to augment and support them? I think we'll start to see real examples of that."
The Food and Drug Administration has been accelerating approvals of medical artificial intelligence tools, authorizing more than 520 devices as of November.
As more devices are approved, more providers will weave AI into their operations for uses in revenue cycle management, clinical decision support and patient engagement, experts predicted.
Payers will also look to find efficiencies using technology and discover new ways to use data they collect, as healthcare organizations struggle with the growing disconnect between consumer expectations and the reality of the healthcare experience—and competition from market entrants like Amazon and Walmart, according to a report from digital consulting firm West Monroe.
Healthcare companies get serious on cybersecurity, privacy
As healthcare organizations continue to adopt technology, attack surfaces will expand, increasing the need to secure the cyber environment, according to Chris Bowen, founder and CISO at data security firm ClearData.
For example, the number of ransomware attacks on hospitals more than doubled between 2016 and 2021, according to a recent study. Researchers estimated more than 42 million patients' data was exposed over those five years.
As a result of rising incidents, healthcare organizations will increase their cybersecurity budgets, in some cases by more than 15% compared to 2022, Bowen predicts. Federal law enforcement also may become increasingly aggressive in combating cyberattacks, especially ransomware.
In addition, policymakers may get more serious on data protection laws as biometric and AI-driven healthcare technologies become more pervasive, according to Bowen. The lack of a comprehensive federal data privacy legislation is viewed as a major oversight in today's digital age, and the HIPAA privacy legislation has notable gaps in the data it protects.
"It's unsettling that mobile app creators can collect health-related data that does not have federal data protection," Bowen said.
Google's Howell agreed that data protection and trust will be pivotal this year as a national conversation around privacy sparked by the overturning of Roe v. Wade stretches into 2023. In the wake of the ruling, a number of period tracking apps, data brokers and tech companies like Apple and Google took steps—often under regulatory and public pressure—to enhance privacy and security protocols.
Companies that operate in the healthcare industry will continue working to ensure patient data is kept secure and build trust with patients wary over the collection and use of their sensitive medical data, according to Howell.
"We will keep focusing on those," he said.
This article was written by Rebecca Pifer from Healthcare Dive and was legally licensed through the Industry Dive Content Marketplace. Please direct all licensing questions to legal@industrydive.com.
Windstream Enterprise can help your organization streamline healthcare operations, mitigate risk, enhance compliance and improve patient and provider experiences—all while protecting sensitive medical information.
Key Takeaway
Data protection and trust are expected to be pivotal factors in healthcare this year as events like ransomware attacks have prompted providers to enhance their privacy and security protocols.