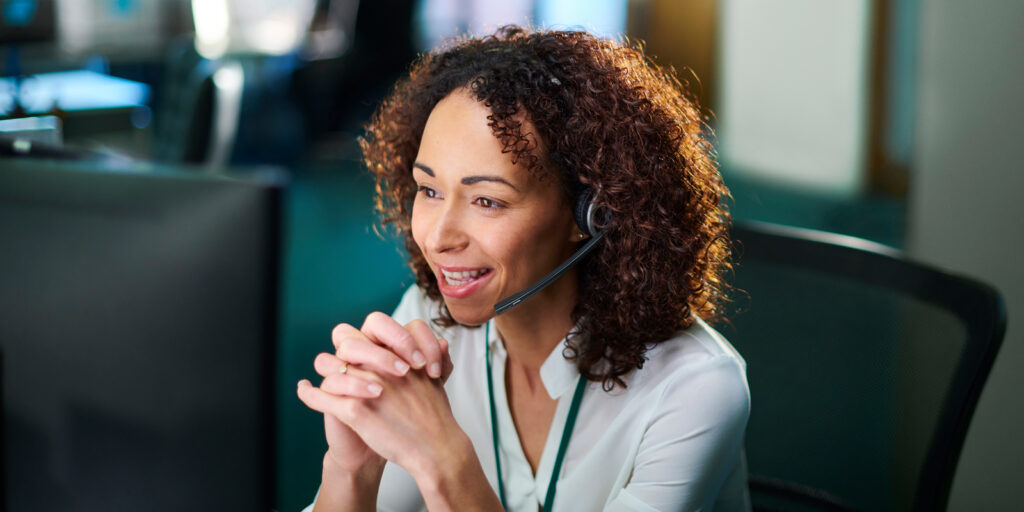 Summary:
Healthcare organizations are faced with the challenge of effectively managing patient communications and care, while also juggling scalability, operational efficiency, data security and compliance. To balance it all, smart organizations are turning to cloud-based contact centers as a seamless customer-centric solution.
The pandemic changed a great deal in how healthcare organizations serve their patients. Reliance on telehealth services for medical appointments significantly increased from less than 1% pre-pandemic to as much as 80% in areas with high pandemic prevalence. Providers had to quickly ramp up their technology to meet patients' demand for telehealth.
The telehealth model led to patients' expectations that providers have the same technological capabilities to manage their entire spectrum of care. But while modernizing technology for telehealth and other digital services can help create a better patient experience, it has also opened new issues for the industry with risks to data, security and compliance. Healthcare organizations are focused on resolving these operational challenges, starting with enhancing their contact center capabilities.
Why a good patient experience matters
The Patient Experience: Perspectives on Today's Healthcare survey conducted by the American Academy of Physician Associates (AAPA) and The Harris Poll aims to understand the current patient experience within the U.S. healthcare system. It found that almost three-quarters of adults say the healthcare system fails to meet their needs. Managing healthcare is overwhelming and time-consuming, with adults spending an average of two hours per week coordinating healthcare for themselves and their families and loved ones.
The lack of care coordination across providers contributes to adverse patient experiences because healthcare systems tend to be siloed, disjointed and fragmented. Patients must sometimes navigate care among a myriad of providers, leading to confusion and frustration. This less-than-ideal patient experience is why 82% of healthcare organizations are prioritizing improving the patient experience, according to the Windstream Enterprise The State of Digital Transformation in Healthcare report.
Organizations that deliver more meaningful, timely and positive patient experiences at every interaction with their contact center will be rewarded with a competitive advantage and (hopefully) an increase in both loyalty and revenue. A Contact Center as a Service (CCaaS) solution elevates the patient experience by providing personalized interactions via patients' channels of choice, such as email, SMS, voice, live chat or social media.
We're currently in a world where more digital patient data exists than ever before, but at the same time patients often find, to their frustration, that data is fragmented and spread across different systems that don't talk to each other. To ease this frustration, CCaaS offerings in the healthcare industry should provide electronic health record (EHR) integration. This integration can ensure that agents helping patients have access to prescription history and refill status, appointment scheduling and history, and a list of past doctors seen, all within the agent interface.
Healthcare organizations should seek out a CCaaS solution like Windstream Enterprise Contact Center as a Service, powered by Talkdesk, which leverages deep functionality with direct EHR bridges and a HL7 FHIR standards-based universal EHR connector.
How HIPAA compliance rules impact a contact center
Healthcare organizations must be HIPAA compliant to process, store or transmit electronic protected health information (ePHI). The HIPAA Security Rule protects ePHI created, received, used, or maintained by a covered entity, and the HIPAA Privacy Rule addresses the use and disclosure of individuals' protected health information.
HIPAA regulations extend to a healthcare organization's CCaaS because contact centers have access to a great deal of ePHI data that is often referenced or acquired in patient interactions, such as call recordings or text messaging. By having a HIPAA-certified CCaaS, a healthcare organization can ensure secure ePHI for patients, payers and providers while also implementing industry best practices for security, privacy and business continuity.
Stop data breaches with a secure contact center
As the Windstream Enterprise The State of Digital Transformation in Healthcare report revealed, 44.3% of healthcare leaders agreed that telehealth demand exacerbated cyber-risk and compliance concerns in their organizations. It is imperative that healthcare contact centers ensure secure communications to maintain HIPAA compliance and protect valuable ePHI. But it's that valuable data that makes healthcare organizations a prime target for cyber threats and cyberattacks.
Hacking was the leading cause of healthcare data breaches in 2022, followed by unauthorized access, theft, loss and improper data disposal. Prevention is better than reaction when it comes to a cyber breach to avoid huge costs and fines. Healthcare has the highest data breach costs of all industries, and the average cost of a healthcare data breach is now $10.93 million, up from $10.10 million in 2022.
While the cloud-based infrastructure of CCaaS is beneficial for healthcare organizations, it also may impact data breaches. Organizations can take preventative measures by assessing a product like Talkdesk Guardian. The cloud compliance application uses artificial intelligence to help contact centers maintain compliance and reduce risk by learning from historical activity patterns to create a baseline of user behaviors and flag unexpected events—so healthcare organizations can avoid critical data issues and continue to deliver essential patient experiences.
Key Takeaway
Cloud-based CCaaS is crucial for healthcare organizations because it enables them to efficiently manage patient communication, appointments and inquiries while ensuring scalability and flexibility. This call center technology enhances patient engagement and streamlines communication processes, ultimately improving the overall patient experience and healthcare service delivery.