Editor's Note: Retail customer demands are higher than ever, and customers expect businesses to meet them wherever they are. But seamless omnichannel shopping can only be as good as the network infrastructure you have in place at your business. By improving your in-store WiFi, boosting security and taking advantage of location services, you can make sure your retail store is prepared to meet modern customer expectations.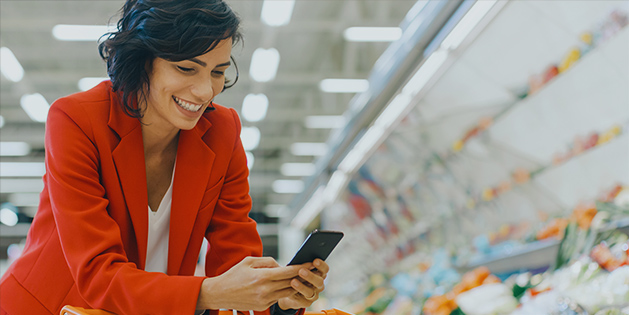 Summary: Today's customers expect integrated omnichannel choices, frictionless interactions, and seamless transitions into new shopping habits such as BOPIS—and in nimble organizations a positive retail technology experience for staff is just as important.
Expectations are high that consumers will have a positive experience every time they research a product online, step foot in a brick-and-mortar store or stop by to pick up their online purchase.
If the network is down or glacially slow, they'll remember waiting to make a purchase, or how they couldn't access the internet to send a text back home and make sure they selected the correct size.
These are not the lasting experiences customers want to leave stores with.
With competition higher than ever before, retailers need to ensure they're thinking of the customer experience when upgrading their stores. Are there areas without coverage? Are the connections for the point-of-sale equipment fast enough to support peak season? Is there coverage in the rapid pick up area, so consumers and staff can easily scan and release goods?
Why customer experience matters
Retail customers expect to see consistent, seamless, integrated omnichannel choices, to experience frictionless interactions, to be able to personalize goods and seamlessly transition into new shopping habits such as Buy-Online, Pick-Up-In-Store (BOPIS).
Are connection speeds high at every corner of the store? Do curbside pickup areas have full connectivity in case a store manager needs to be contacted? Are employees easily able to review inventory, or make an online purchase for a consumer who can't find a particular size in stock?
The internal experience matters, too
Retailers also need to be able to make better informed decisions that support operational and commercial objectivity. An optimized networking experience should enable organizations to implement universal changes swiftly when needed, while also reducing the operational workload for IT staff.
A positive retail technology experience is as important for consumers as it is for the IT team. Optimizing the overall experience saves time and money, enabling IT teams to better align efforts with key objectives.
Elements of the connected experience
Retailers need new ways to enrich, streamline and connect the customer experience, in-store and online. It is important to focus on enhancing omnichannel customer experiences that deliver personalized interaction—while also providing IT teams with secure client-to-cloud automation, insights and AI-driven operations.
Key technologies that retailers should explore in order to establish a nimble organization, focused on the dual experience of its customers and employees, include:
Improved WiFi: Today's retailers must provide strong, reliable, easy-to-use WiFi for customers, warehouse staff and employees. Beyond enabling personal, in-store device use, such as checking with someone at home about a size or color, or what condiment they wanted on a sandwich, strong WiFi is necessary for everything from the cash register to inventory checking. If the network is slow or often down, the resulting experience will take a nosedive.
Strong, reliable networks can make integrated online to offline customer experiences a reality. These include home delivery, click-and-collect, curbside pickup, menu customization and appointment-driven shopping. In the future, retailers can increase purchases and revenue with real-time marketing offers shared to mobile devices via a strong network.
Embrace location services: Location-based services can be incorporated directly into the network and provide services such as turn-by-turn wayfinding. Localized alerts such as promotional reminders or product information can be pushed to consumers based on where they are or what they've placed in their carts. Virtual beacon technology can accurately deliver on-the-spot information, such as digital coupons, upsell recommendations or even accident alerts.
Location-based services can also optimize warehouse operations with tools such as asset tracking or route optimization. Assets can be easily located on a store floor or warehouse, including associates or high-value products. Location technologies can efficiently manage people flow in outdoor queues as well as in-store, helping meet social distancing and occupancy guidelines. The data created and patterns observed can improve flow and avoid capacity limits at busy times.
Simplify infrastructure: The employee experience is just as important, especially during times of peak employment where retaining skilled team members is a must.
As a part of ensuring reliable connectivity between headquarters, warehouses and stores, retailers have to make every effort to simplify their network operations as they increase service reliability.
Simplifying network planning, design and operation with network automation and optimization will ease the IT team's burden, freeing up skilled team members to work on more valuable tasks. Elimination of repetitive and mundane tasks can also help with retention, as employees are happier with their jobs.
Embracing automation can simplify the organization's infrastructure, optimizing network and branch performance and helping to remediate network, wired and WiFi problems. New services can be rolled out efficiently. Better automation, insights and the use of AI helps to deliver new apps and services, assure retailer security, and automatically make repairs and changes to the network.
Strengthen security: Retailers have to protect their network and customer privacy at all times. It is understood that part of offering customers network access is that it will be safe and protected from cyber threats and data breaches. Retailers must build in security for customer payment information and confidential data, while maintaining PCI compliance and protecting in-store IoT devices—including point of sale equipment, cameras, scanners, and smart scales.
In short, enterprise-level security has to be extended to all users, or the experience will suffer. All it takes is one breach to drive consumers away.
Foundation for the future
Retailers need to provide a modern, reliable and easy-to-manage networking experience for both users and staff. Competition between brands will only get fiercer, and one bad experience is enough for a consumer to move on.
Innovations that can enhance the shopping experience and increase revenue have real potential to be game-changers, but not if network services aren't treated as a priority. Connectedness will be the foundation that future services—and positive consumer experiences—are built on.
Windstream Enterprise can be the networking partner you need to thrive in modern retail.
This article was written by Todd Nicholson from Retail Customer Experience. News Features and was legally licensed through the Industry Dive Content Marketplace. Please direct all licensing questions to legal@industrydive.com.
Key Takeaway
In a time when competition among brands is fierce and one bad experience can be enough to drive a customer away, connectedness will be the foundation that positive consumer experiences are built on.