Water and oil, light and darkness, Superman and kryptonite. When cataloguing things that don't mix, you can remove rain and fixed wireless from that list. While "rain fade"– the reduction of effective bandwidth you get from a digital microwave link during a storm—is still a thing, technological improvements and proper engineering are making it a rare occurrence.
Advanced technologies and equipment design enable today's fixed wireless providers to deliver reliable connectivity, even under very unfavorable conditions. Adaptive modulation reduces the effects of precipitation on reliability, and antenna equipment is designed to better withstand severe gusts or sustained high winds.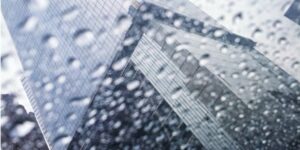 As fixed wireless performance during recent natural disasters illustrate, these systems not only tolerate the worst weather Mother Nature dishes out but can also be rapidly deployed to reestablish vital communications when systems such as fiber cable fail.
Performance during natural and man-made disasters
Three experiences involving Windstream Enterprise Fixed Wireless show just how reliable and flexible fixed wireless technology can be during extreme situations:
When Hurricane Florence recently brought record rainfall to the Carolinas, the city of Greenville, SC experienced multiple fiber outages – yet Windstream Enterprise's Fixed Wireless systems performed flawlessly throughout the storm's duration.
In 2012, Super Storm Sandy flooded several communications central offices in Manhattan, causing widespread fiber outages. Windstream Enterprise's Fixed Wireless systems in the same area continued to function without interruption.
Fixed wireless's ability to quickly reestablish communications during disasters was evident in the aftermath of the 2001 attack on the World Trade Center. Vital communications to support search and rescue efforts were established with Windstream Enterprise Fixed Wireless less than two days after the attack.
The importance of region-specific design
In addition to advances in technology and equipment durability, improvements in system implementation further enable fixed wireless to perform exceptionally well, even under less-than-favorable conditions. In designing Windstream Enterprise Fixed Wireless systems, we engineer each fixed wireless link based on the specific signal path, considering parameters such as distance between points, bandwidth, spectrum, and severe precipitation potential.
Regional rain data from the Crane Local Rain-Rate Parameters model, which provides 30 years or more climate data, assist in estimating a region's expected amount and frequency of severe weather. We then design for regional worst-case scenarios.
This combination of technological improvements, durable equipment, and design, engineering and deployment practices enable Windstream Enterprise to ensure carrier?grade reliability and offer fixed wireless solutions engineered to 99.995% availability, or better. And in the rare instances of rain fade, service is restored to full bandwidth automatically as soon as the cats and dogs get out of the way.