Summary
While the key benefits described are not intended to be all-inclusive, here are some examples of requirements that can be fully met by implementing a switched Ethernet service.
For wide area networks (WANs), viable options include IP-VPN, MPLS VPN, carrier switched Ethernet and SD-WAN. While each of these technologies supports baseline data connectivity between multiple locations, there are key requirements for each that are often best addressed by one transport technology over the others.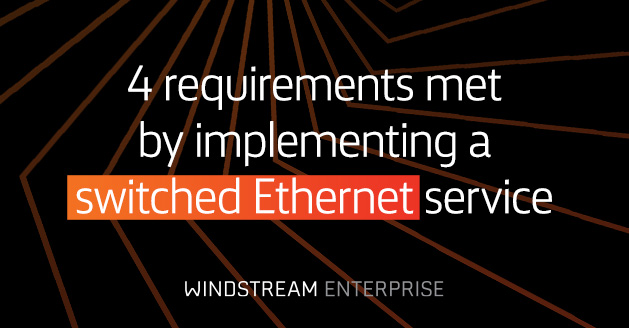 Routing control. Switched Ethernet remains the network protocol of choice for organizations who plan on self-managing their network infrastructure and, as a result, require full routing control of their Layer 3 IP traffic. By managing their own routing, these organizations can implement and deploy their own IP subnetting and routing policies without having to coordinate with their WAN provider. Additionally, certain business segments, such as government organizations, may be prohibited from sharing their internal routing tables with third-party carriers. With an Ethernet WAN service, these organizations can autonomously implement and control their own end-to-end networking and routing decisions.
Protocol transparency. Certain legacy network architecture and protocols such as SNA, DECnet, Appletalk, and IPX are still in use at some enterprises. Switched Ethernet is the ideal transport method to carry these protocols natively, thereby enabling remote access and use of applications and resources consistent with how they are being accessed and utilized within the LAN environment.
Low latency for mission-critical applications. Ethernet connectivity avoids unnecessary protocol conversions and is ideally suited for time?sensitive protocols used for data storage, medical imaging, financial trading, and mission?critical voice/video applications such as telesurgery. In addition, the bandwidth granularity and low?latency characteristics of Ethernet make it a highly effective and affordable technology for connectivity to smaller data centers, as well as for enterprises implementing a Business Continuity/Disaster Recovery (BC/DR) strategy.
Plug and play. As described above, Ethernet is ubiquitous within the enterprise LAN and is well understood by IT personnel. The ability to extend plug-and-play capabilities from the LAN to the WAN is often a key requirement in education, and other industry sectors, where the IT resources to manage and maintain more complex WAN networks and protocols may not be available.
While the key benefits described above are not intended to be all-inclusive, they are reflective of some of the most common reasons why organizations opt for switched Ethernet services over competing transport protocols. If switched Ethernet sounds right for you, learn more about how Windstream Enterprise Switched Ethernet can help address your current and future transport needs.
Key Takeaway
While all WAN technologies support baseline data connectivity between multiple locations, there are requirements for each that are best addressed by one transport technology versus the others.