Summary
Listen to industry leaders discuss the key drivers behind the "work from anywhere" trend and why enterprises are migrating to SASE where traditional wide area network (WAN) and virtual private network (VPN) approaches no longer work.
Last year, we experienced the biggest remote working experiment in human history. Although the transition to work from home (WFH) and its supporting technologies felt daunting to many, 83% of employers today admit that the shift to remote work has been successful for their company.1 Even during times of extreme uncertainty riddled with new demands for the enterprise organizations were able to navigate their way to this new normal. They did this, for one, by implementing a network platform that can meet their employees wherever they are, at that moment in time and at the next moment in time.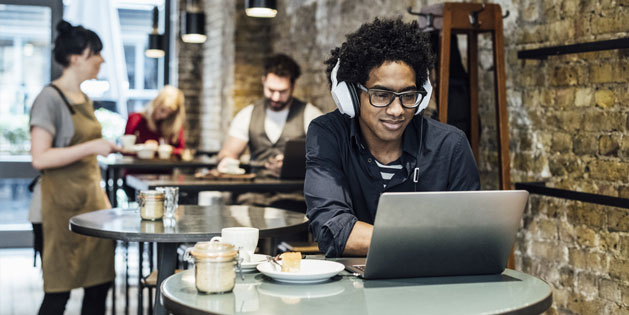 There's something particularly interesting in what we have seen over this influential time span. Many of the core tenets that made cloud-based SD-WAN, cloud-based security and cloud-based remote access so impactful in preceding years were the same principles that allowed organizations to adapt to new WFH expectations. As a result, organizations are coming to terms that traditional legacy network and security architectures do not properly support the business needs of tomorrow.
Time of transition
The current tech around SD-WAN and security offers much more efficiency and makes it easier to implementcloud services and mixed environments. Secure Access Service Edge (SASE) is a textbook example of the natural evolution taking place in enterprise networking. SASE answers the day-to-day business demands in the modern world—it's a framework constructed on the premise that, for maximum flexibility, cloud security should also come from the cloud. Additionally, it must adhere to the rules of the ever-changing application landscape we live in. The idea behind this framework is that information traffic is secured throughout its journey from a user to an application regardless of where the user is or where the app is hosted. In all, SASE is demonstrating its merit as more companies embrace this solution for a secure hybrid workforce.
The 5 capabilities required to "work from anywhere"
I've made the point before that WFH is not the new normal; rather it's uncertainty that is the new normal. Organizations have to factor in the vagueness of the future by embracing a platform that can meet them wherever they are, at any time. This can be done by welcoming work from anywhere (WFA) operating models.
In order to do so, there are five fundamental capabilities that WFA requires to be efficacious:
Agility: Network solutions must be able to move at the speed of change. This is why it's difficult to rely on old technologies—we saw this pre-pandemic as organizations were going down the path of digital transformation and retooling their networks. Agility allows for quick pivots to change operational models. We witnessed Windstream Enterprise customers switch from fully in-office to a fully remote model in hours. This could not have been done without the agility of cloud-based SD-WAN and remote access to shift workloads and help companies adapt literally overnight.
Scalability: We have the speed of change (agility) and now we address the size of change. Cloud-based solutions permit organizations to make the changes they need at scale without long lead times. We saw customers flock to cloud-based SD-WAN from their legacy network services because they weren't scalable enough to address their new needs last year. One, for example, was a college system that experienced dramatic network changes as the educational system shifted from an in-person experience to a teach- and learn-from-home model. Scalability adds more capacity where it is needed and reduces capacity where it was not, making it a crucial step towards accommodating a hybrid or remote workforce.
Security: Since launching our SD-WAN solution five years ago, there hasn't been a conversation about SD-WAN I've had that didn't include some discussion around security. As organizations move from private MPLS environments to integrate Ethernet Internet, broadband and cellular broadband into their corporate networks, security becomes ever more prevalent. A fluid hybrid work environment means more points of access into the network that need protection. Some days we will be in the office, other days we won't. Organizations benefit form leveraging cloud-based firewalls and rulesets form their physical locations as well as their remote workers to gain peace of mind that the same security policies are being applied to all end users.
Manageability and Visibility: Moving to solutions like SASE and SD-WAN can sound intimidating, especially if your IT team has been solely responsible for the operation of the network. That's where management and visibility come into play by building trust around the cloud delivered services and providing a clear view into what's happening. This capability verifies that it's working as expected and gives power to your team to make changes when required.
Optimized: Organizations want a solution that makes sense for their operating model and their budget. By budget, I am referring to both the network itself and the human power necessary to manage the network. Teams know that running a network isn't the most important part of their strategy. It's what they run over the network that impacts their end users, their brand and ultimately their bottom line. Moving from a traditional MPLS network to a cloud-based voice, SD-WAN and security solution allows organizations to leverage more cost-effective solutions that provide maximum network capacity and reliability.
Applying these competencies
Now that we discussed the five fundamental capabilities required by WFA models, it's equally as important to understand how these needs are currently being addressed in the current market. To understand this fully, check out the full panel discussion hosted by VMware here: SASE-Ready WAN Edge for the Work From Anywhere Era.
Resources
Key Takeaway
Cloud-based solutions, like SASE, that improve upon standalone SD-WAN and security should be at the top of the list for any enterprise seeking to address the needs of the new WFA era.