Summary:
What is driving the demand for CCaaS across all industries today? And how is AI transforming contact centers for better and for good? Join our conversation with Chad Haydar, global vice president of channels and alliances at Talkdesk to answer these questions and more.
You've likely heard the expression before, and its truth has stood the test of time—especially in the world of business. Most often, it's left up to the contact center to make this first and often lasting impression.
In this rapidly evolving digital age, traditional contact centers face numerous challenges, from high infrastructure costs to inflexible operations. However, Contact Center as a Service (CCaaS) has emerged as the catalyst for transformation, offering a cloud-based solution that empowers organizations to reimagine their customer service strategies. By harnessing the power of CCaaS, businesses can easily enhance their customer interactions, streamline operations and unlock flexible scalability.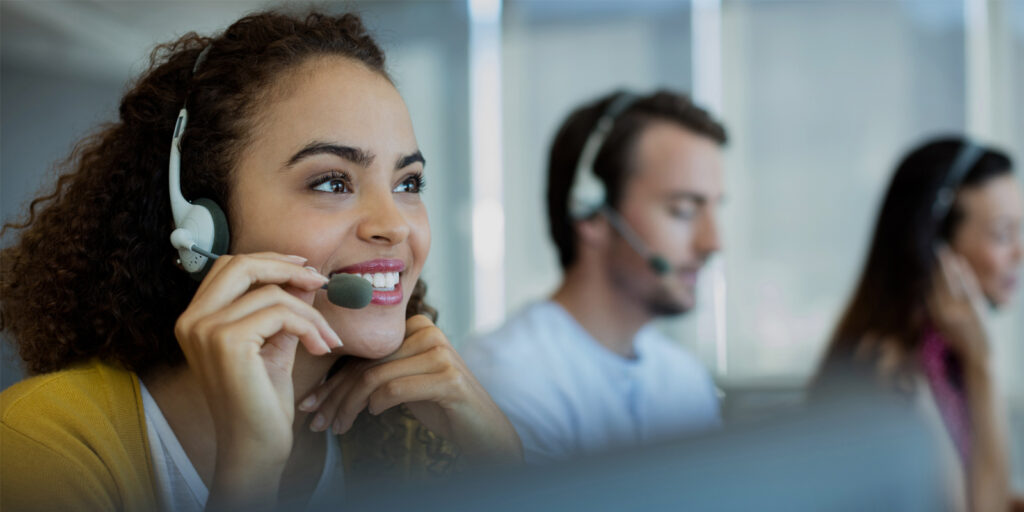 Not too long ago, we announced an exciting new partnership with Talkdesk, an industry-leading CCaaS offering within our managed services portfolio. Talkdesk, a global cloud contact center leader for customer-obsessed companies, enables enterprise customers to deliver elevated multichannel customer experiences (CX) while also improving agent productivity with powerful, cloud-native and intelligent, automation-forward call center capabilities.
On the heels of this news, I sat down with Chad Haydar, global vice president of channels and alliances at Talkdesk, to discuss the new partnership and what its potential means for our customers, as well as an honest look into the future of artificial intelligence (AI) as it pertains to contact center solutions.
A Q&A with Talkdesk
Chad, since we launched the partnership and CCaaS offering last month, we have been hearing our customers express a lot of excitement along with eager questions about its origin. We would love to hear from you about why Talkdesk chose to partner with Windstream Enterprise?
Talkdesk recognizes that to truly impact customers with modern customer service solutions that deliver business outcomes, it requires a strategic alignment with a partner that can execute an entire portfolio of solutions in the market. Talkdesk and Windstream together bring a powerful bundle to the table that addresses small, medium, large and extra-large business requirements with an unprecedented suite of services. This suite leverages advanced solutions such as artificial intelligence to deliver customer experience (CCaaS), operational enhancements, office communications (UCaaS), telecommunications (voice/data), security, managed services and consulting. Plus, both Talkdesk and Windstream bring considerable industry expertise to the partnership, as well as dedicated solutions for healthcare and life sciences, financial service and insurance, retail, and state and local government.
What is driving the demand for CCaaS across all industries today? What can businesses—whether they be retailers, financial institutions, healthcare providers, local government entities or beyond—gain from implementing it?
Poor customer service hurts the bottom line. According to research from BCG, companies with best-in-class customer satisfaction returned 2x more shareholder value and experienced 3x higher revenue growth than their peers. The contact center is a significant point of contact that brands have with their consumers; companies today are adopting cloud contact center solutions in order to optimize those customer service interactions and extract more insight from them so they can:
Grow customer lifetime value by engaging with customers anywhere, anytime, across any channel with personalized, context-driven support.
Operate more efficiently, reducing cost per interaction with AI and automation that increases self-service containment, boosts workforce productivity, and reduces attrition.
Maximize technology investments by consolidating, integrating, and customizing technology in ways that reduce costs and IT overhead, while increasing business agility.
Talkdesk sees two main drivers of this adoption. The first is AI: generative AI and large language models are evolving at a rapid pace and changing what's possible in the contact center. Whether companies want to provide smarter and more autonomous self-service options to their customers, or time-saving efficiencies through automations for their live agents, they are making the move to CCaaS in order to access the most cutting-edge technologies.
The second driver we see is industry-specific CCaaS: These products are purpose-built to tackle common customer service challenges and objectives endemic to specific industries.
Our focus at Talkdesk is on developing and deploying industry-specific products that are tightly integrated to the business applications our customers use (e.g., Epic or Cerner in healthcare; or Jack Henry or FIS in banking); that contain both the common and industry-specific flows needed to streamline common customer service processes (e.g., claims management in insurance or exchanges in retail); and that are designed with pre-trained vertical AI models. This drives better business outcomes and creates faster time to value while also saving businesses on costs that would be spent on integrating and customizing a generic CCaaS.
One central reason that Windstream Enterprise wanted to provide this managed CCaaS solution is because of how deeply ingrained it is with artificial intelligence, which helps to transform each step of the customer journey for a frictionless CX. What are some ways you are seeing your customers put this powerful AI-enabled technology to use?
We're seeing many exciting uses of AI in the contact center across our customers that make their teams more productive and customers happier, from reducing average handle time to increasing answer rates and more. One international online retailer saw a reduction in handling / resolution times by more than 50% thanks to AI solutions that assist agents mid-call—offering up suggested talk tracks and information based on key words mentioned during a live conversation with a customer.
Another customer, a US-based medical provider, is leveraging virtual agent solutions to receive and triage customer inquiries more quickly and reduce wait times for customers. These virtual agents can verify caller information and still provide a personalized experience, moving customers forward in their journey faster and still delivering a satisfying customer experience. With automation and AI, this customer saw a 40% average increase in clinic call answer rates.
We're starting to see new customer uses of AI like ChatGPT and generative AI too, which significantly decrease post-call work and total average call handle time by automating the summarization of calls in notes fields. Agents no longer need to meticulously type out a comprehensive summary of each interaction. The large language models powering ChatGPT can summarize a call in a few seconds, leaving the agent to only review and correct any errors. This also greatly improves the quality of data collected and ease of analysis, as each summary can be structured exactly the same and no information gets lost during periods of high volume when agents might be rushing through (or skipping altogether) after call work.
With the talk of AI, of course there's always a little worry about AI replacing human roles within an organization. How would you address the concern of AI replacing call center agents?
For the contact center, the role of the customer service agent of the future has certainly been a topic of conversation. We see AI as amplifying agent skills and allowing them to focus on being more attentive to and empathetic with the customer. Monotonous tasks that often consume a large share of agent time and lead to burnout are no longer going to be necessary. By lifting this burden, AI allows agents to provide more personalized experiences and engage in more meaningful work. For the conversations that can be automated with bots, agents will also be the best candidates to "steer" those bots, overseeing their conversations and ensuring they get back on track when they cannot readily solve a customer issue.
In addition to AI, what are other trends that are currently responsible for transforming the CCaaS landscape?
Two other trends we've been watching transform CCaaS are digital-first experiences and seamless omnichannel experiences.
Digital-first experiences not only allow, but welcome customers to interact and do business with your brand through digital channels like chat, mobile apps, or messaging. An increasing number of customers want to complete tasks without needing to call into a contact center, and it's important for businesses to enable agents to interact with customers through channels like chat features or text messages, or even provide virtual agents over chat to answer simple questions or perform basic tasks. When businesses think about their primary channels for customers to reach them, those that are leading customer experience transformation are thinking with a digital-first approach, and optimizing their digital channels to provide optimal customer service.
On the omnichannel front, customers expect all of the different channels they interact with to talk to one another. Too often we see siloed channels. For example, information a customer shared over the phone, which the service rep wrote down for their own future reference, may not make it onto the mobile app's records of that same customer, which creates frustration for customers trying to accomplish tasks. In seamless omnichannel experiences, the customer interaction information is synchronized across all of a contact center's channels. That way, a live chat representative, a phone representative, and a social media representative would all have access to a customer's complete online messaging and phone call history. Any one of a contact center's representatives at any time could complete the inquiry seamlessly, regardless of the channel your customer makes contact through.
When we look toward the future of contact centers, say the next five or so years, what trends do you expect to see?
We're at the beginning of another massive shift in how brands will deliver customer service. The generative pre-trained transformer (GPT) large language models (LLMs) behind ChatGPT and other generative AI systems are powering massive changes in the contact center.
Any interaction in the contact center that involves language, not just conversational AI, can potentially be augmented by generative AI—intent detection, entity extraction, sentiment analysis, redaction, summarization, classification and more. Our experts also expect to see these innovations make a significant impact on knowledge management, content production, quality management, and outbound sales. The rate of change is moving quickly, and we'll likely continue to be surprised by how and where ChatGPT and generative AI impacts contact centers, and customer service operations five years from now may look entirely different than today.
Key Takeaway
Better conversion rates, increased customer retention and higher satisfaction scores are all within reach with the latest cloud-native CCaaS solution from Windstream Enterprise, powered by Talkdesk.