Editor's Note: The growing consumer demand for digital wallet payment methods has the potential to leave community banks behind. There's a great deal of interchange revenue that will be available in the coming years for banks that are able to add their debit and credit cards to digital wallets, but banks are understandably concerned about privacy, fraud protection and security. Fortunately, security protocols like Secure Access Service Edge (SASE) can help mitigate those risks and help smaller banks keep up with evolving consumer demands.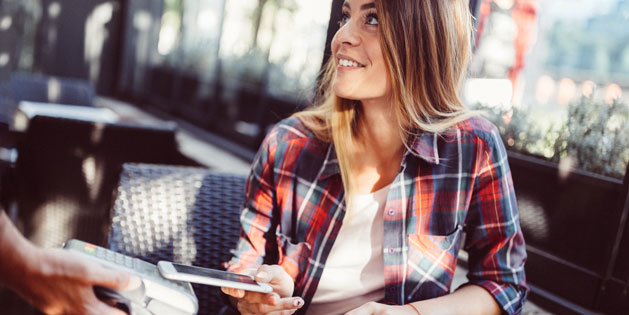 Summary: In the wake of the pandemic, the pivot to the "cashless consumer" happened in an instant. Payments and e-commerce are forever changed, and financial institutions need to reimagine their payment capabilities and think digital to stay relevant.
In our personal lives, we like to shop online—and not just for "nice to have" items. As consumers, we buy groceries, order pet supplies, pick out new clothes, and schedule appointments all from our mobile phones. When we go to pay, we no longer need to input our payment methods because the retailer's e-commerce point of sale (POS) offers flexibility and prompts a payment by the card saved in the devices' digital wallet. If we have this expectation for ourselves as consumers, why would consumers not hold these same expectations for their online banking experience? 
For years, the banking industry has been talking about appealing to the "cashless consumer." However, in the wake of the pandemic, this pivot happened in an instant. Many businesses across the nation stopped accepting cash payments at their physical locations, pushing consumers to rely heavily on digital wallets or physical credit cards. The mentality has shifted for consumers of all generations as they embrace their unique versions of the "new normal." 
Payments and e-commerce shopping are forever changed. It's no longer a request from Millennials or Gen Z—mobile-first transactions are prominent among all consumers. In fact, 3 out of 5 Americans regularly use their digital wallet. Financial institutions (FIs) need to reimagine their payment capabilities and think digital to stay relevant and maintain wallet share. 
What is a digital wallet and how does it work? 
"Broadly, a digital wallet is a payment system that protects users' banking information and passwords and allows consumers to make safe transactions online, in apps, in stores and even at ATMs."  
Digital wallets have moved beyond a simple contactless payment method to encompass a holistic "super wallet" (The Financial Brand, 2022). Exponentially growing in popularity, "digital wallets accounted for 48.6% of e-commerce transaction value in 2021—representing a bit over $2.5 trillion." 
A recent FIS report predicts that, "digital wallets will pass use of physical credit cards in 2022 and will represent almost a third of U.S. e-commerce spending. The report says this will be led by Apple Pay, Amazon Pay, Google Pay and PayPal" (The Financial Brand, 2022). 
Leading fintechs, like PayPal, maintain brand recognition at POS. When a shopper has already established their PayPal account, it's convenient for them to checkout with that payment method. FIs should learn from this simplistic model to win customer or member trust and compete. If FIs are not offering these capabilities, users will look elsewhere for innovative payment solutions.
While FIs may still feel wary about the adoption of digital wallets, there is no need to fear. Each virtual payment method still requires a card to be on file. And that card issuer can be your FI if you win the consumer's business. The good news is FIs can leverage the same innovative technology as fintechs with the help of their digital banking provider, enabling them to elevate their card offering at POS. 
How do digital wallets benefit users? 
Digital wallets can even be safer than physical wallets. They encrypt the consumers' banking information, protecting them from fraudulent attempts. Through encryption, digital wallets ensure that none of the consumers' data is transmitted from the device. Users should still maintain security best practices to protect their device from fraudulent activity by utilizing the card alerts and controls functionality. 
Beyond security enhancements, digital wallets encompass a central form of payment and identification with support for credit and debit cards, bank account information, immunization records, healthcare cards, electronic forms of identification, flight or concert tickets, and gift cards. They organize the content of a physical wallet while facilitating seamless peer-to-peer payments and optimizing convenience. 
There is a consumer need for mobile wallets and electronic payment options. The global e-commerce market is anticipated to reach $7.3T by 2024, "driven by mobile commerce through apps and social channels" (FIS, 2021). In FIS' 2021 Global Payments Report, they state that by 2024 digital wallets will be the primary electronic payment method. This change will force FIs to evaluate the way they are offering digital credit cards in order to support their users in a digital world. 
How to achieve top of wallet with push provisioning 
With fintechs' presence in consumers' everyday lives, their expectations for seamless experiences and convenience are elevated. As the world becomes increasingly digital, consumers will lean on their FI to support them with the latest technology or look elsewhere for the best alternative. FIs have an advantage that fintechs do not—an established relationship with their customer or member. Besides intuitive technology, consumers want personalized experiences and service. By nurturing your existing relationships, your FI can build loyalty and stickiness that will make it incredibly difficult for users to leave your FI. 
By leveraging a credit card origination system, your FI can attract new customers or members, seamlessly convert them in a mobile-first application, run automated rules-based decisioning, and, once approved, digitally provision new credit cards to Apple Pay, Samsung Pay and Google Pay wallets. With push provisioning, users are empowered to begin transacting as soon as they are approved. 
This state-of-the-art functionality provides ease of use, eliminates the need for users to manually enter in their credit card information or visit a branch location, and elevates your FI as a leader in innovation. Users will appreciate the convenience and adopt your card in their digital wallet as their preferred payment method at e-commerce sites and tap-to-pay physical POS.
The bottom line—push provisioning offers users the convenience they are looking for when it comes to activating their new card. Gone are the days of losing users because of outdated technology. With digital wallets, your FI can strengthen relationships while future-proofing your credit card strategy. 
Windstream Enterprise can provide support for a SASE framework and Managed Network Security to reduce your internal IT burdens as you expand access to your services.
This article was from American Banker and was legally licensed through the Industry Dive Content Marketplace. Please direct all licensing questions to legal@industrydive.com.
Key Takeaway
Digital wallets, which organize the content of a physical wallet while facilitating seamless peer-to-peer payments and optimizing convenience, are becoming a primary electronic payment method.