Summary
A survey conducted among healthcare provider executives reveals how the industry has evolved, and the role technology plays in protecting employees and patients from rising cyberthreats.
Cybercrime in the healthcare industry has been steadily growing for decades, but significant spikes occurred in 2020 and 2021—most noticeably a rise in ransomware attacks. In the first half of 2021, there were over 2,000 ransomware complaints, a 62% increase over the same time period a year earlier, and more than $16.8 million in losses. Compared with 2019, healthcare experienced a 51% increase in the total volume of records exposed.1 On top of this, healthcare organizations had to change the way they delivered patient services during extended periods of stay-at-home orders. 
As organizations work to address these changes and challenges, an important question to ask is: What impact does technology have in helping providers protect their organizations going forward?
Embracing technology as the new standard
Windstream Enterprise and Fortinet surveyed healthcare provider C-level executives to identify how their organizations are implementing technology to prevent future cyberattacks, while also enabling the latest advances in patient care. 
To start, healthcare providers have implemented more technology as a means to support their patients in the wake of the pandemic, with 79% using telehealth, 55% using video chat and 44% using other communication channels. Embracing technology has become the new standard for patient support and an integral part of providers' future plans.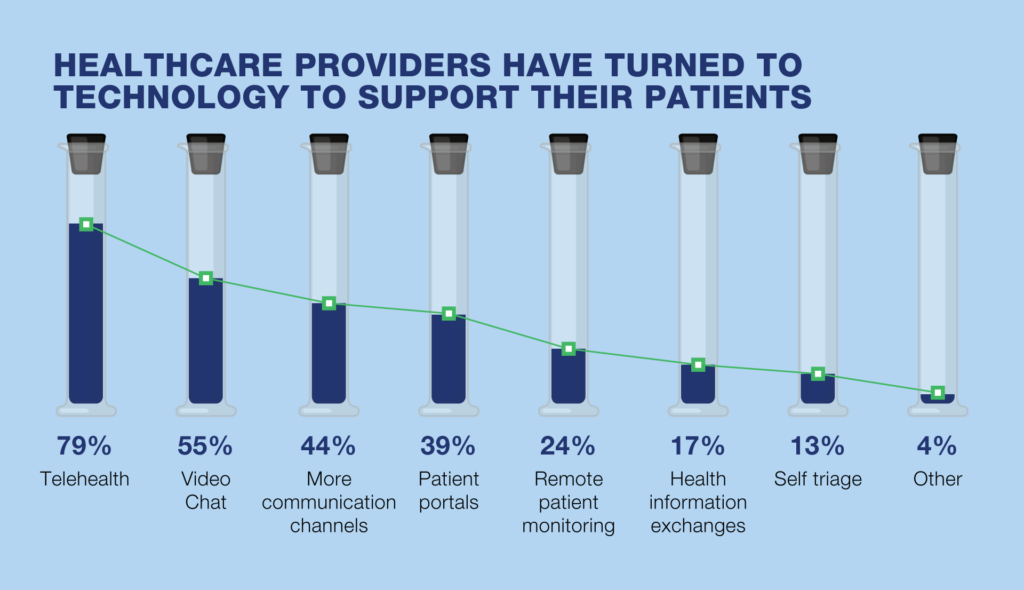 Telehealth extends care to all
Voice and video technologies have enabled telehealth services, which provide significant convenience and cost savings. On top of that, these technologies offer accessible care to people with mobility limitations or to those who live in rural areas who don't have access to a local doctor or clinic.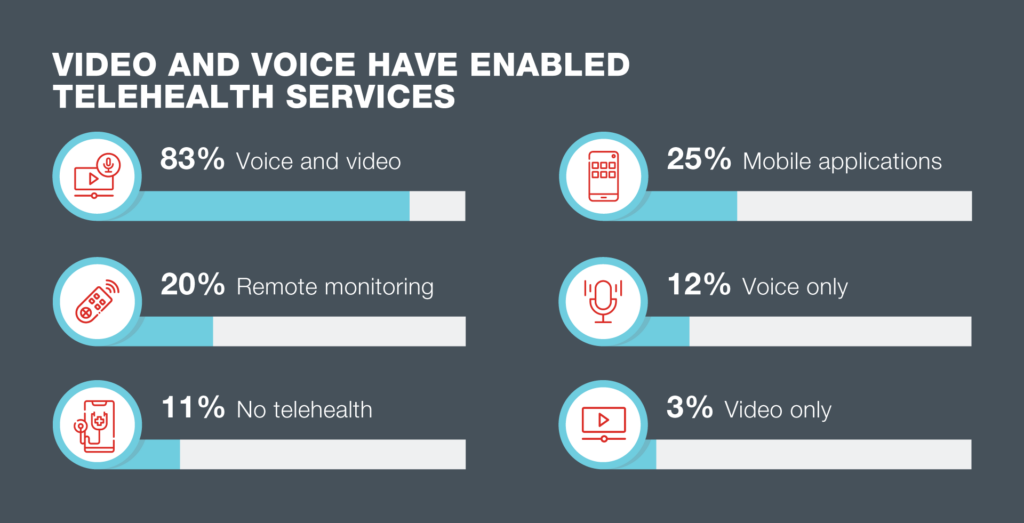 Making cloud a priority
Factors like improved patient outcomes, increased efficiency and cost containment are greatly influencing healthcare's move to the cloud. Nearly 40% of healthcare providers today are making cloud migration a priority, with an additional 23% qualifying it as important.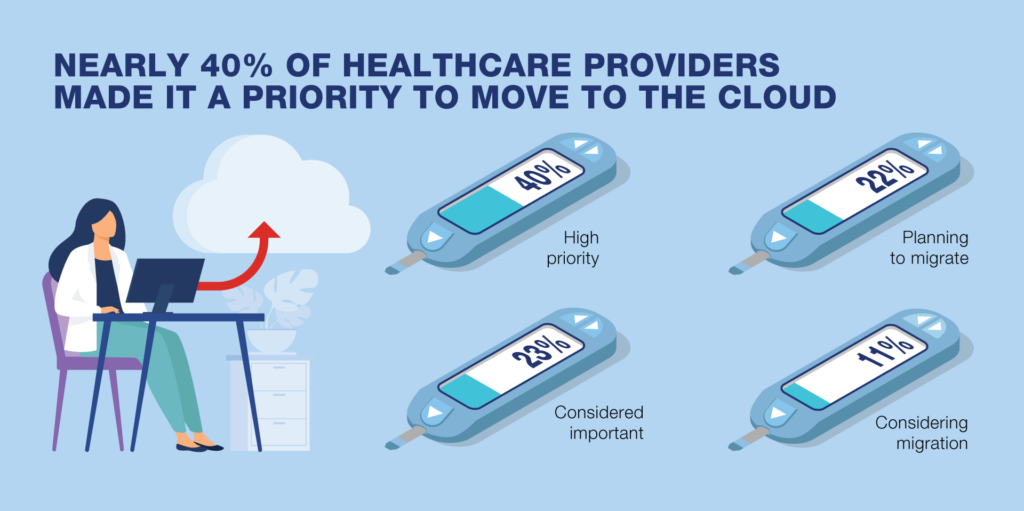 Security still top of mind
Providers remain apprehensive about moving data—particularly sensitive patient data—to cloud applications. SD-WAN has become a popular network choice for healthcare providers, thanks to its ability to increase security, lower operating costs and simplify network management. When it comes to choosing an SD-WAN solution, security ranks highest, with 42% listing it as a highly important part of the selection process.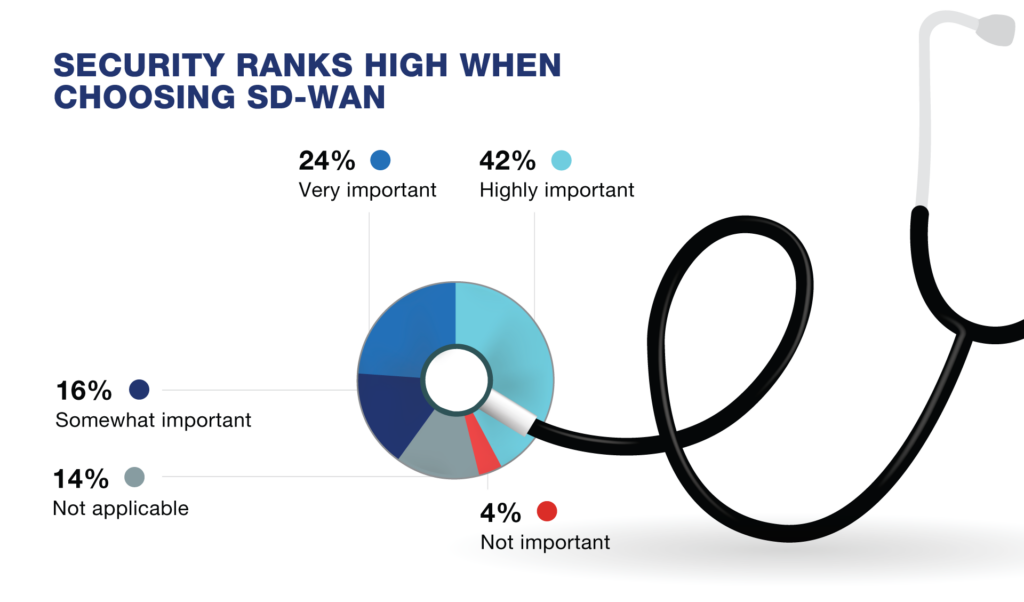 Your best defense
Healthcare has been forced to adapt quickly to combat cybercrime. Finding the right partner who can deliver the latest healthcare-enabling technologies on a secure, reliable foundation is the best defense for healthcare security.
Read our insights paper to learn more about how secure SD-WAN provides advanced visibility, security and protection for rapidly growing and evolving healthcare networks. Then, see how Windstream Enterprise and Fortinet are protecting healthcare organizations with secure SD-WAN Concierge™.
"Recent Healthcare Data Breaches as of September 6, 2021". Chief Healthcare Executives. Accessed on 5 Nov, 2021.
Key Takeaway
As cyberthreats in the healthcare industry continue to rise, providers are embracing change with secure SD-WAN to protect and support their organizations and patients.