Summary
Dependence on access technologies may cost enterprises more than they realize. This infographic demonstrates the repercussions that come from relying on legacy technologies and the benefits of switching to modern connectivity options.
Enterprises are always looking for new ways to cut costs while simultaneously achieving greater uptime and improving customer experiences. When applying these objectives to their telecom strategies, these same organizations must consider their reliance on outdated legacy access technologies—such as Time Division Multiplexing (TDM) access solutions like DS1 and DS3—as a potential constraint standing in the way of achieving those objectives. These technologies are far less efficient, flexible, scalable, reliable and cost-effective than the modern Ethernet-based access solutions available today. With the explosion of cloud-based apps and rising demands of modern data and voice services, it's more important than ever for enterprise IT departments to modernize their networking strategies.
Dodge the day of reckoning
Competitive organizations are constantly pursuing some form of digital transformation to continually adapt to rapidly changing business landscapes. But as new innovations quickly push previous generations' technology toward obsolescence, IT departments may face the need for rapid technology migrations that must be accomplished within compressed timeframes.
Legacy TDM- and copper-based access technologies have effectively reached obsolescence; they cannot support the rising capacity, scalability and reliability demands of modern data and voice services. Today, 90% of customer outages are tied to TDM and POTs facilities and equipment.1 IT departments still dependent on these outdated technologies will face increasing difficulty keeping pace with the call for high-demand, high-bandwidth applications driving 24/7 business operations and productivity.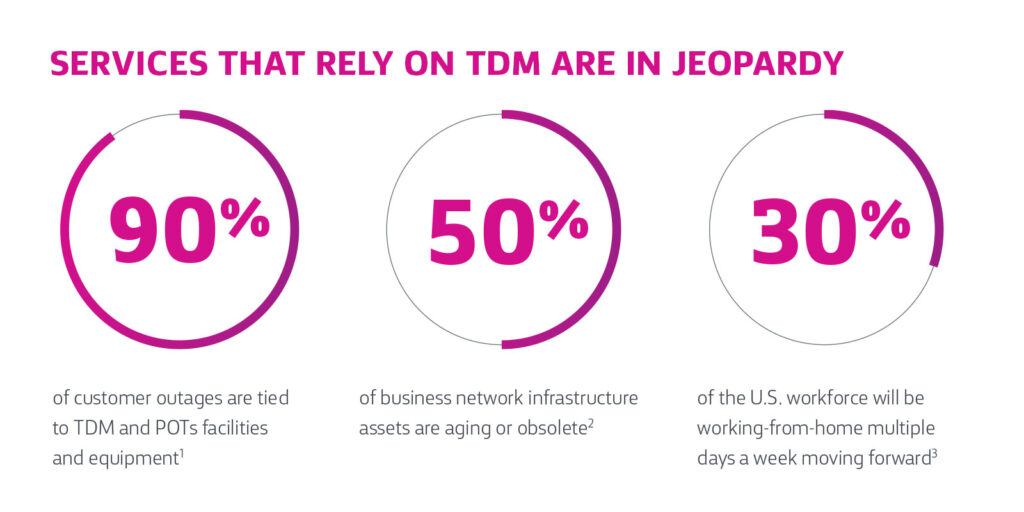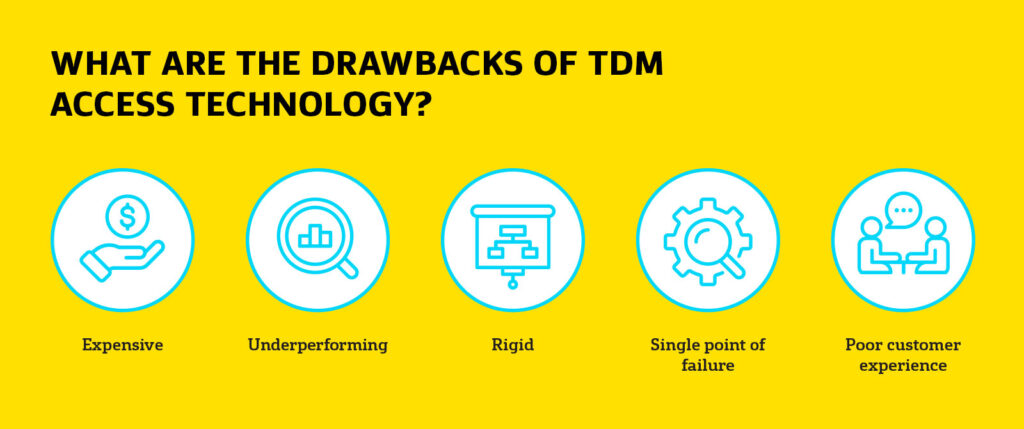 The upsides to modern connectivity
Enterprises quickly realize the significant benefits when they migrate away from TDM to modern Ethernet-based access mediums. Those who are strategizing to incorporate these technological shifts today will more easily achieve business continuity and avoid the risks of downtime, lost productivity and suboptimal end user experience.

There are countless examples over the past year alone that show businesses and their IT departments are very capable of modernizing and adapting to the needs of the present and future. By replacing legacy access technology with more efficient Ethernet-based access mediums, organizations gain the scalability, flexibility and resiliency needed to support critical applications—along with feature-rich technologies like mobility, security and real-time video and audio collaboration. Making the switch is the path to futureproofing your organization and to plan for long-term success.
Are you ready to modernize your network?
Windstream Enterprise is ready to support your migration to more agile, integrated modes of business connectivity and communications. It has never been a better time for organizations to enable a rich, unified experience with UCaaS and SD-WAN from Windstream Enterprise by leveraging our Ethernet, broadband and wireless access solutions.
Better yet, Windstream Enterprise stands by our WE will Commitment, a promise to all customers to deliver a network and voice solution that meets your business needs and provides an unmatched, fully supported experience—no questions asked. What do you have to lose?

Learn more about the migration away from legacy TDM via this infographic and explore modern-day access solutions from Windstream Enterprise at windstreamenterprise.com.
Resources
Windstream Enterprise customer data.
Key Takeaway
TDM access technology leads to higher costs and overall obsolescence. Switching to Ethernet access is a critical component to achieving business continuity, uptime and a superior CX.