Summary
The past few years saw an accelerated transformation of contact centers. Business leaders were forced to adjust to new preferences in communication channels and workforce expectations—giving rise to omnichannel contact center services.
Even during this ongoing era of rapid change and uncertainty affecting all businesses, the foundation of a successful contact center remains constant: Exceptional customer experiences (CX). Driving positive experiences is so important that by the end of 2022, global CX technology spend is expected to reach $641 billion, achieving CAGR of 8.2% from 2018.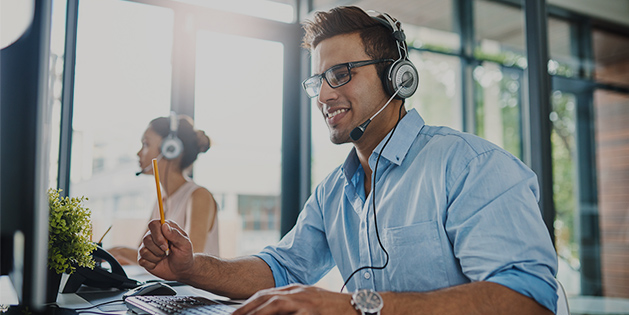 The shift to digital CX isn't only being driven by companies looking to improve experiences, but also by how business is being done in general. Online shopping and communications have accelerated over the past few years, as the world was forced to take a digital approach for everything from mobile banking, to curbside pickup amongst retailers, to telehealth services within healthcare. To build greater brand loyalty and improve satisfaction in this very digital environment, organizations are increasingly relying on omnichannel cloud contact center services.
What is an omnichannel contact center?
An omnichannel contact center is a CX function that connects all of a company's touchpoints and sustains the context of each customer interaction across multiple digital channels. Typically, a good omnichannel contact center offers:
Seamlessly connected channels and integrated tools that allow customers to move uninterruptedly between communication avenues—such as chat to voice—without encountering any dead ends, resulting in a superior CX. This includes the integration of popular applications that customers and businesses lean on for everyday business and communications.
Intelligent, advanced skills-based routing, which helps administrators auto-route incoming communications to the most suitable agent based on call priority, agent proficiency and availability.
Perfectly mapped customer journeys that use data and touchpoints to paint a visual story of each customer's interaction with a brand, having all information stored in one place to easily track every experience.
Multimedia licensing within the contact center that enables the bundling of multiple communication channels, resulting in cost savings, improved functionality and greater productivity.
Real-time analytics that provide organizations with insight into employee performance through in-depth reporting, while also tracking CX through metrics like how long a customer has been waiting on hold, or when customers most frequently initiate conversations.
Top-notch security that assures all parties that communications are encrypted, and data and information is stored on secure servers in the cloud. Safeguarding communications is vital for organizations that handle sensitive patient and customer data and are required to meet compliance requirements like SOC 2/3 and HIPAA.
What are the benefits of an omnichannel contact center?
Omnichannel contact center doesn't just help customers; it makes life much easier for employees and an organization as a whole. In addition to increased customer retention rates, faster resolution times and remote workforce optimization, here are some of its biggest benefits:
Boosted CX. Omnichannel contact centers empower harmonious brand experiences from beginning to end, granting smooth and natural conversations that can jump from text, to chat, to phone without ever missing a beat. It also allows companies to maintain continuity around all channels, for example, standard responses or consistent response time.
Personalized treatment. The simple act of Starbucks writing a name on each drink is an example of how their brand recognizes each consumer as an individual with unique needs. 73% of companies have reportedly increased their personalization efforts since the onset of the pandemic, and organizations can rely on omnichannel contact centers to provide the right tools that tailor experiences and help to reinforce customers' identity.
Maximized agent productivity. An effective contact center is designed to improve agent efficiency and equip contact center administrators and their agents with the greatest visibility and control. Omnichannel capabilities simplify employee workflows and help agents balance requests through connected channels so they can tackle more complex issues and bring real added value to the organization.
Agile scalability. It can be difficult for brands to predict the future demands of their customers. Cloud-based omnichannel contact centers have the flexibility to shrink or grow in size to handle volume changes whenever needed.
Increased cost savings. Although omnichannel sounds like more time and money, it's actually a much more cost-effective method than dedicating all your agent potential to specific, one-off channels.
Deliver on your—and your customers'—needs
While implementing omnichannel contact center platform capabilities takes a thoughtful approach, it's guaranteed to be worth the effort. When done right, an omnichannel contact center elevates the CX, as well as agent and customer engagement, and eliminates painful inconsistencies at every touchpoint.
Windstream Enterprise offers omnichannel capabilities through its industry-leading OfficeSuite UC® Contact Center Services, allowing operating administrators to seamlessly manage their contact center services platform and deliver an optimized and frictionless experience. If you are exploring an omnichannel contact center for your organization, there's never been a better time to reach out and learn more.
Key Takeaway
Omnichannel contact centers are an essential part of any modern business because they allow customers to get help when they want it, through the communication channels of their choice.