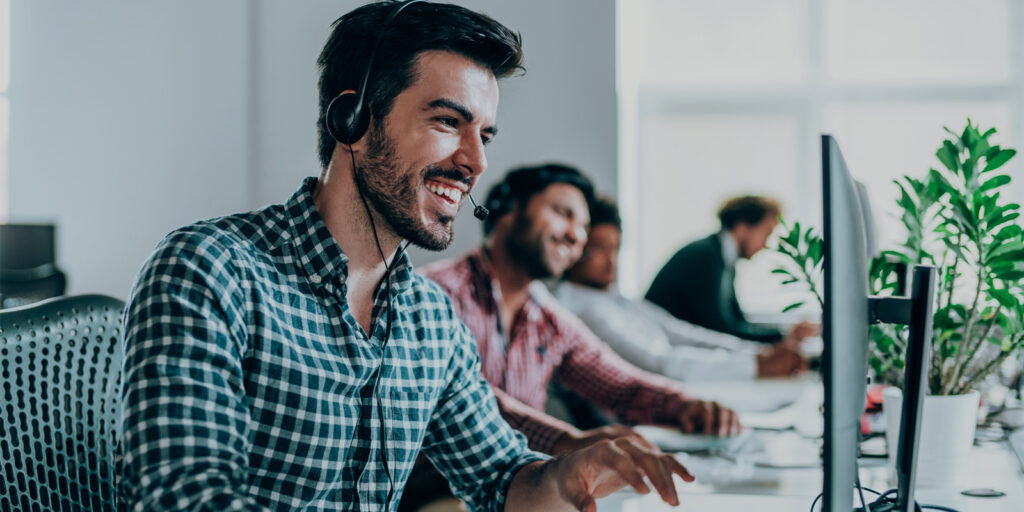 Summary:
Why are financial institutions struggling with digital transformation? In this article, learn how outdated, on-premises systems are contributing to a poorer customer experience, and how cloud-based solutions like CCaaS can easily solve these problems.
Customers have a lot of choice and control over how they interact with their financial services providers. With an expanding number of digital touchpoints, such as mobile banking, instant messaging, or digital branches, each interaction greatly influences the customer experience outcomes.
According to a study by Talkdesk, almost two-thirds of financial services customers say a single poor customer service experience negatively impacts their brand loyalty. Yet many banks and credit unions can't keep up with the pace of digital transformation needed to provide the optimal customer experiences that build trust and drive loyalty. That's why financial services organizations are putting a renewed focus on strategically upgrading their contact centers to deliver the digital interactions that make their customers feel known and valued.
Why financial institutions are focusing on the customer experience
The Microsoft 2023 Customer Experience Trends in Financial Services report surveyed leaders in banking, insurance and capital markets to learn more about their organizations' challenges in delivering consistent, high-quality customer experience. The report found that financial services organizations have difficulties tracking customer cases across channels, building meaningful customer relationships through personalization and providing enough self-service options for customers.
So, why is there a digital transformation struggle? Because financial services organizations are dealing with outdated systems and are hesitant to move to the cloud because of sensitivities around compliance and security. When Talkdesk surveyed financial services professionals, it found that legacy processes, such as client onboarding, loan servicing and digital banking, were preventing positive customer experience outcomes.
That's why financial institutions are optimizing their contact centers as part of their overall digital transformation efforts to deliver the better experiences their customers expect. And those that do may be rewarded because 71% of financial services customers are more loyal to companies that invest in strengthening their customer experience.
Transforming contact centers while meeting compliance standards
Financial institutions must follow extensive compliance laws and regulations that protect sensitive customer financial information, such as the Payment Card Industry Data Security Standard (PCI DSS) and the Gramm-Leach-Bliley Act. There are real consequences to violating legal and compliance guidelines in the financial services industry, whether or not the violation was intentional doesn't matter. The Gramm-Leach-Bliley Act carries potential institutional fines of up to $100,000 per violation.
But meeting compliance standards and ensuring a good customer experience can be a balancing act when a contact center lacks the cutting-edge technology to protect customer privacy and mitigate risks against data leakage, fraud and identity theft. In Talkdesk's interviews with financial services customer experience professionals, 68% cited legacy contact center technology as limiting the ability to improve customer experience, and 83% said stronger contact center security and compliance is a priority.
A Contact Center as a Service (CCaaS) solution could be the key to transforming a financial organization's legacy contact center into a cloud-based, omnichannel contact center that supports multiple communication methods like email, SMS, video, chat and social media. Windstream Enterprise CCaaS, powered by Talkdesk, has over 30 compliance certifications, including SOC2 Type 2 and PCI-DSS, to protect critical customer data.
Ensuring security with cloud-optimized contact centers
According to an International Monetary Fund (IMF) study, most financial supervisors in emerging markets and developing economies haven't introduced cybersecurity regulations or built resources to enforce them. More than half do not have a national cyber strategy for the financial sector. But to best meet compliance standards and protect valuable customer data, financial organizations must maximize their security to prevent costly data breaches and cyberattacks.
Financial services have been one of the slowest adopters of cloud technology because of concerns that moving to the cloud will open them to security vulnerabilities. However, numerous organizations are seeing the benefits of cloud technology for the wider organization—such as speed and agility, security and cost savings—and are extending that thinking to their contact centers to elevate customer experiences.
One way organizations are doing this is with the Talkdesk Identity feature within Windstream Enterprise CCaaS, powered by Talkdesk, that allows them to quickly and securely connect financial services customers with agents using self-service, real-time authentication with voice biometrics. The additional layer of security verifies the caller's identity based on unique vocal characteristics to prevent fraud and identity theft. It improves the customer and agent experience by accelerating the verification process.
Despite all the benefits, Talkdesk found that only 16% of financial services and insurance organizations have moved fully to the cloud. Financial services organizations are missing out on the advantages of cloud-based contact centers compared to legacy on-premises systems. CCaaS supports the security, scalability and flexibility financial services organizations need to drive incredible customer experiences.
Key Takeaway
Cloud-enabled and secure CCaaS solutions are an impactful way for financial institutions to fully embrace digital transformation strategies—all while mitigating cybersecurity risks.