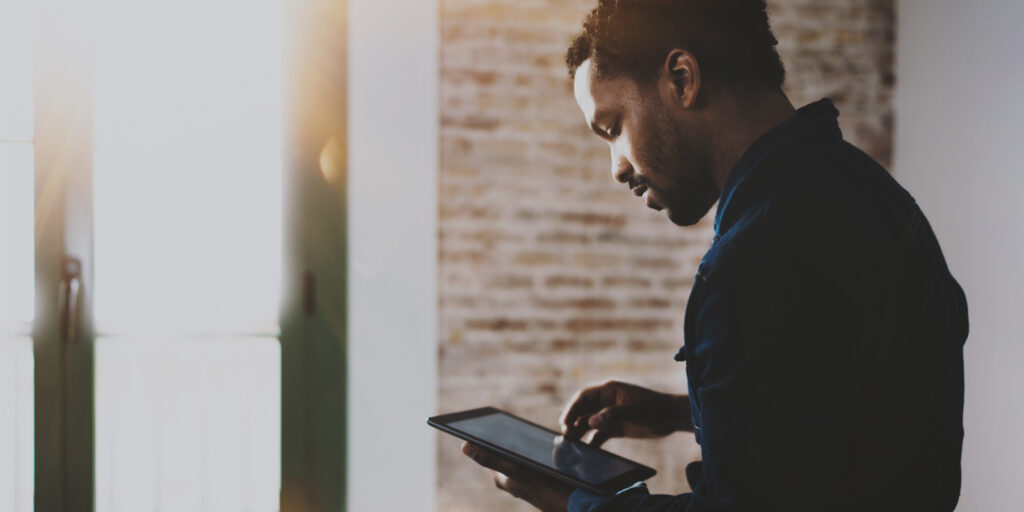 Summary:
Self-service has become a preferred channel for connecting businesses to their customers. Learn how our award-winning portal delivers new levels of network visibility and control—in a customizable platform that suits the way our clients work.
In today's digital world, a customer's primary interaction with your company, products and services is online. And through these online interactions, 88% of customers expect brands to have self-serving portals to help drive their preferred channel for connecting to businesses. That's one reason why Windstream Enterprise is committed to delivering customers with a customized and optimized experiences via our native, online portal, aptly named WE Connect.
Single pane of glass
Windstream Enterprise offers a broad range of networking, security, connectivity and collaboration services. The ambition behind WE Connect was to unify all of these best-in-class solutions and professional support into one holistic digital experience for our clients—a true, 'single pane of glass' experience.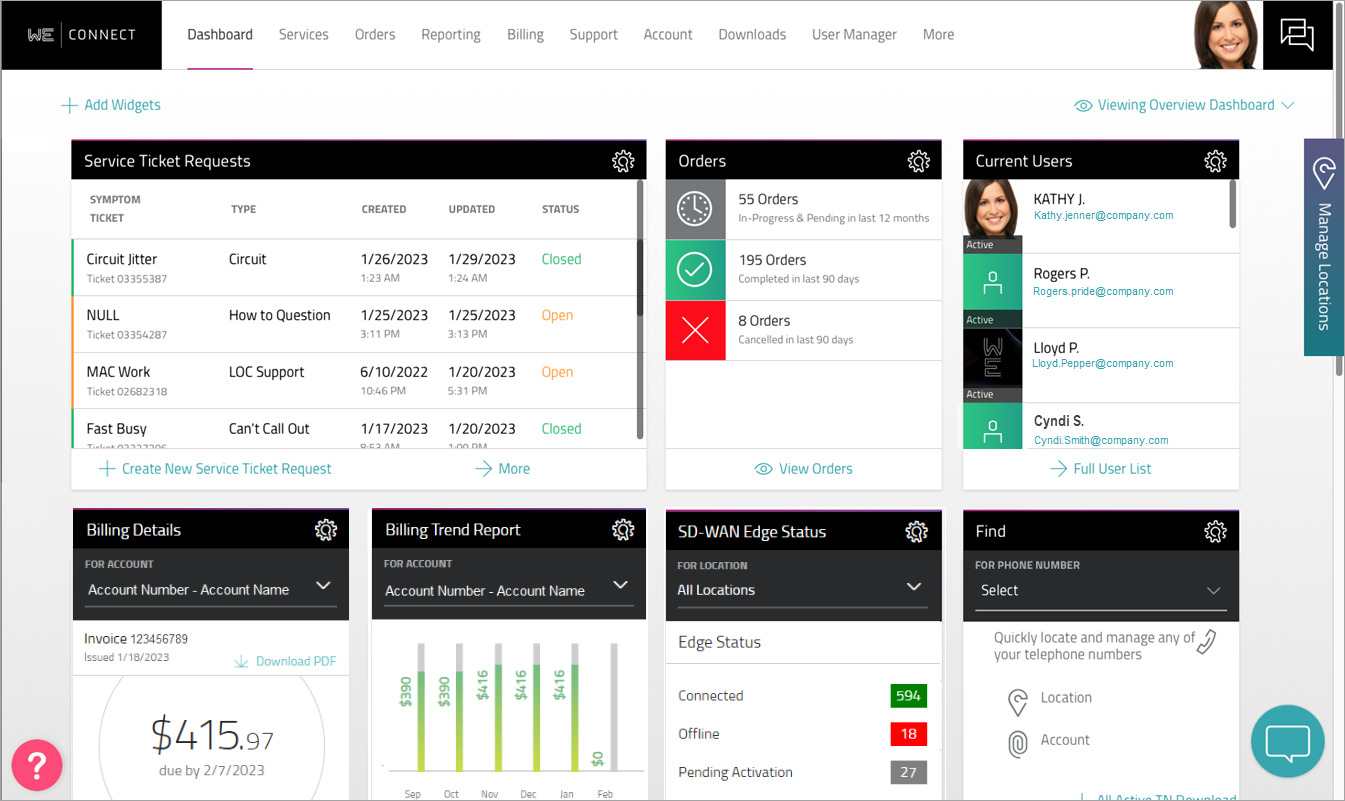 Personalized and simplified
The WE Connect portal is centered around what our customers would experience—not just the interface they would see—and includes built-in analytics for continuous improvements in usability and navigation flows. What is more, our clients can interact with Windstream Enterprise at anytime, anywhere, and from any device. As a native app, it is a no-sacrifices approach that ensures compatibility with device hardware and native smartphone features.
The WE Connect portal enhances the experience with Windstream Enterprise solutions, providing immediate access to relevant and targeted information about all their services in one place. Businesses can enjoy simplified account and solution management with full access to the tools you need to manage your business. The portal provides one interface to enter service requests and interact with our support teams in real-time, as well as make payment and view the status of your orders. And it offers the confidence that all information is secured by a password-protected interface, multi-factor authentication, PCI compliance and identity management.
Control
Control is essential to the effectiveness of any technology solution, which is why it's such a core focus of the WE Connect portal. The power of solutions like Secure Access Service Edge (SASE), Security Service Edge (SSE), Software-Defined Wide Area Networking (SD-WAN) and Unified Communications as a Service (UCaaS) can only be fully realized when end-users can self-manage critical features and services of their system. For example, Windstream Enterprise SD-WAN customers can change the prioritization of sites, throttling and blocking policies on the fly. Routine operational functions like adding users or locations to meet changing business needs used to take days for a technician to come out to physically make the changes. With the WE Connect portal, mission-critical features of Windstream Enterprise's proprietary UCaaS solution OfficeSuite UC®, such as call routing, voicemail, mobile tools and key system changes, can be individually managed by end-users of the system.And for SSE or SASE customers, you gain a 360-degree view into the multiple security components—all accessible in one single view.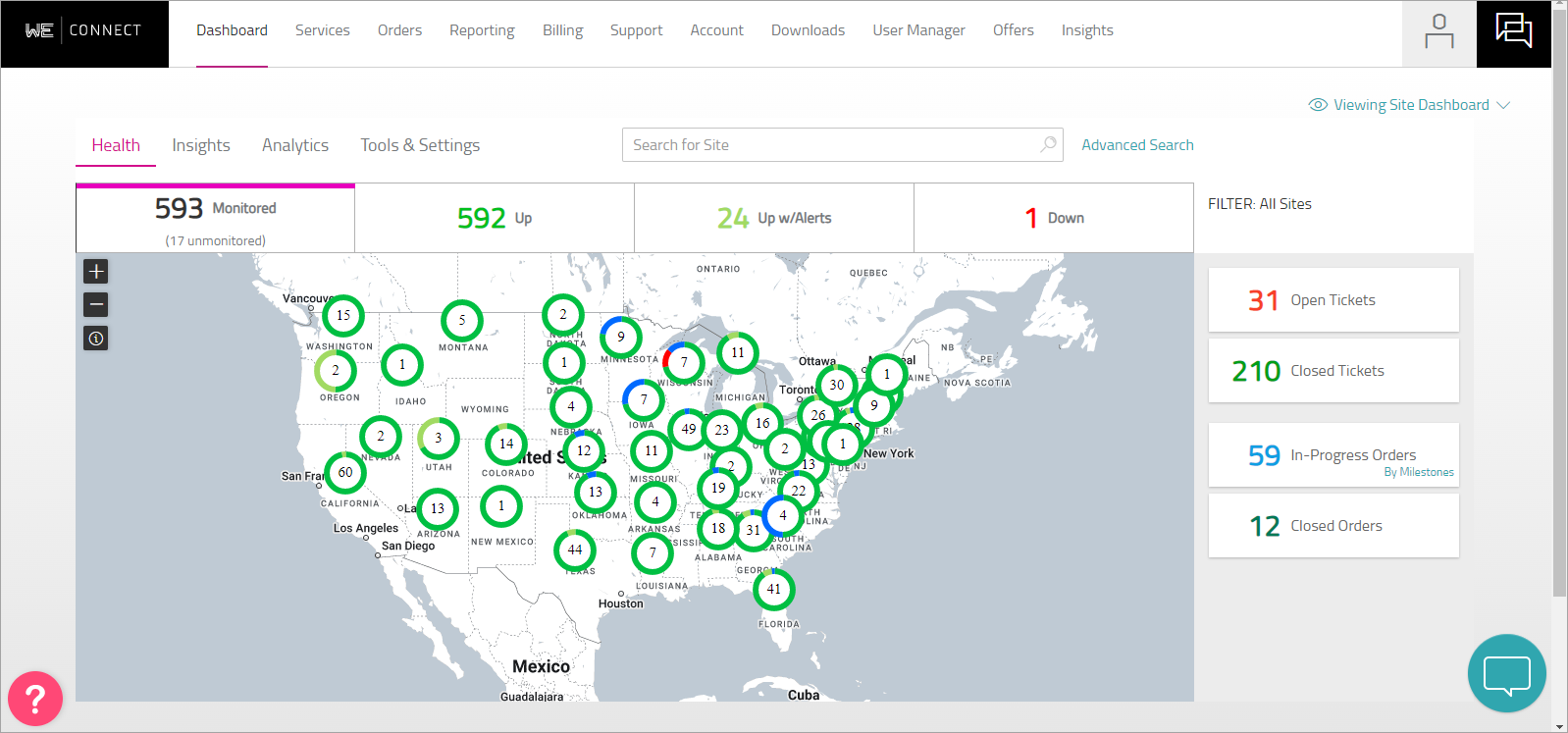 Reporting
One of the most requested features of the portal is access to accurate and timely reports. WE Connect offers reporting capabilities that will provide performance metrics for both the network and specific solutions to which they subscribe. Network performance reports afford customers insight into the Windstream Enterprise network using an interactive view of network latency, packet loss and jitter by market. SD-WAN customers, for example, have access to customized reporting capabilities that aggregates data across all sites or a set of sites for real-time performance visibility. Moreover, the customer is no longer forced to accept pre-defined names. They can create tags and names in plain English for locations and devices on their network that mean something to them.
The proof is in the portal
Windstream Enterprise understands that our customers' impressions will be largely established through digital engagement. WE Connect is a major step in our commitment to create a modern, secure, and customer-centric digital experience that will take our solutions to greater heights and levels of engagement. We are committed to continuous improvement with every customer touchpoint, and we are confident that WE Connect will be a positive proof point in our journey to deliver a 'best-in-class' customer experience.
Key Takeaway
WE Connect from Windstream Enterprise gives real-time access to account management functions, plus visibility and control over your network, unified communications and security solutions—all in one award-winning portal.