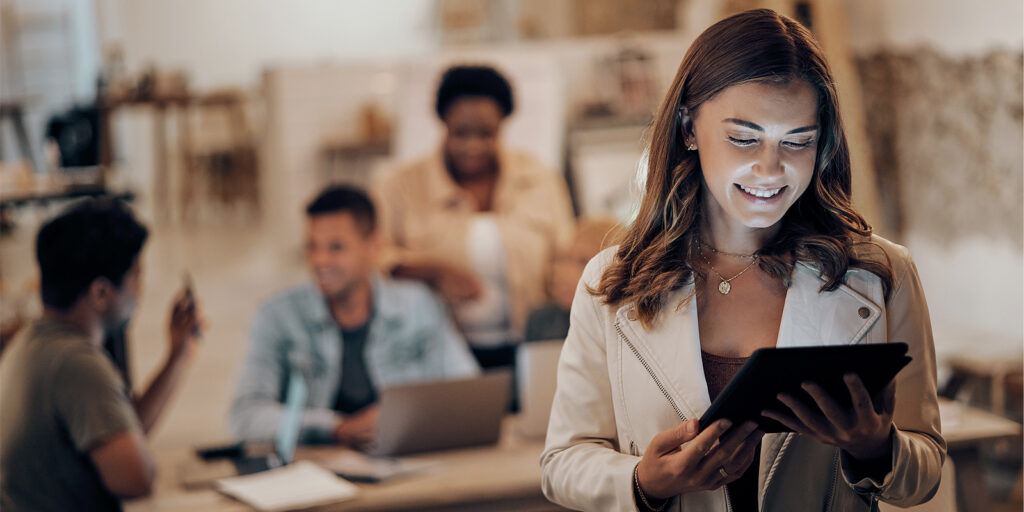 Summary:
Businesses are adopting new digital applications into their workplace strategy—think things like unified communications, voice-aware software and team collaboration. Learn how these tools are creating a new baseline for office policies and employee expectations.
Perhaps one of the biggest transformations taking place in the digital age are the ways in which we work and conduct business. The rapid adoption of technology and remote work environments, coupled with a new mindset of a younger, tech-savvy generation of workers, are having lasting impacts on workplace practices; otherwise known as the cosumerization of the workplace.
What is consumerization?
When we talk about the consumerization of the workplace, we are discussing the impact of consumer technologies that are now infiltrating the enterprise. Technologies and business models that we use as everyday consumers are now driving forces that enable work-from-anywhere, unlimited access to data and improved productivity and communications. Consumerization goes hand-in-hand with digital transformation, which encompasses the larger business strategy for necessary business evolution.
The intersection of consumer and business technologies
Employee preferences for a "consumer-like" model are redefining the ways we communicate, and get work done. As a result, new work styles and standards are emerging, infused by the rapid adoption of digital workplace applications. These apps are enabling employees to collaborate and communicate with greater mobility through different forms of input. Unified communications, voice-aware applications, team collaboration tools and other next-gen technologies are creating a new baseline for workplace policies. The World Economic Forum states that by 2025, Gen Z will account for 27% of the workforce. This new generation rides on the backs of Millennials, and are poised to bring a new wave of tech disruption of their own, having grown up in a world where smartphones with on-tap, high-speed Internet access is the norm.
How do we adapt and prepare for the ever-expanding digital workplace?
The adoption of new technology often starts at home and in our personal lives. Think about your Amazon Echo Dot, Nest Doorbell and Apple HomePods. The latest smart home statistics from a recent survey shows that as many as 60.4 million households in the U.S. alone are actively using smart devices in 2023, which is defined as using them at least once a month.
Using natural voice as a digital interface instead of a keyboard and mouse is becoming a viable alternative in the workplace. This doesn't just apply to translating voice to text. A growing number of applications now have voice commands for interfacing with other applications. Likewise, a number of these solutions have already emerged in the business world including voice interaction for scheduling and starting meetings, managing communications preferences, checking voicemail and the list only continues to grow. Hands-free interfaces are an advantage for frontline and mobile workers who need to stay focused on the customers they serve and don't typically have a keyboard and mouse within reach.
The acceleration of team collaboration
Another major workforce trend that was initially born as a consumer application is team collaboration. Gaming applications like Fortnite, Minecraft and Roblox were built on the concept of team-based environments in a digital space. Teams can communicate either through messaging or live audio and share everything from health points, weapons to ammo and information. Translate this to the work environment and now you know why team collaboration tools like Microsoft Teams are gaining traction as workplace hubs. Tight integration with unified communications solutions make these tools even better alternatives to email and other traditional methods. These advanced integrations enable multiple forms of communication, persistent conversations and information sharing within specific groups and project teams like never before.
The new era of team collaboration will require careful examination of security policies and accessibility; however, the benefits are undeniable. These emerging capabilities make it easier for employees to interact and communicate based on preference, increase productivity and create higher levels of engagement among teams, regardless of where they are working from.
We can expect to see this trend of consumer preferences continue to drive the adoption of new technologies in the workplace. The future is untapped, full of augmented and virtual realities that will blend into mixed realities within our personal and professional lives. It will be exciting to see the evolution of work styles and the many advancements sure to come.
Key Takeaway
Emerging capabilities make it easier for employees to interact and communicate based on preference, increase productivity and create higher levels of engagement among teams.