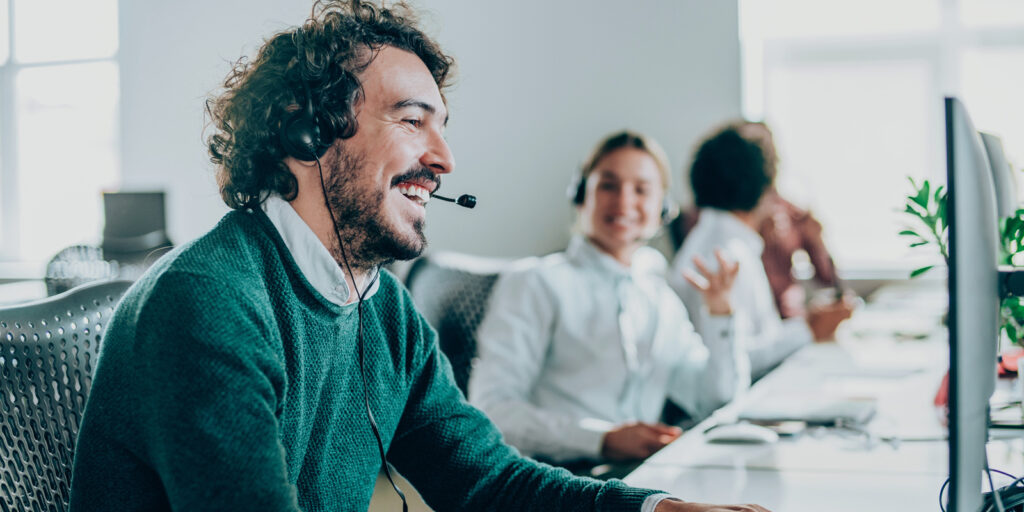 Summary:
There will always be a need for human agents answering phones, emails and chats. But retailers can save costs and increase revenue by leveraging live messaging, chatbots and additional features within a CCaaS solution.
Let's say you are a bustling retailer for a popular online fashion brand. One day, a customer named Sarah contacts your contact center via live chat with a query about a recent order. Sarah is concerned because the delivery of her package seems delayed, and she urgently needs the outfit for an upcoming event.
No worries, because your business is armed with a contact center, one with live messaging and chatbot functionality, and swiftly engages with Sarah. Its chatbot quickly verifies Sarah's order details, ensuring a seamless and personalized experience. It then intelligently scans the retailer's inventory and shipping systems in real-time, discovering that the package had encountered an unexpected delay due to unforeseen circumstances.
Recognizing the urgency of Sarah's situation, a live agent promptly intervenes, leveraging their agility to access alternative shipping options. Through live messaging, the agent informs Sarah about the situation, reassuring her and offering an expedited shipping solution at no additional cost.
A lot goes into a simple customer interaction like Sarah's situation, but the outcome of this exchange is massive. Not only is she delighted with the prompt response and the proactive assistance, but she also recognizes your commitment to customer satisfaction and feels valued as an individual. As a result, Sarah not only attends her event in the perfect outfit but also becomes a loyal advocate for your brand, sharing her positive experience with friends and on social media.
The power of contact centers with modern day capabilities is a must-have for retailers in our highly digital, and very connected world. Finding ways to constantly increase agent productivity and satisfy customers is a top priority. How can retailers succeed in this constant battle to do both?
Consumers are contacting customer service at a higher rate and digital support is trending up
The last six months have been a wild ride for retail contact centers. Zendesk reported a According to Statista, the global market for contact center services will reach $496 billion by 2027. This rise in adoption is accredited to the increase in demand seen by customers. Yet contact centers have a limited number of agents, and when more requests like emails or phone calls come in than a contact center can handle and wait times increase, customers utilize other channels, like live messaging and chatbots, to get answers. Live messaging and chatbots have been named heroes during the pandemic, as they allow for agents to handle more tickets and increase the speed to resolution time for retailers. And in a post-pandemic world, these sentiments continue to ring true.
Retailers can increase their revenue by utilizing live messaging capabilities
Live messaging and chatbots give retailers the capability to be agile and handle an influx of service requests without dramatically increasing cost or sacrificing customer satisfaction. But what really excites a retailer is the prospect of generating additional revenue. Not only does retaining a customer cost less than marketing to prospects, but increasing the service level and keeping existing customers happy can also boost revenue.
There will always be a need for human agents to answer phones, emails and chats. But retailers can save costs by leveraging the most cost-effective support channels, like live messaging and chatbots. The advent of live messaging through WeChat, Facebook and other social platforms allows retailers to meet a customer in the same places they chat with their friends and provide a highly comfortable experience. Technology leaders look to balance customer satisfaction, reduce friction and cost. Live messaging and chatbot capabilities make that balance easier.
Retailers will focus their investment on efficient ways to handle increased ticket volume now and for the future
Retailers are using live messaging and chatbots to handle the growth in support requests and empower customers to find answers themselves by adding content to their help center and staffing more live agents. Today, chatbots are mostly used as a first line of response for simple requests. When a request exceeds a chatbot's abilities, it is taken over by a live agent. As intelligence grows with chatbots, many retailers say that artificial intelligence (AI) will play a role in the future of their investment decision for their contact centers.
Higher productivity, lower friction, happier customers
The adoption of live chat and the growth of AI capabilities in customer service is sure to result in faster service for customers with fewer errors. Consumers calling into support want their experience to be easy, efficient and professional. Chat and chatbot functionality supports these goals and can help retailers achieve high productivity and low friction.
That's why our customers are turning to Windstream Enterprise's Contact Center as a Service (CCaaS) offering to their managed services portfolio. This solution, powered by industry-leader Talkdesk, gives enterprises a complete set of intelligent, automation-forward call center capabilities to consistently deliver elevated multichannel customer experiences (CX) while improving agent productivity.
By uniting proprietary AI, natural language processing and machine learning technologies from Talkdesk and combining it with Windstream Enterprise's CCaaS managed services, enterprises are able to seamlessly view, analyze and manage every aspect of the customer journey from a single, easy-to-manage agent portal.
Visit our website to learn more about CCaaS from Windstream Enterprise and to connect with an expert to determine what contact center needs can be solved with advancing solutions.
Key Takeaway
The adoption of live chat and the growth of AI capabilities in retail call centers will drive faster service for customers with fewer errors—enabling higher productivity and lower friction.