Summary
As the new year begins, it does so with plenty of uncertainty and opportunity for the retail industry. What's next for retailers, and how can we adapt to the fast pace of this digitally defined era? The 2022 NRF Big Show provided answers to these questions, along with a peek into the latest developments in retail's tech innovation.
At the start of 2022, global retail leaders gathered in New York City to take part in one of the industry's largest annual events, NRF Big Show. Timed with the latest spike in the never-ending pandemic, the conference was far from "back to normal"—CNBC reported a total of 15,000 confirmed in-person attendees in 2022, a stark contrast to its 40,000-attendee count from 2019.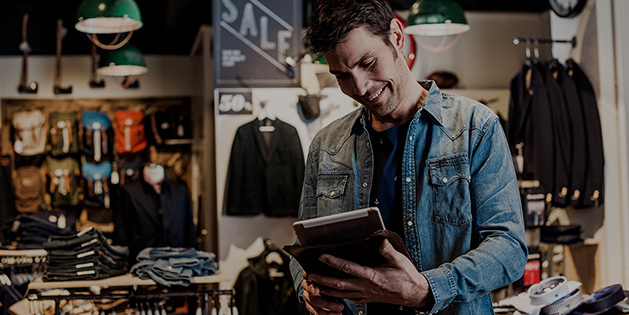 But "the Big Show will go on," said National Retail Federation President Matt Shay—and it did just that. If your business fell into the group of attendees who were unable to make it in person, here are several distinct trends presented at the show that are driving the future of retail.
Technology-first innovation
While NRF is a tech-driven show, this was the first year it felt like across every floor, the theme was consistently focused on highly innovative, and sometimes futuristic, technology. For starters, the annual crowd favorite Innovation Lab—an immersive exhibit featuring the latest applications in artificial intelligence (AI), augmented reality, machine learning, facial recognition and robotics—did not disappoint.
The Innovation Lab was dominated by companies seeking to help retailers solve their last-mile issues and provide convenience to the customer. Take Robomart for example, a store on wheels that you can hail like an Uber that can physically bring the shopping to wherever you are. Ottonomy was another featured company, which enables delivery robots to help navigate businesses with staffing shortages for retail and restaurant industries—resulting in a quicker, more economical delivery option than traditional third-party delivery services.
Beyond the Innovation Lab, there was an increase in robotics and AI-driven technology scattered all across the main floor of the conference. It's clear that exhibitors and retailers are equally focused on seamlessly blending online and in-store experiences, and technology on the back-end to support optimizing inventory and efficient delivery of purchased goods. As stores get progressively smarter, they will require modernized network solutions that are capable of supporting these various forms of retail-tech innovation.
Agility leads the charge 
After two years of retailing during a life-changing pandemic, retailers are stymied on predicting what's next. Instead of gazing into a cloudy crystal ball, they're focused on creating a model that is well-suited for change. Best Buy CEO Corie Barry said, "Our team is focused on the agility that will continue to be required based on situations that are changing more quickly than we're able to predict."
The formula for success among leading retailers is to position themselves to be agile in an unknown future. Consumers' behavior and trends are always certain to change, and retailers with a flexible and scalable cloud-based network can respond to changes in a more fluid way to quickly meet customer expectations. 
Retail leaders have focused on unifying their commerce models and providing an omnichannel experience to customers for more than a decade. Yet prior to the pandemic, most retailers weren't successfully achieving this vision. Barry went on to say, "Historically when we said omnichannel, we really meant dual-channel. It was either digital or physical. Now customers are used to using a myriad of touchpoints. If you don't pivot to the customer lens, then you're going to try to optimize every touchpoint and not make a consistent experience."
With each retailer modeling their customer journey based on their increasing number of touchpoints, it's important that the technology side of their business is able to adapt at the speed of changing consumer behavior.
Manage inflation and labor shortages with automation
As the economy struggles to overcome supply chain disruptions, labor shortages, and inflation, retailers are left wondering what the impact will be for their industry. Yet, amid these challenges, customers are still flashing their wallets. At the end of 2021, retail experienced a 14.1% growth in holiday sales, breaking the record previously set by the 2020 season. Well into 2022, the supply chain remains stressed with demand far outpacing supply.
Albertsons CEO Vivek Sankaran spoke to how retailers need to focus on operational excellence to better signal demand to their suppliers and to prevent waste during this time. To this point, he said that Albertsons will offer multiple price points to their customers, including private label brands for value-minded shoppers. 
There's a sense of optimism among retailers as they come off a strong 2021, but they're not ignoring the pressure building from inflation and labor shortages. In an attempt to curb the effects of any lingering uncertainty, retailers are turning to innovative technology, like self-checkouts and AI-driven chatbots, to increase service and convenience.
That's a wrap!
NRF's Big Show painted an exciting picture into the next year—as well as the next decade—for retailers. Amongst emerging technologies and industry ideologies, some truths remain: Retail will always be focused on bringing the best experience to customers, and a seamless and omnichannel CX remains a priority. The industry has to balance the needs of the customer while evolving to make room for the next generation of technologies and consumers.
What takeaways did you walk away with from NRF 2022? I'd love to know your thoughts about this thrilling time for retail tech. Connect with me at Grant.Harland@windstream.com to get the conversation started.
Key Takeaway
When normal life was put on hold, retail never stopped trying to meet the evolving needs of customers. Technology has been essential to supporting the accelerated pace of change in this industry and helping businesses stay innovative and agile.