Summary
90% of the world's data has been created in the last two years alone, which means protecting it has become one of the biggest challenges an enterprise can face. Learn why your data is at risk and which solution will best defend from data loss.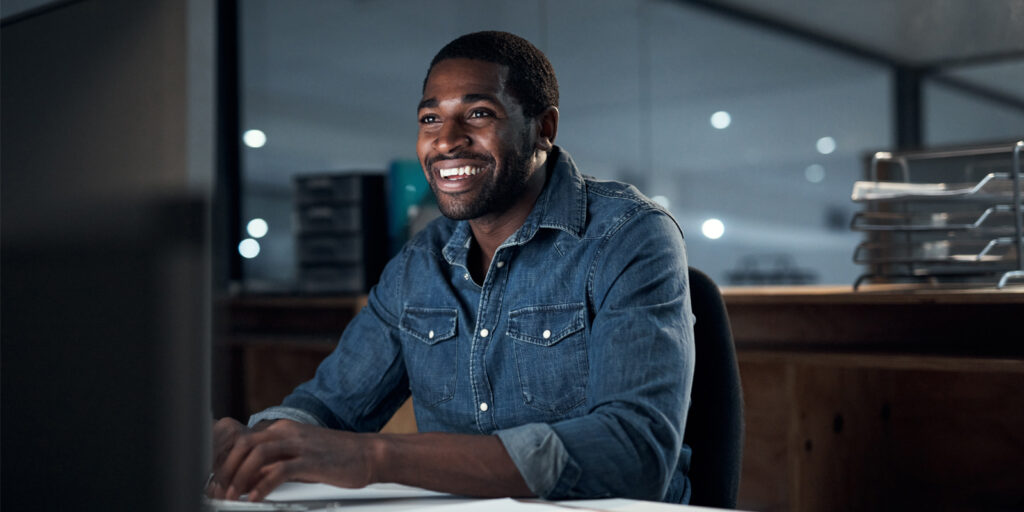 Ever wonder how much data is created every day? Or perhaps you're curious about how much data the average enterprise uses across their ever-expanding hybrid work environment? Thanks to the widespread adoption of mobile technology, along with incredible access to anywhere network connectivity and WiFi, the creation and consumption of data is unstoppable on its exponential growth trajectory.
Even so, many businesses lack the necessary means to properly protect their data. Recent findings show that two out of three midsize businesses have suffered a ransomware attack in the last 18 months, which typically results in data loss. Even worse is that the size, severity and cost of these attacks continues to increase every year.
Data has such a critical value to all enterprises, yet it has become more difficult to guard, especially considering how much of it resides in the cloud. Organizations have experienced a sharp incline in data loss since the start of the global pandemic and the spike in cloud adoption and distributed workforces. Ever since, security and IT teams have been rushing to construct piecemeal network security strategies that can combat the heightened complexities pertaining to data protection, regulatory compliance and governance.
Defending against data loss
While there are numerous tools available for an organization to restrict access to enterprise assets, nothing offers a more efficient solution to protecting the movement of information to and from enterprise assets than Data Loss Prevention (DLP).
Leading technological research and consulting firm Gartner defines DLP as "a set of technologies and inspection techniques used to classify information content contained within an object—such as a file, email, packet, application or data store—while at rest (in storage), in use (during an operation) or in transit (across a network)."
In other words, DLP works diligently to protect an enterprise's critical information, customer data and intellectual property, as well as supports regulatory compliance for PCI and HIPAA. With the upward adoption of cloud computing, and a continued rise in cybercrime, businesses are realizing that what they're currently doing to protect their data is simply not enough. Furthermore, protecting data isn't just about limiting malicious intent—it's often about the unintentional compromise of data, otherwise known as human error.
That's why the need for DLP is strong and imminent, and it's also why market interest in the technology has been piqued in recent years. A report by Allied Market Research found that the cloud DLP industry will grow from $2.4 billion in 2021 to a massive $27.5 billion by 2031—a compound annual growth rate of 28%.
How does DLP work?
As a key component of Secure Access Service Edge (SASE), a fully integrated, cloud-native network and security solution, DLP enables enterprises of all sizes and levels of expertise to better protect their data. Given that sensitive information and enterprise data resides within enterprise applications, DLP works by scanning data files within these applications, as well as stand-alone information sent to or from them.
DLP works in conjunction with another key component of SASE, Cloud Access Security Broker (CASB), which provides visibility between users and an organization's cloud services to apply security policies as they access cloud-based resources. Think of CASB as the security line you wait in at the airport, where you check your passport to enter a country. CASB is all about access, determining which persons are allowed to reach and gain access to an application.
In this analogy, DLP would be considered customs, which passengers go through to cross borders, bringing goods (data) into another country. Through a series of tools and processes, DLP works to ensure that sensitive data is not lost, misused or accessed by unauthorized users.
SASE DLP to the rescue
Windstream Enterprise SASE customers benefit from our DLP engine, powered by Cato Networks, which includes more than 350 data types covering globally sensitive information (e.g., credit card numbers) as well as county-specific information (e.g., US postal codes) covering more than 30 countries.
Clients have the power to set up DLP rules via our award-winning WE Connect portal to block, alert or allow actions based on pre-defined policies. The customized dashboards provide complete visibility with rich data and insights to identify trends and mitigate threats.
Depend on Windstream Enterprise as a managed services partner to deliver a complete SASE solution with DLP, all powered by Cato—backed by white glove support from our dedicated team of technology experts and first-in-the-industry service guarantees.
Register for our 'Prevent data loss with SASE' webinar to learn how you can stay secure and compliant with DLP, a key component of a SASE solution.
Key Takeaway
DLP helps to reduce complexity and costs, lower the traditional barrier of adoption and enable enterprises of all sizes and levels of expertise to better protect their data.