Summary
Demand for SD-WAN with security has been increasing due to the current wave of digital innovation, remote work and cloud adoption, leading organizations to rethink their network infrastructure.
The pandemic and the economic slowdown served as a catalyst for digital innovation and adoption of cloud services for organizations, namely software-defined wide area networks (SD-WAN). While experiencing a slight dip early on in 2020—as enterprises worked to understand their new operating reality—the demands for SD-WAN tied with security have since been steadily increasing. Holistically, the market for SD-WAN is expected to accelerate to a growth rate of 34%, reaching $2.85 billion in 2021 and $4.6 billion by 2023.1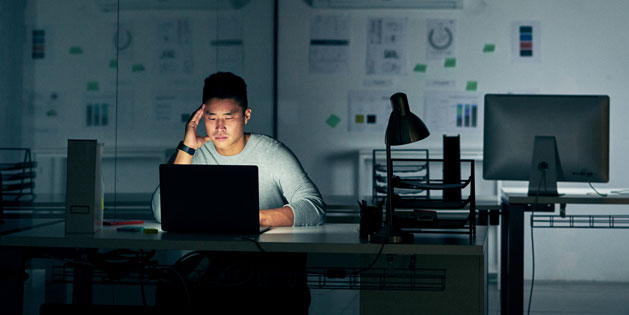 Piggybacking off this growth, we are witnessing a specific increase in orders and deployments of appliances in residential locations to connect and secure remote workers. Prior to the pandemic, regular remote work only applied to 7% of U.S. employees.2 Now, 29% of organizations expect more than 50% of their employees to continue teleworking after the pandemic.3 It's safe to say that work-from-home (WFH) will exist for a long time—if not permanently. This shift is driving organizations to think deeply about their network infrastructure—specifically how and when companies can access applications that they have increasingly migrated to the cloud—and even more importantly, how they can do it safely during this era of ambiguity.
Uncertainty is our new normal
While WFH is frequently referred to as the new normal, the reality is that uncertainty is our new normal. Organizations are on the hunt for solutions that can provide both flexibility and security so they can navigate through and thrive during these difficult times. This holds true for our customers as well; it's a common priority of theirs to be able to securely connect their greatly expanded distributed workforce back to their network and applications. Additionally, we are seeing an essential need for consistent security policy enforcement across the enterprise. It's no surprise, then, that organizations are finding relief to their topmost networking and security concerns via the adoption of flexible SD-WAN solutions coupled with secure remote access.
Truly secure solutions
Wondering what's the benefit of secure remote access? It allows an organization to connect remote employees back to their network and their applications—while ensuring an encrypted connection over the Internet—so that end users have the ability to access defined network, application and corporate resources. Providing secure access to company resources is essential in supporting business continuity and a work-from-anywhere environment, which is why enterprises are shifting networking strategies to include this solution to support the modern workplace.
Another solution that enterprises are turning to is Secure Access Service Edge (SASE)—an emerging "as a Service" framework enabling secure and fast cloud adoption—which allows organizations to deliver protected networking and security services in a consistent way. It does so by providing remote workers full access to designated company applications and resources while offering a much simpler connectivity model for cloud-first enterprises, with security functions wherever they're needed. The rise of SASE demonstrates the urgent need for flexible "anytime, anywhere" solutions that can deliver secure remote access at scale.4 The combination of dynamic, intelligent network capabilities of SD-WAN with advanced security functions lays the foundation for a SASE transformation that can achieve comprehensive protection and necessary compliance for migrations to cloud ecosystems.
Make the jump to next-gen network solutions
While the demand for secure remote access at home is nothing new, there's a groundswell of new SD-WAN deployments on home networks that not only provide security for enterprise devices, but also improve the performance of the applications over residential broadband.
For those considering solutions to help ensure security, resiliency and 100% uptime in the modern days of working, it's really a no brainer. SD-WAN offers IT departments the most agile, cost-effective way to ensure flexible, secure and affordable bandwidth for the organization. It enables continual performance tuning and uptime that IT needs to effectively onboard new applications and processes as they become available. And by evolving SD-WAN with SASE, the result is a seamless combination of SD-WAN's efficiencies with a more malleable, user-centric approach to securing remote workers and cloud applications.
Where does Windstream Enterprise fit in?
At Windstream Enterprise, we are responding to the rising demand for SD-WAN combined with security by addressing growing requests with our cloud security offerings and remote access capabilities. The flexibility of SD-WAN ConciergeTM from Windstream Enterprise, featuring VMware SD-WAN, provides full visibility and co-management to run an entire network in real-time—from a single pane of glass—from virtually anywhere and any device. This cloud networking solution delivers unparalleled visibility, uptime and control with a rich customer experience. It also enables customers to interact with technology on their terms—whether via our award-winning WE Connect portal accessible on any device, with voice commands through their digital assistant, or via API integration with their internal tools.
Couple that with our PCI-compliant cloud firewall and secure remote access offerings, and enterprises gain a consistent security policy for any connected site or remote user, along with the agility and alacrity needed to react to rapidly changing operating models. Another area where we've seen increased adoption is with Cloud Connect, which connects directly to third-party public and private cloud providers as an extension of the enterprise WAN for reliable, fast and highly secure private access. It functions across all network options and is an ideal add-on to a SD-WAN or MPLS network architecture to complete a network.
As we continue to watch the rise in adoption of SD-WAN solutions and acknowledge the ever-growing concerns for brand protection and security, it's important to have frequent conversations around best practices for secure cloud migration. With more open dialogue, it becomes easier to understand how best to align your operations to the demands we are seeing today, and those that will stick around in our new reality.
Resources
"2020 SD-WAN Growth Report: Market Poised to Accelerate." Futuriom, June 23, 2020. Accessed February 11, 2021.
"Employee Benefits Survey." U.S. Bureau of Labor. Accessed February 11, 2021.
"Enterprises Must Adapt to Address Telework Security Challenges." Fortinet, August 14, 2020. Accessed February 12, 2021.
Skorupa, Joe and Smith, Nate. "Forecast Analysis: Gartner's Initial Secure Access Service Edge Forecast." Gartner, August 26, 2020. Accessed February 11, 2021.
Vizard, Mike. "Report: SD-WAN Shift to the Cloud Accelerates." DevOps, June 15, 2020. Accessed February 11, 2021.
Key Takeaway
Organizations are turning to solutions that ensure security, resiliency and uptime. SD-WAN and SASE address these needs in the most agile, flexible and cost-effective way.