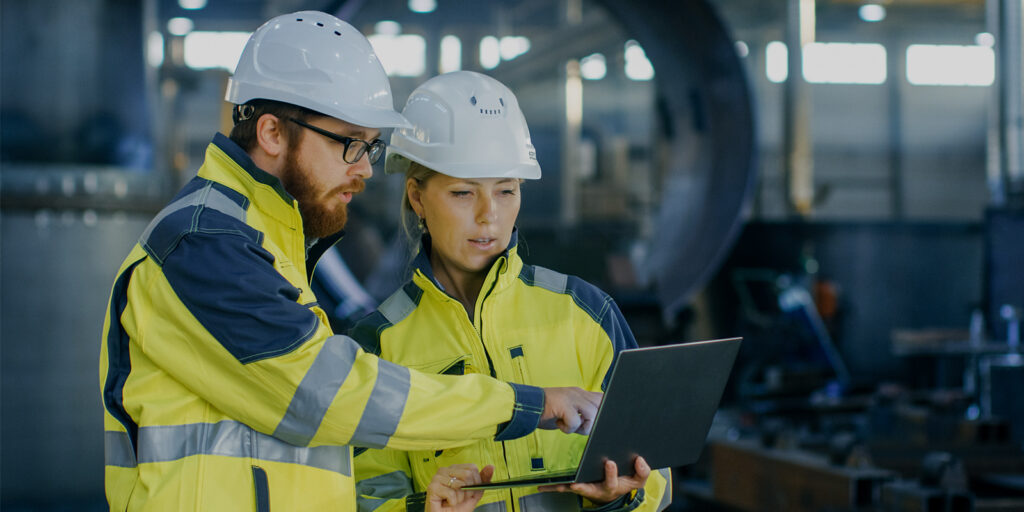 Summary:
Manufacturers are becoming increasingly reliant on technology, and the skillsets required to operate and maintain modern manufacturing equipment are changing rapidly. Unfortunately, there is a growing gap between the tech skills required in modern manufacturing and the skills possessed by the existing workforce.
Your customers expect their products to arrive on time and be high quality. With many moving parts (literally and figuratively), it's easy for missteps to happen. A machine breaking can cause unplanned downtime that delays production. Inspectors may miss defects in a batch of products. A supply chain issue can lead to production delays.
By using technology to manage and automate processes, from ordering to supply chain and production, you can create a data-driven plant that improves operations, saves money and enhances quality. However, many manufacturers are having a hard time bringing on the tech prowess needed to create new, technology-driven operations.
Technology brings new opportunities—and challenges—to the industry
Using technology as the foundation of the manufacturing plant is a must to keep up with digital transformation, but it may bring fresh obstacles into the equation. Plant managers' and leaders' days are spent solving new problems they haven't faced before, which is both extremely stressful and time-consuming. Common issues include:
Lack of skills and resources. Using technology throughout the plant for multiple uses and processes requires significant IT expertise and resources. While many plants have an IT department, they often lack the skills or bandwidth to take on the level and volume of technology projects needed to compete today.

Additionally, the employees in a plant must be able to use the technology throughout the completion of their tasks. However, many do not have training or confidence in their abilities. Without the skills on the plant floor, employees will not be successful with the technology.

Manufacturers must quickly gain the technical skills needed to move forward with data-driven processes. However, waiting for current employees to complete training or hiring new employees with the skills will take time, potentially resulting in your organization falling behind the competition.


Unstable connectivity. Without fast and consistent connectivity, a plant cannot operate at top performance. Each outage or downtime incident means lower productivity. Because many of the sensors and processes in a plant require real-time data, even slight lags in connectivity cause significant problems.

Connectivity issues also become safety issues. Many of the processes and sensors used in a plant provide alerts when machines are not operating properly or pose a danger, such as becoming too hot. If connectivity is slow, a warning may not be sent, which could result in a fire that causes damage to the plant, as well as potential injuries.


Inefficient network use. Reliable connectivity is one thing; the next is using it most effectively. IoT sensors and automated processes require significant network bandwidth. If the technology is not correctly configured and set up, the plant quickly uses excessive amounts of connectivity, which slows down the process. Additionally, too much network time can significantly increase costs.

Many plants add sensors, systems and apps in an ad hoc fashion as the need arises. Without an overall strategy for network conservation, the overall plant will run inefficiently. The IT department must take a holistic approach and continually evaluate the plant for maximum productivity.


Integration roadblocks. Many manufacturers add new technologies that operate separately, rather than integrating with each other. The data from each system stays separate and cannot be shared. Without the ability to integrate data, plant managers cannot see a full picture of the plant in real-time. Additionally, systems and departments cannot collaborate on processes.

For example, imagine your supply chain is having issues getting the parts needed to manufacture your product. When your sales department has visibility into predicted product output through data integrations, they can then set expectations to customers, to prevent frustration and loss of sales.

Proactively using technology to improve plant operations
Many manufacturing organizations are successfully overcoming these changes and integrating technology into their operations.
Here are the keys to successfully using technology at your plant:
Provide ongoing technology training to workers and leaders. You need employees to not only successfully use the technology to do their jobs, but also look for new ways to use automations and sensors. By providing training on the tools, you give them not only the skills, but the confidence needed to proactively implement new ideas.

Because your plant likely has multiple shifts and needs coverage on the floor, look for ways that employees can use virtual learning platforms to learn at their own pace. By offering different methods of education, you can also improve retention for multiple learning types. Many manufacturers report success by gamifying training, which increases both participation and retention.


Select easy-to-use tools. While training is important, you don't want to devote days—or weeks—to it. With tools that are easy to use, your team gets up to speed right away. You also spend less time troubleshooting and answering questions.

Look for systems and tools that use dashboards to show data and insights to make it easy for employees to see the current status. When selecting automation tools, consider technology with drag-and-drop features and templates to make it easy for team members.

However, the new tools won't bring the desired results without some changes. Work with team members to set up new processes. Tools with mobile apps and access make it easy for employees to use the technology whether they're on the manufacturing floor or in an office.


Focus on reliability and efficiency. When looking at how to add efficacy to existing processes, consider manual tasks that can be automated. Look for manual data collection or inspections that can be replaced with IoT sensors. Consider ways that you can automatically forward paperwork and data to all stakeholders. By automating these processes, you will save time and reduce mistakes due to human error.


Get support when issues arise. Your organization needs your expertise to be focused on growing the business. As a leader, instead of trying to troubleshoot issues yourself, enlist the help of experts in manufacturing technology—those who have decades of experience helping businesses just like yours. That allows you to keep your focus where it needs to be: On producing the best products in the most efficient manner for your customers.


Enable the latest cybersecurity techniques to prevent vulnerabilities. With technology as the cornerstone of your manufacturing organization, you must prioritize lowering cybersecurity risks by embracing next-generation security solutions and services. By using AI-based tools and partnering with security experts, your plant can reduce vulnerabilities and threats. Additionally, if you have not already, consider creating a business continuity plan to get back up and operating quickly after a breach or attack.
How Windstream Enterprise can help
When you choose Windstream Enterprise, you gain a trusted partner that deeply understands the manufacturing industry and can help you most effectively use technology to grow your business. With reliable, seamless and secure connectivity, all your operations—from sensors to automations—transmit data quickly and plant managers get access to real-time data that helps you make the right decisions.
Our experts also offer managed services, where we take on the technical burden and administration of your IT operations. Instead of worrying about technology, your manufacturing teams can focus on essential tasks—providing your customers with the best possible products and services.
Key Takeaway
Managing the tech skills disconnect in manufacturing is critical to maintaining operational efficiency, reducing costs, driving innovation and attracting and retaining talent. Manufacturers that prioritize employee training and development will be better positioned to succeed in a rapidly evolving industry.