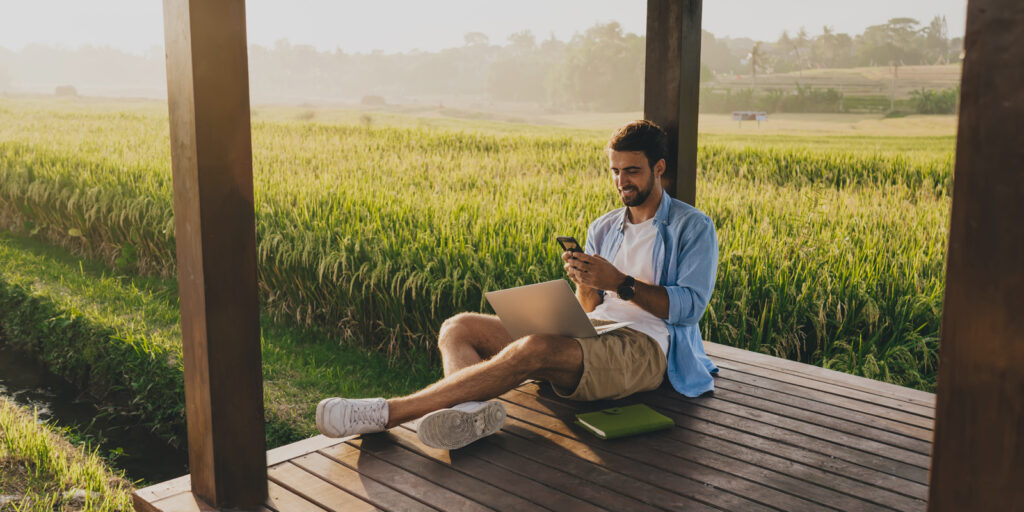 Summary:
As you plan your vacations and holidays, here are some tools that will let you get away knowing you won't lose touch or traction with your work.
According to recent US statistics, 33% of adults work on weekends or holidays and 55% don't use the entirety of their PTO.
In today's always-on world, being out of reach for several days can make your return overwhelming, not to mention, you may miss key decisions that could shape your role or company. How do you keep on top of work (when needed) while taking the breaks you deserve?
Thankfully, technology has evolved to help you stay connected no matter where you are. Your options are no longer limited to joining meetings and reading emails in a stuffy hotel room while friends and family are enjoying the beach, going on a hike, or relaxing by the pool. Here are some tools that will allow you to book your trips knowing you won't lose touch or traction with your work.
Modern collaboration meets convenience
Not too long ago, sophisticated software and video equipment were needed to achieve constant and engaged connectivity. In our current day and age, advanced communication tools are available to keep you connected, on your terms, with options that range from email, chat and voice calls to full blown video and web collaboration. Best of all, these tools can maintain your business identity while keeping your personal life separate. They can also work seamlessly on the device of your choice, including mobile phones, tablets, laptops or desktops.
The ease of use and flexibility today is truly remarkable. Many online video conferencing tools require nothing more than your mobile phone to make you a full participant in a face-to-face meeting or client interaction when you're lounging by the pool. You can even ensure the background behind you remains professional by using a custom virtual background to show off your brand or mask the real scene behind you.
Enabling the mobile workforce
Technology has also made vast improvements to enable virtual workers. Unified communications services have evolved into cloud-based solutions, also known as unified communications as a service (UCaaS), that can be accessed from anywhere, on any connected device. High-definition audio, video and content sharing services are no longer reserved for the larger enterprise companies with hardened conference room systems. Advanced collaboration solutions can now be leveraged from any device over any broadband connection capable of supporting the minimum bandwidth and latency requirements.
Additionally, remote access and security have also advanced. With easier to use virtual private networking (VPN) and remote desktop services, coupled with two-factor authentication and single sign-on capabilities, working from anywhere has never been more secure. Phone systems are no longer tethered to a black box with blinking lights in the back room of the office or data center. In fact, office phones themselves are no longer a necessity with the advent of the softphone and mobile twinning of devices. Remote workers no longer have additional technological barriers compared to their office bound, hard-wired colleagues. In fact, many will agree that they have an advantage.
So how do you get all these great tools before you pack your bags? Many companies have already adopted UCaaS but are not fully leveraging all the capabilities to maximize their investment. Simply asking your IT department what is available and how to set it up is a great first step. If, on the other hand, UCaaS is not in place today and you have a stake in making your employees and the company more productive, then a unified communications solution is definitely worth considering.
The upper hand of connectivity
Companies who have not yet made the cultural and technological changes necessary to enable digital nomads and remote work lifestyles are going to quickly find themselves out-paced by their leaner, more agile competitors. My advice is to partner with communication providers who can not only enable remote workers but empower them in a way that allows immersive engagement and connectivity across all their communication channels. If you already have tools in place that aren't making the grade because of the lack of key features, quality issues or seamless integration with your other platforms and applications, know that there are better options from companies who offer superior software solutions and the adjacent data connectivity solutions required to make it all work together.
Regardless of who your services are with, be sure to take advantage of the advanced technology available to make the most of your time, whether you are on vacation or not.
Key Takeaway
Companies who have not enabled a remote work lifestyle are going to quickly find themselves out-paced by their leaner, more agile competitors.