Summary
The pandemic put a new emphasis on the importance of leveraging digital channels, particularly voice search. Here are 3 ways consumer businesses are tapping into the future of retail, marketing and CX with voice commerce.
"Every once in a while, a new technology, an old problem and a big idea turn into an innovation."
 – Dean Kamen
As technology alters the way consumers view the world and live their daily lives, we witness the transformation that occurs within e-commerce. The online experience provided by brands has grown exponentially in order to ensure consumers' needs are met and exceeded. E-commerce continues to evolve from new problems (i.e., the pandemic) and developing technologies (i.e., Artificial Intelligence, better known as AI). Consumer businesses are racing to make consumers' lives as efficient as possible, while helping them save money along the way. One of the transformative technologies supporting this effort is voice commerce.
Last month, we revealed findings from our inaugural Industry Insights Survey that exposed three industry trends that are integral to the future success of consumer business. Here, we will take a closer dive into one finding in particular—the important role of voice commerce in the interplay of retail, marketing and customer experience (CX).
What is voice commerce?
If you haven't had a conversation with either Siri, Alexa, Cortana or Google's Assistant by now, you are well among the minority. I write this sitting within arm's length of an Alexa device in my office and have several others scattered throughout my home. It's safe to say, we are pretty good friends and talk on a daily basis.
Voice commerce in e-commerce refers to when a customer interacts with a brand through voice recognition technology in order to search for and purchase products and services online. Although seemingly futuristic, voice commerce is not too far off from traditional e-commerce, where customers type out a query via online search to find what they're looking for.
AI-enabled voice commerce is shifting the way we shop online and communicate with brands. Its importance will only continue to grow as brand innovators in voice commerce collect data to improve CX and create more personalized experiences for their users.
Find your voice
Our survey found that consumer businesses have been slow to utilize voice commerce beyond marketing and CX, but we are seeing an increased number of consumer businesses that intend to utilize voice commerce in the coming years. One intriguing finding was that 34% of consumer businesses either already have voice commerce enabled or plan to within the next two years.1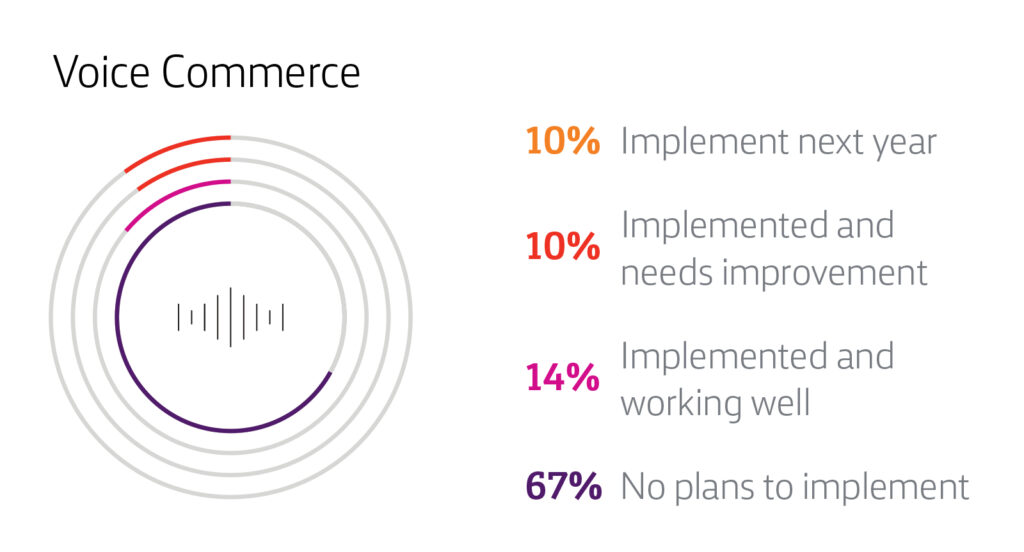 As consumers continue to integrate digital assistants into their lives, it becomes imperative for consumer businesses to utilize AI and IoT devices in a way that better serves their customer base. From gathering customer interest, better marketing to them, expanding the ways customers can research products, simplifying the checkout process or providing high quality post-sale service—the possibilities for consumer businesses utilizing voice commerce appear to be endless. 
Here, we will review three core industry findings that show why voice commerce is a vital need to consumer businesses and how it will continue to influence the future of consumers and brand two-way communication.
1. Voice commerce allows consumer businesses to be a part of consumers' daily lives
Virtual assistants are everywhere. They are in our pockets, on our wrists, in our homes and in our cars. Roughly one out of four U.S. adults (60 million people) now own a smart speaker, with a total of 157 million devices in American homes.2 Coincidingly, in-car voice assistant users in the U.S. are now up to 130 million, with 83.3 million active monthly.3 I imagine it would be a struggle to find someone who doesn't have an embedded digital assistant on them at all times.
These devices are being used at a snowballing rate. One survey found that 35.1% of respondents communicate with their AI assistants every day, while a quarter engage with them a few times a week.4 While most consumers are using functions to check the weather or play music, 39.1% say they are very likely to use their virtual assistants for shopping; another 39.8% say they are somewhat likely to do the same.
Digital assistants are gaining capabilities in voice recognition and authentication that make them more usable, personalized and secure in everyday situations. When ordering a product, these devices can recognize the family member using the device and offer suggestions based on individual preferences. If an unauthorized user is attempting to make a purchase using one's device, voice authentication provides another level of security to thwart fraud. All consumer businesses are racing to meet consumers where they are comfortable, and by businesses continuing to embrace these technologies they will become more integrated in our daily life.
2. Voice commerce leads to a frictionless customer journey
Picture this: While listening to a podcast on our smart speaker, we hear an ad about a new Lululemon yoga mat. We ask our smart speaker, "How are the reviews of Lululemon's yoga mat?" Our digital assistant shares that the reviews are strong and informs which retailers have the best prices and can ship to us most quickly. After hearing all of this information, we continue the conversation with our virtual assistant by ordering and paying for the yoga mat through our most desired retailer.
While many of these features are not widely available among consumer businesses just yet, the desire to simplify things (like ordering food or restocking common household items) is on the rise. Amazon's experiment with "Dash" buttons for replenishing common household items gave us a glimpse into where we are headed. While the Dash button did not stick around, it provided an early look at how consumers will use home devices for ease of ordering. Furthermore, the pandemic spurred us to be more adventurous in the ways we order and have items delivered—many of those "new" order types are simplified with voice commerce. The future is currently being written in terms of how voice commerce will continue to this frictionless customer journey.
3. Voice commerce drives customers to efficient service channels
Voice commerce won't only be a competitive advantage for retailers looking to grow their revenue and increase stickiness with their customers. It will also be a way to reduce costs in their service organizations. Imagine asking Alexa, "What's the status of the jacket I returned at REI?" and hearing Alexa reply, "Your jacket has been delivered to REI and your refund was submitted to process two days ago. I see that a credit has been applied to your credit card in the same amount as what you paid for the jacket." Satisfying, no?
Service organizations are being positively impacted by AI by making voice services more accessible for consumers to submit tickets. Zendesk reported that 64% of customers started using a new customer service channel in 2020.5 This shows that customers are flocking to new avenues to explore new buying habits and their behaviors are changing for good. Consumer businesses need to meet consumers where their sweatpants are and enable customers to order and interact with brands via voice commerce as often as possible for efficiency and stickiness of these new technologies.
Is voice commerce part of your digital transformation?
Voice commerce offers businesses a unique opportunity to deliver faster, more convenient and more seamless shopping experiences. For organizations planning out their vision for voice commerce (and omnichannel functionality), the process really begins with providing high availability network connectivity. This is the key to building a foundation for what customers need from your business and how voice can amplify existing omnichannel capabilities to provide additional, accentuated benefits.
A desired CX includes optimized performance, bandwidth and reliability; these are all needed to support businesses that are embracing digital transformation. With Windstream Enterprise, consumer businesses can focus on consumer-facing technology like voice commerce—leave the network and phone lines with us to manage. We also offer voice commerce supporting technology that allows retailers to utilize more efficient customer service channels, including innovative technologies like AI chatbots that enable humanlike interactions and provide unparalleled support for human agents in real time.
Voice is only growing in popularity worldwide. Investing in a powerful voice commerce strategy will keep your brand top of mind as e-commerce continues to transform the way customers view the world and interact with brands. 
Resources
Windstream Enterprise Inaugural Consumer Business Survey, 2021.
"The Smart Audio Report." National Public Media. April 2020.
"In-Car Voice Assistant Consumer Adoption Report 2020." Voicebot. 2020
"Virtual Assistants and Shopping with Voice Commands." Coupon Follow. 2021.
"New CX for a New World." Zendesk, Customer Experience Trends 2021 Report. 2021.
Key Takeaway
When investing in voice commerce, make sure you have the network connectivity that can harness the flexibility and reliability required by today's transformative world of e-commerce.