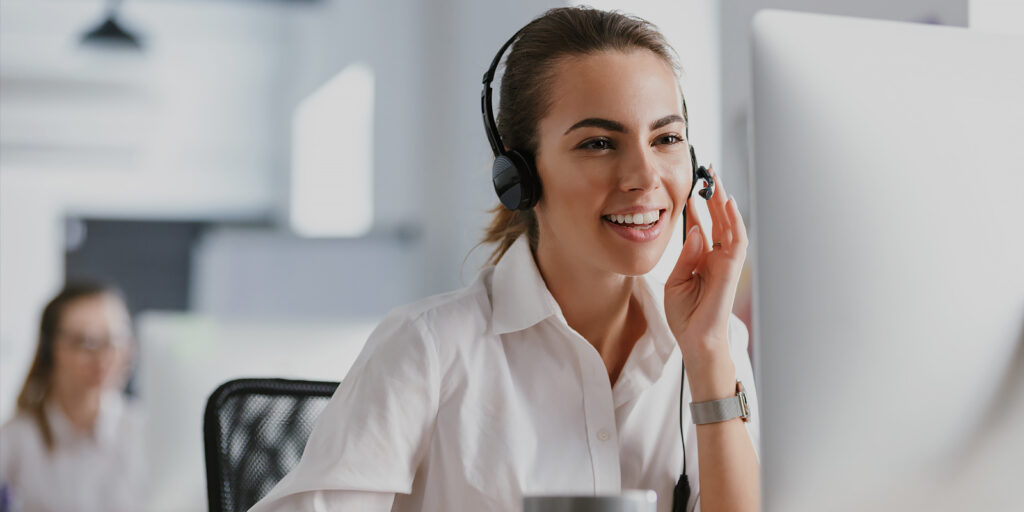 Summary:
Customer experience is considered a top business priority in today's always-connected environment. Discover how advanced, AI-enabled Windstream Enterprise CCaaS, powered by Talkdesk, drives customer satisfaction and loyalty to new heights.
Windstream Enterprise announced the addition of a new Contact Center as a Service (CCaaS) offering to their managed services portfolio by partnering with Talkdesk, a global cloud contact center leader for customer-obsessed companies. The launch of this solution gives enterprises a complete set of intelligent, automation-forward call center capabilities to consistently deliver elevated multichannel customer experiences (CX) while improving agent productivity.
By uniting proprietary AI, natural language processing and machine learning technologies from Talkdesk and combining it with Windstream Enterprise's CCaaS managed services, enterprises like yours are able to seamlessly view, analyze and manage every aspect of the customer journey from a single, easy-to-manage agent portal.
But first, why CCaaS?
Before we dive into the significance of this offering, let's explore what CCaaS is, and why it's an important solution to customers from any and all industries.
CCaaS is defined by TechTarget as a framework that combines contact center hosting principles and cloud-based contact center infrastructure. According to the 2023 Gartner® Critical Capabilities for Contact Center as a Service report, CCaaS is now the preferred option for contact center investment, as organizations swap the burden of platform management for cloud-enabled customer experience transformation.
More businesses are investing in CCaaS solutions to improve the quality of their customer interactions, transform their support capabilities with cloud-based tools and reduce the burden of platform management. By replacing outdated legacy call center technology with a cloud-enabled CCaaS solution, enterprises can consolidate their complete contact center infrastructure with a single provider, scale more quickly and differentiate their support experience with integrated, customized applications.
Why partner with Talkdesk?
Windstream Enterprise partnered with Talkdesk because they're a proven CX leader known for providing better ways for businesses and customers to engage with one another. Their unrelenting focus on the CX has earned them high marks in customer satisfaction scores as well as validation from several industry analysts including being named a Leader in the 2022 Gartner® Magic Quadrant for CCaaS for the fourth consecutive year.
Talkdesk delivers an intuitive contact center workspace that integrates all channels, so agents can quickly get up-to-speed and capture an entire customer journey. Through AI-powered tools like Virtual Agent and Agent Assist, enterprises can reduce the burden on their agents by removing mundane, time-consuming tasks—freeing them to tackle more sophisticated and fulfilling interactions. These forward-thinking AI-driven capabilities extend into management tools like Interaction Analytics, CX Sensors and QM Assist which allow contact center managers to easily collect insights such as agent performance, trends in customer queries and overall contact center quality.
What's more, Talkdesk offers seamless integration with over 60 prebuilt connections including CRM databases allowing businesses to easily tailor their CCaaS to their specific healthcare, retail, manufacturing, financial services or other industry needs. Further, customers have access to Talkdesk Vertical Experience Clouds, which are pre-built specifically for healthcare, retail, financial services and healthcare industries, and provides agents with a unified view of all customer interactions across different communication channels.
The result is a highly productive and intelligent contact center that delivers benefits on multiple levels.
Why choose Windstream Enterprise?
Windstream Enterprise CCaaS powered by Talkdesk is part of a robust portfolio of contact center solutions from Windstream. That portfolio also includes OfficeSuite UC® Contact Center Services, a tightly integrated UC and CC solution allowing customers to contact businesses through voice, SMS, and webchat.
Windstream Enterprise partners with best-in-class technology provides like Talkdesk because our customers deserve the best solutions that drive real, meaningful business outcomes. To help you make the most out of these solutions, customers can lean on Windstream Enterprise as a trusted managed service provider with dedicated and hands-on expert support.
Through this unified offering, customers receive a strong CCaaS foundation provided by industry leader Talkdesk, and we add instant and ongoing value with combined security, network and unified communications integration for a complete managed service. Together with Talkdesk, we will enable your business to strategically transform your contact center into a differentiator.
Take the next step in your CX journey with Windstream Enterprise CCaaS powered by Talkdesk
How do you know if this CCaaS solution is right for you? Businesses who would benefit most from this managed service solution can relate to following statements:
I am looking to create rich, seamless interactions that customers expect from an enterprise, with self-service capabilities and nuanced, highly personalized support.
It's important that my organization can empower my customer support teams and agents with the tools and in-the-moment visibility they need for frictionless, memorable interactions for our customers.
My organization is eager to overcome some of today's most formidable contact center business challenges, whether that be agent turnover, agent training, mounting agent workload and the complexities of managing multiple support channels.
Ready to embrace Windstream Enterprise's contact center solutions, specifically CCaaS powered by Talkdesk or looking to learn more? Connect with our dedicated team of experts today.
Key Takeaway
Talkdesk's intelligent call center capabilities plus Windstream Enterprise's managed services give enterprises all the tools to deliver a superior, seamless CX.