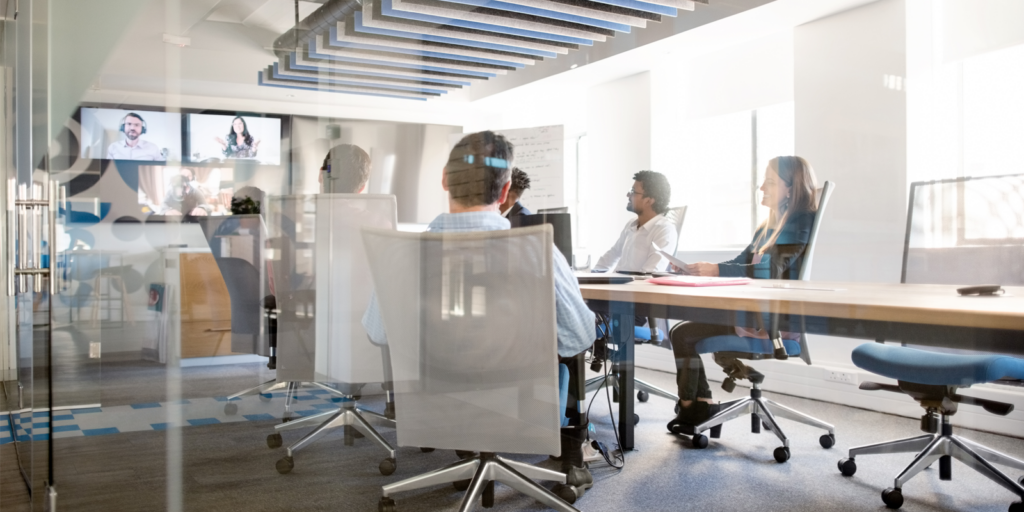 Summary:
Videoconferencing serve as a vital lifeline for much of modern workforce. Therefore, safeguarding meeting security is paramount. Tap into these best practices for ensuring secure and private collaboration.
As companies across the U.S. continue to embrace their hybrid and remote work environments, virtual meeting solutions have become an office must-have. These tools allow face-to-face video conferences between users in different cities, states, countries and even continents. For employees in a mandated work-from-home environment, they offer the next best thing to actually being in a room together.
The growth of meeting hijacking
Although these meeting-only solutions can facilitate great discussions, many of them lack Although meeting-only solutions can facilitate great discussions, many of them lack the more complex security features businesses require. In particular, teleconferences are vulnerable to verbal abuse and disturbing images by outsiders. These incidences have skyrocketed over the past few years—leading to multiple FBI warnings issued to the public, to the point that the FBI released a tip sheet that offered the following advice for users:
Keep meetings private by issuing users a password or employing the "waiting room" function, which requires the host to invite each guest individually.
Don't share invitation links on social media.
Stay on top of any software security patches provided by video-teleconferencing (VTC) companies.
Integrated UC for more secure meetings
While simple steps go a long way to protect video conferences from intrusions, the surest way to secure real-time video meetings is to use an integrated collaboration platform with end-to-end encryption. A cloud-based Unified Communications as a Service (UCaaS) solution that encompasses secure, high-quality video, audio/web conferencing and advanced communication features can also integrate with third-party collaboration tools—such as Microsoft Teams and Slack—as well as other widely used business applications.
Additionally, an optional, fully integrated Contact Center Services platform can queue calls and chats, while enabling contact center managers to view live and historical agent and queue activity to help manage employee performance. This approach can streamline workflows and enhance employee productivity—all while maximizing existing solutions and technology investments.
What's the secret to protecting your virtual meetings from intruders?
Follow these five tips to ensure your video conferences stay safe against cyber-intruders and other threats:
Choose a reliable meeting platform. Safeguard your online meetings by selecting a solution that provides robust security capabilities while adhering to industry benchmarks and regulatory requirements. Key features to seek out include encryption, authentication, password safeguards, meeting locking, waiting rooms, host control and a comprehensive privacy policy. Don't worry, I won't leave you guessing—I share some viable solutions with these features in a minute.

Establish strong passwords for your meetings. It's time to forgo the "qwerty123" password for something a little harder to guess. A "strong password" is characterized by its uniqueness and resistance to easy guessing. It's recommended to modify your passwords quite often and refrain from using the same password across multiple accounts or platforms. And whenever possible, activate multi-factor authentication to enhance security by necessitating a code or device for identity verification.

Enforce safe meeting etiquette. There are basic ways to secure a virtual conference gathering from the get-go. For example, as the host, you can control the official start of the meting and check all attendees are vetted in a waiting room. Furthermore, you can add a meeting password for entry or create unique meeting IDs for different sessions to avoid meeting bombers from inviting themselves into your meetings and cause disruption.

Protect your collaboration solutions by securing your network. Use a trusted and secure network to keep your workers, collaboration and applications secure against cyberhackers. Of course, there are easy ways to ensure instant production, such as relying on a VPN, avoiding using public WiFi or updating your software and antivirus regularly. But you can go a step further by updating your networking software to an SD-WAN (software-defined wide area network) or SASE (secure access service edge) solution. Rounding out your entire IT infrastructure with the most secure solutions available will put your enterprise in the best position possible.

Use a virtual background. You thought your virtual beach setting was just for fun? Now that many of us are working from home, having the ability to blur or hide our backgrounds can also be seen as a privacy feature. A background helps to protect your personal environment and enable your team members to stay focused (and help to prevent any potentially embarrassing cameos from roommates, significant others or pets).
Get the features employees want, the security IT needs
Whether you're conducting one-on-one meetings or large group sessions, want all the feature-functionality or just the basics, unified communications solutions from Windstream Enterprise offer your team the flexibility to choose the best-fit platform with the confidence of secure, encrypted content.
To address the specific needs of your organization, we provide the following two solutions that come with built-in security at both the platform and web services level:
Leverage OfficeSuite Live, powered by AWS, for maximum flexibility, enabling employees or clients to host or join from their browser for real-time communication without needing to download an app, if desired. Power your one-on-one or smaller group sessions, anytime, anywhere with ease all while enjoying an HD video-first experience. OfficeSuite Live keeps meetings secure by encrypting all presentation content at the application layer using SSL. Additionally, meetings, presentations, recordings and chat are available to user endpoints only (unless shared) with no server-side data retention.
Utilize OfficeSuite HD Meeting for greater meeting functionalities, via a robust set of tools to enhance and inspire, including full HD video, advanced screen share, session recording, chat, SSO, live streaming, auto dial in and more. What's more, you can integrate OfficeSuite HD Meeting with OfficeSuite UC® for an even richer unified communications experience. Additionally, Windstream Enterprise privacy policies protect data that traverses the cloud through multiple means—encrypting at the application layer using TLS 1.2 with AES 256-bit algorithm. We also provide a full suite of security tools that can be configured at the customer level to enable compliance and create secure meeting environments.
Key Takeaway
With the rising threat of cyberthreats to virtual meetings, choose a secure platform like Windstream Enterprise's OfficeSuite Live & OfficeSuite HD Meeting for encrypted, feature-rich collaboration.